Chinese icon Leslie Cheung is still fondly remembered two decades after his passing. To pay tribute to his memory, commemorative albums, concerts, and movie exhibitions have been organized for fans to pay tribute to him from late March to April and beyond.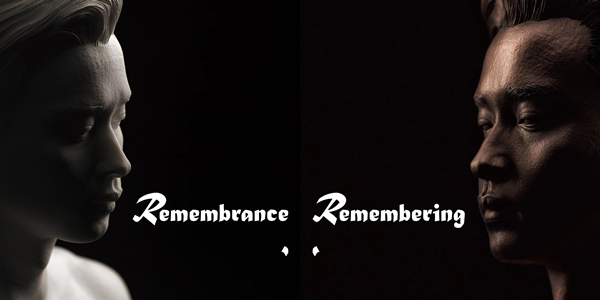 The cover art for "Remembrance Leslie" and "Remembering Leslie." [Image courtesy of Universal Music Hong Kong]
April 1 this year marked the 20th anniversary of Cheung's death. Universal Music Hong Kong released on the occasion two albums, "Remembrance Leslie" and "Remembering Leslie."
"Remembrance Leslie" is a standout compilation album featuring remastered versions of Cheung's greatest hits and previously unreleased tracks. These include the rare 1987 alternate recording of "Sleepless Nights Restless Heart," as well as unreleased songs like "My Dearest" and the English cover of "A Song for You." These long-lost songs were recorded during Cheung's time at Cinepoly Records in the 1980s and were never officially released. Thanks to the team at Universal Music Hong Kong, who searched for them in the U.K., these precious tapes have now been carefully restored, bringing Cheung's lost recordings back to life.
Additionally, the album includes seven new arrangements of Cheung's classic hits, produced by Alvin Leong. Despite pandemic-related challenges, Universal and Leong successfully enlisted the Czech Philharmonic Orchestra to contribute to the new arrangements of "Silhouette" and "Will You Remember Me," allowing musicians from different regions to reimagine Cheung's timeless music.
The other album, "Remembering Leslie," is a tribute album featuring up-and-coming Cantopop stars performing new renditions of Cheung's classics, including artists such as Anson Lo and Keung To from MIRROR, Gigi Yim, Mike Tsang, Louise Wong, ERROR, JNYBeatz, Rock Hill Street, P1X3L, Kira Chan, Kerryta, One Promise, DEZ, STARS Academy 2's Jasmine Yam and XiX, and newcomers YUTA and APPLE from A Music.
In addition to the albums, numerous commemorative exhibitions and film screenings have taken place in Hong Kong, Shanghai, Beijing and many more cities.
"I am delighted and touched to see so many different types of commemorative activities, and more and more people becoming fans of him," Yu Xinyuan, a 30-year-old film industry professional, told China.org.cn. "This shows that his work in music and film, not only stands the test of time, but also remains relevant and holds significant and unique value in popular culture."
From April 1-16, a retrospective event at the China Film Archive (CFA) in Beijing is screening 10 classic films starring Leslie Cheung, including 4K restored versions of "The Phantom Lover," "Days of Being Wild," and "A Better Tomorrow." Meanwhile, a massive anniversary exhibition, "Rose of Time," organized by Cheung's fans, runs in Shanghai until May 3. In Hong Kong, numerous exhibitions featuring photos, fan art, memorabilia, and other events like movie screenings and tribute concerts have been held in the city, attracting fans from the Chinese mainland and worldwide. Commemorative events are also taking place in other Chinese cities such as Guangzhou, Shenzhen, and Foshan.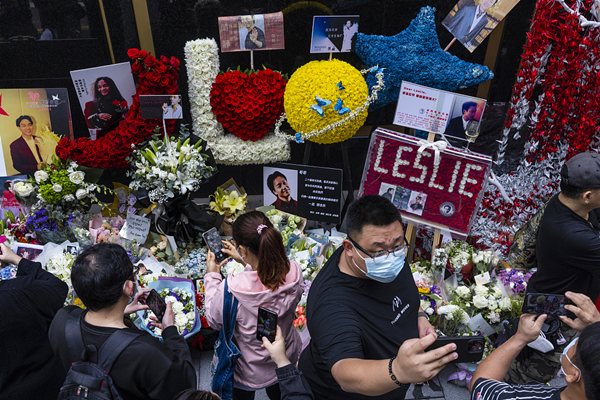 Fans lay flowers and take photographs outside the Mandarin Oriental Hotel to commemorate the 20th anniversary of the passing of Chinese singer and actor Leslie Cheung in Hong Kong on Saturday, April 1, 2023. [Photo/VCG]
"When I was a child, I often listened to Cheung's beautiful singing voice on my cassette player and repeatedly watched his classic farewell concert movie. I was awestruck by his handsome appearance and graceful dance moves. He was an outstanding actor, and his many movie roles deeply touched my heart. He was a true master of singing, dancing, and acting. To me, he will always be that elegant gentleman," reminisced Ye Xinwen, a 33-year-old supervisor in a Chinese state-owned enterprise.
In a recently discovered recording of "A Song for You," Cheung's voice sings the poignant lyrics, "Listen to the melody 'cause my love's in there hiding, I love you in a place where there's no space or time." This discovery has brought warmth to his fans amidst heartache and yearning for his presence.
Jessica, another longtime fan, quoted Cheung, "Even if you part ways with someone, you will feel that everything you shared with them wasn't in vain when you encounter a similar soul on this earth, on this planet." These words continue to resonate deeply with Cheung's fans and inspire them.