During the China Internet Audio and Video Convention held in Chengdu, Sichuan province, on March 30, Sun Zhonghuai, vice president of Tencent and CEO of Tencent's Online Video Business Unit (OVB), unveiled the company's long-term vision for video entertainment and discussed how high-tech advancements would transform the industry.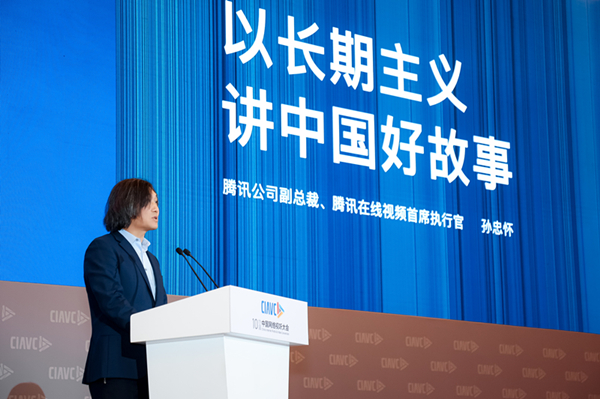 Sun Zhonghuai, vice president of Tencent and CEO of Tencent's Online Video Business Unit (OVB), speaks at the China Internet Audio and Video Convention held in Chengdu, Sichuan province, March 30, 2023. [Photo courtesy of Tencent Video]
In a keynote speech to the convention's High-quality Development Forum, Sun outlined Tencent Video's strategy to become a leader in video entertainment, driven by art and technology. He emphasized the need for a long-term strategy, including developing intellectual property (IP), fostering open cooperation, and adopting cutting-edge technology.
"Based on a decade of strong development in the audio and video industry, Tencent Video will continue to increase its investment in content innovation, technology research and development, and talent training in the future," he said. He also pointed out that Tencent Video has actively promoted the synergy between art and technology in recent years.
Sun noted that a "good story" lies at the heart of a solid art strategy. In the short term, Tencent Video plans to diversify its content, moving away from over-focusing on advantageous categories. Over the long term, the company plans to develop enduring IP content while broadening its collaborative content creation strategies.
He underscored the importance of technology as a pillar for producing high-quality content. The company is investing in visual effect technologies and promoting the application of advanced technologies, such as Unreal Engine, motion capture, and real-time rendering, to drama and animation projects.
The forum showcased the shooting and production process of the "Guzheng Action" scene from Tencent Video's TV series "Three-Body," released earlier this year, demonstrating how the crew made the scene as realistic as possible. Tencent Video has undergone a significant transformation in the field of innovative technology, from the widespread use of live-action combined with CG technology in dramas to the large-scale application of advanced special effects technology in "Three-Body" and domestic animations such as "Swallowed Star" and "Soul Land."
Sun highlighted the significance of emerging technologies, such as ChatGPT and the Stable Diffusion model, in the film and television industry. He stated, "Facing such powerful technologies, we should find out where they fit into the film and television industry. These new technologies will revolutionize the way content is produced, so all players in the industry must maintain their curiosity and keep an eye on these new technologies."
He stated that Tencent Video would provide a "creative space" for passionate young creators while fully respecting their leading role in the creative process and supporting their film and television productions. The company has already developed or planned sequels or extra episodes for numerous long-term IP franchises, including "Three-Body," "Soul Land," "Sword Snow Stride," "Weiyu Fantasy Universe," "Qing Yu Nian," "Rock & Roast," and "Once Upon a Bite."
According to the top executive, Tencent Video is proactively expanding its channels to ensure high-quality content reaches users while diversifying content experiences through IP derivative merchandise and offline entertainment services. Simultaneously, it is increasing the influence and coverage of good stories through production companies, social media platforms, and short video platforms like WeChat video accounts.
The 10th China Internet Audio and Video Convention, themed "New Journey, New Start," took place from March 27 to April 2 in Chengdu. Sun noted that Tencent Video has evolved from a learner to a pioneer over the past decade. As it embarks on a new journey, the company will continue to shoulder its platform responsibility, uphold a long-term vision and create stories while disseminating mainstream culture.
Sun expressed confidence that "with the concerted efforts of regulatory authorities and the entire industry, Tencent Video will accelerate its development progress from 2023 onwards."