Kung fu megastar Jackie Chan has pledged to continue acting for his fans worldwide, regardless of age or pain, with his new film reflecting his long career.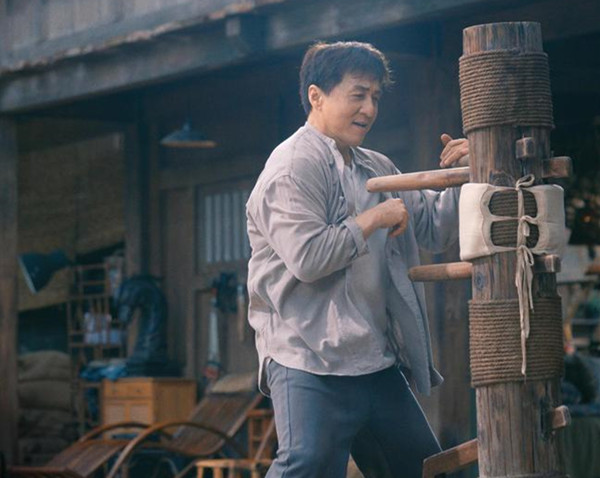 Jackie Chan practices kung fu in "Ride On." [Photo courtesy of Alibaba Pictures]
The martial arts comedy, "Ride On," released nationwide on April 7, revolves around a man and his horse. Chan stars as Lao Luo, a washed-up martial arts stuntman deeply attached to his old stunt horse, Chitu. When a debt dispute threatens to separate him from Chitu, Lao Luo turns to his daughter Xiaobao (played by actress Liu Haocun) and her boyfriend (played by actor Guo Qilin) in a desperate attempt to save his beloved companion. Together, they embark on a road trip to resolve the crisis.
The film is directed by Yang Zi, best known for his heartwarming 2019 pet drama "Adoring."
Chan started out as a martial arts stuntman and consistently championed real combat, action, and stunts throughout his career. Over the decades, he has suffered numerous injuries in pursuit of his craft. With "Ride On," Chan seeks to honor the fearless stuntmen who, behind the scenes, risk their lives to deliver breathtaking action scenes year after year. However, the rise of CGI, special effects, and a dwindling talent pool have left the group needing greater support. This film portrays the challenges and hardships martial arts stunt performers face.
Chan said during the film's premiere in Beijing on March 31 that he admired Yang's dedication to creating a film for martial arts stunt performers. "I felt that the story was not only about me, but all the stuntmen in the world, including my past self. I accepted the film on behalf of them."
At the premiere, Yang disclosed his longtime admiration for Chan and the significant influence Chan had on his filmmaking career. He shared that he had always harbored a "Jackie Chan dream" and contemplated this story for several years. During the scriptwriting phase, Chan was the only actor he envisioned for the lead role.
Embarking on this project was no small feat for Chan, particularly given his age (67 during filming in 2021) and his history of injuries. He had scheduled surgery then, but postponed it and received nine cortisone shots to alleviate the pain before performing his action scenes on set. Nevertheless, Chan went above and beyond, assisting others on set despite needing to rest himself.
"I love being in a state of working," he said.
A poster for "Ride On." [Image courtesy of Alibaba Pictures]
Collaborating with a large horse is no simple task, but Chan drew on his experience to craft heartwarming interactions between man and animal. Chan also discussed building rapport with horse Chitu, explaining, "From the first day of filming, I've been developing a bond with Chitu. I fed him daily to help him get familiar with my scent and establish complete trust between us."
When filming concluded and it was time to part ways, Chan couldn't contain his tears, admitting, "Chitu is like a family member to me." At the premiere, Yang also shared Chan's genuine concern for Chitu, saying, "Jackie has been asking about Chitu's final destination since the start of filming, and he even reached out to people to make sure Chitu would be taken care of. Ultimately, he sent Chitu to the best horse farm in China before he could rest assured."
At the premiere, reflecting on his past, Chan appeared unfazed, sharing, "I used to break my foot in the morning and start working in the afternoon. I would even sit in a wheelchair and continue working."
Though the methods of martial arts stuntmen are no longer popular due to advancements in the film industry, particularly CGI, their spirit of courage and perseverance endures. "We actually aimed to convey that that era will never pass. The spirit of choosing one's path and dedicating oneself to it has been preserved. Their love for film is something that every generation should inherit, and their era was brilliant," said Yang.
"Ride On" also pays tribute to Chan, incorporating a scene where his daughter plays a VHS cassette featuring a behind-the-scenes montage from his classic action movies.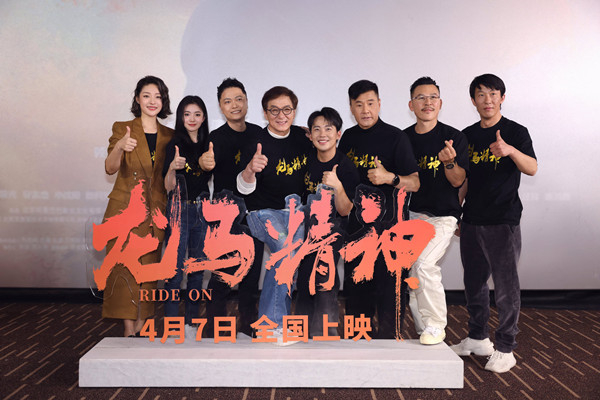 The cast and crew pose for a group photo at the premiere of "Ride On," held in Beijing, March 31, 2023. [Image courtesy of Alibaba Pictures]
"Speaking frankly, there is only one Jackie Chan in the world," acknowledged Zhang Yimou, one of China's most renowned filmmakers, in a video made to promote "Ride On." Although he has never worked with Chan, Zhang recognizes Chan's irreplaceable status in Chinese and global cinema. "I think it's impossible to replicate him. He is the pride of the Chinese people. I don't know if there will be another kung fu superstar in the future who can make a name for himself as Jackie Chan did worldwide, promoting Chinese culture and the spirit of the Chinese people."
In response to Zhang and his fans, Chan said, "I have never intended for you to praise me for what I have done in the past. I knew I had to do my best in every scene, and the audience could see my dedication. Today, I am proud to tell you that I have taken Chinese martial arts and culture to the world and succeeded. I want to thank all the people who support Chinese films."
When asked about his future plans, Chan said, "This year marks my 60th year in the industry since childhood. From being unknown to who I am now, I have received support from fans worldwide. As long as I can move and fight, I hope to make a movie every year as a gift to my audience and fans around the world."