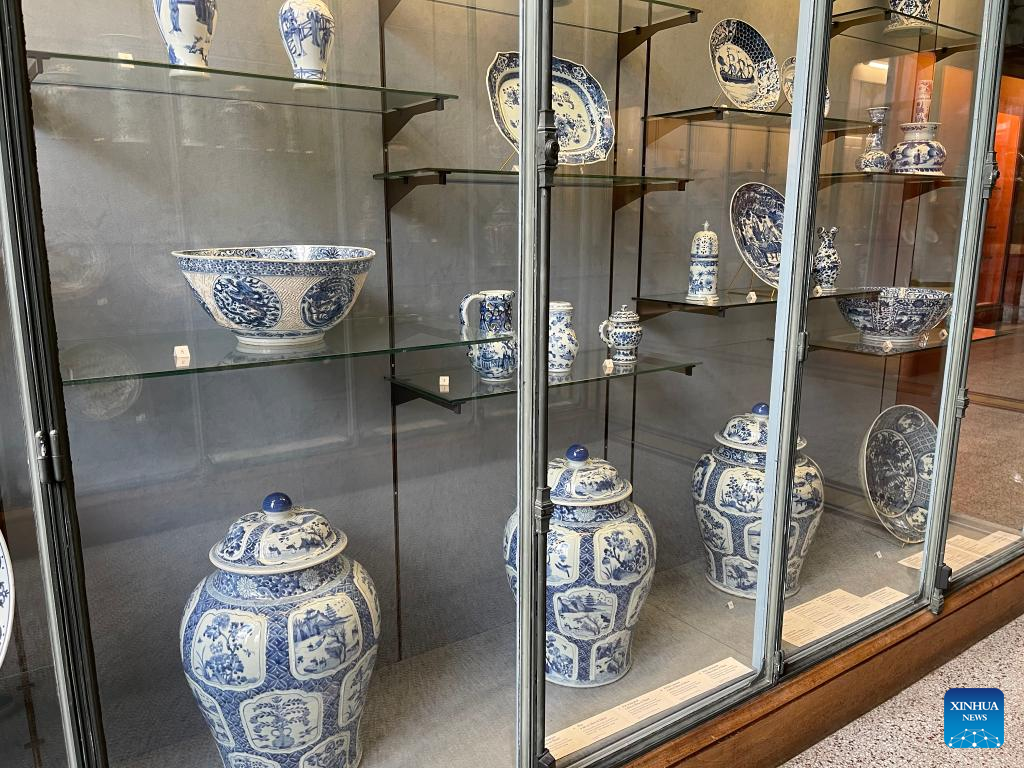 Chinese porcelain wares are seen at the Adrien Dubouché National Museum in Limoges, France, Jan. 13, 2023. (Xinhua)
Myrtille Bouvret, a French ceramic designer, posted pictures of a porcelain sculpture she made recently and shared the creative inspiration with her fans on Instagram.

It has been six years since Bouvret completed her study at Jingdezhen Ceramic University (JCU) in China and started running a design studio in the southwestern French city of Limoges, widely known for its porcelain.
"It is my trips to the porcelain capitals of the two countries that continually inspire me," she said.
Jingdezhen, located in east China's Jiangxi Province, has been dedicated to the craft for over 1,800 years. In 2010, it forged a pair of sister cities with Limoges, in which porcelains produced have been sold across Europe.
Bouvret is among droves of ceramic artists and overseas students who rushed to Jingdezhen, after an international ceramic studio was jointly established by the JCU and Ecole Nationale Superieure d'Art de Limoges (ENSA Limoges) in 2011.
"I admire the craftsmen in Jingdezhen who inherit thousands of years of porcelain-making technique," she said.
Hundreds of ceramic artworks have been created by the studio. Among these, two sets of ceramic lampposts, designed and made by French and Chinese students at the end of 2018, are the most special.
Reading "Thank you Jingdezhen and loving Limoges," the two lampposts have borne witness to the cultural exchanges between the two countries. Now, one lamppost is standing on the street of Limoges while the other is on display at the exhibition hall of the studio.
Zhou Lei, one of the co-creators, would always think about how to combine the modern western creation concept with the traditional Chinese skills while studying in the two places. "I want to integrate the ancient charm of blue and white porcelain with western aesthetics, let them break with tradition and go global," he said.
As early as the 18th century, the "dual formula" of kaolin -- a soft white mineral named after the village in China -- and porcelain stone was transmitted from Jingdezhen to France, playing a key role in the development of the porcelain-making industry in France.
Exchanges on ceramics between the two countries are mutually beneficial, said Weng Yanjun, director of Jingdezhen Imperial Kiln Museum, adding that colored enamel porcelain is a type of porcelain integrating the Western material and Chinese traditional technique.
While studying at the JCU, Bouvret once interned at Wanglong Ceramics Co.Ltd in Jingdezhen, where overseas designers are involved in the design of the products. A saucer she designed there was favored by a Michelin star chef in France and then used as a utensil for holding foie gras.
"The cooperation with craftsmen in Jingdezhen has inspired me a lot," said Norman Trapman, a French designer, who holds teleconferences with the craftsmen once a week.
At an exhibition held in Milan, Italy, earlier this year, a set of Celadon spa items including a bathtub and a hand sink, designed by Trapman, has brought the company international orders.
"The transnational exchanges and cooperation have helped us gain traction in the international market," said Yu Wanglong, general manager of the company.