Media mogul Yue-Sai Kan has recently published her autobiography in China, which encapsulates her illustrious life and optimistic outlook for the future.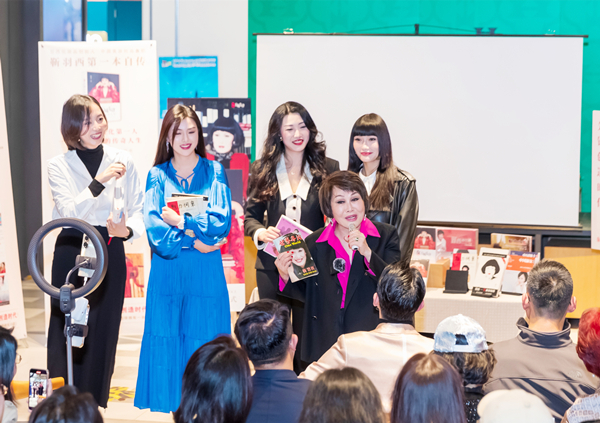 Yue-Sai Kan, standing in front of Miss World China champions Du Yang (1st L) and Yu Weiwei (2nd L), and Miss Universe China titleholders Hu Yanliang (2nd R) and Jin Ye (1st R), shares stories from her life at the book launch for "Be A Pioneer" in Beijing, April 8, 2023. [Photo provided to China.org.cn]
Titled "Be A Pioneer," the book is Kan's 10th publication, and highlights her life experiences, career challenges and successes, as well as poignant anecdotes shared by others. This engaging memoir features vivid stories, photos as well as QR codes that readers can scan to watch TV programs produced by Kan, offering an immersive reading experience.
The book was actually published back in January, but a launch event followed by a meet-and-greet was held on Saturday when Kan eventually returned to China after nearly four years away due to the COVID-19 pandemic. Kan expressed her pleasure at seeing her friends and devoted fans once again.
At the book launch, Kan, 75, shared the reasons behind her decision to write an autobiography. She explained that penning the book was a way to recall her life, as many publishers had approached her to write such an autobiography because she has been a witness and participant in an important era for China, and she hopes it can serve as a kind of historical record for others. The book took her three years to write, but during the pandemic, she had more time to reflect on her life.
Kan was born in Guilin, Guangxi Zhuang autonomous region, on Oct. 6, 1947, and has had a remarkable career as a renowned television host and producer, successful entrepreneur, fashion icon, bestselling author and humanitarian. Readers of her autobiography will be captivated by her impressive feats, such as leaving home at the age of 16 to study at Brigham Young University in Hawaii, bravely venturing to New York with only $150, producing the groundbreaking program "Looking East," as well as traveling and filming in more than 10 countries for CCTV's "One World" program.
Copies of "Be A Pioneer" on display at the book launch in Beijing, April 8, 2023. [Photo provided to China.org.cn]
After returning to China in the early 1990s following her marriage, Kan founded Yue-Sai Kan Cosmetics, nurturing a team of professional staff who helped the brand flourish, before it was eventually acquired by L'Oreal in 2004. Kan also embarked on several crossover ventures, including the creation of the Yue-Sai WaWa Dolls brand and the House of Yue-Sai. As an ambassador for the Shanghai International Film Festival, Kan played a vital role in securing the attendance of nearly 50 international A-list filmmakers and stars, such as Oliver Stone, Quincy Jones, Halle Berry, Adrien Brody, Hugh Grant and Sophie Marceau. She also served as the national director of Miss Universe China, mentoring seven Miss China titleholders, all aimed at promoting pageant events and ideas in China, a country that previously did not have such concepts and traditions. Additionally, she champions Chinese creativity through her annual China Fashion Gala in New York.
At the book launch, former Miss Universe China titleholders Jin Ye and Hu Yanliang, as well as Miss World China champions Du Yang and Yu Weiwei, were among the guests, fans and colleagues who came to meet Kan. The four pageant winners shared their heartfelt feelings on how Kan had influenced them and other women in China. Kan in turn recalled the Miss Universe China pageant events held in the past, where an annual charity dinner was held during the finals to raise funds for orphanages, cleft lip and palate correction surgeries, and scholarships for students in China's top music, TV and film schools. "Beauty pageants not only select talented beauties but also require contestants to use their beauty as a positive force to give back to society and help those in need. You should use beauty to do something good for the world," Kan emphasized.
For now, Kan remains as busy as always, and has been working with a TV network over the past two years to create a TV show to introduce the real China to the world, hoping to help people better understand the country.
"At present, there are still significant biases against China among foreigners, and foreign media outlets tend to overlook positive stories about China. People who harbor anti-Asia sentiment will attack us in New York; this is horrifying," she said. "That's why I want to create a TV documentary series that showcases 10 Chinese cities, highlighting their development and changes."
In addition, Kan shared her plans to establish a Chinese cuisine center in America to promote Chinese food, cooking and related culture, in order to raise the status of Chinese cuisine.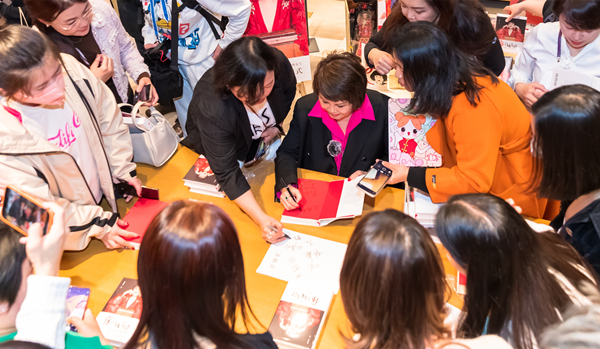 Yue-Sai Kan signs copies of "Be A Pioneer" at the book launch in Beijing, April 8, 2023. [Photo provided to China.org.cn]
"The title of my book is 'Be a Pioneer.' As my father used to tell us, 'Be the first to walk on the moon because nobody remembers the second,'" she said. "Let's strive to do something that has never been done before. And if we happen to be doing the same thing as others, let's do it better than anyone else. By doing so, we will differentiate ourselves from others and truly embody the pioneer spirit. This is the kind of attitude I want to convey to people about life."