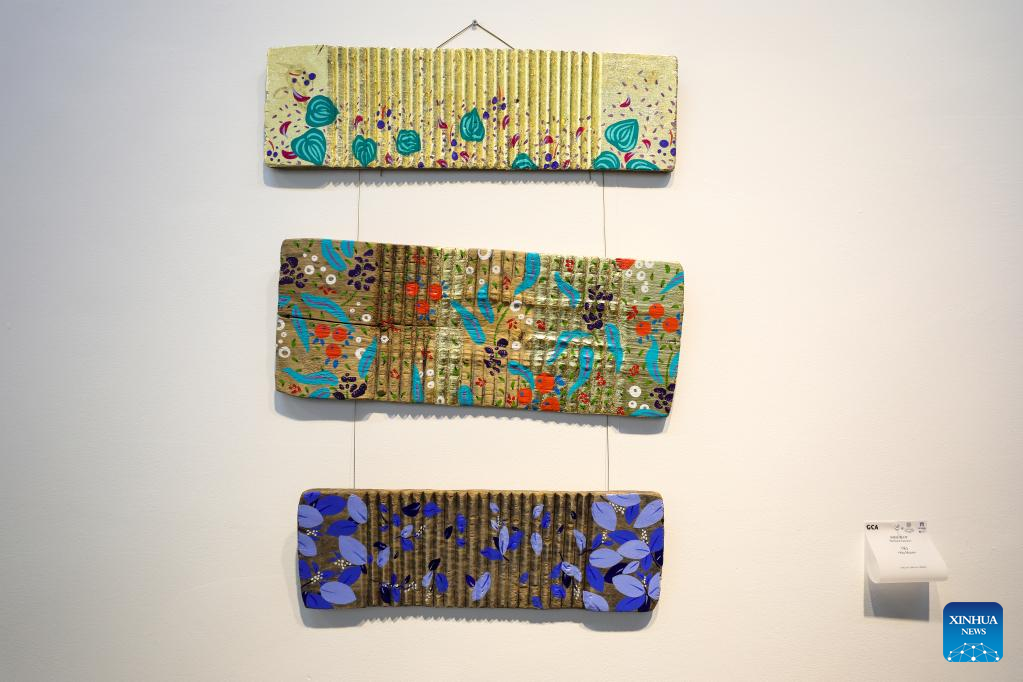 This photo taken on April 7, 2023 shows "No More" by Italian Artist Barbara Vaccaro displayed at an art exhibition in southwest China's Chongqing. (Xinhua/Yang Shiyan)
Old items with an obvious imprint of traditional Chinese culture, such as quaint windows, screens and abandoned laundry boards, have become new carriers of the creative ideas of Italian artists.

As displayed during the ongoing month-long "Connecting Point" contemporary art exhibition in southwest China's Chongqing Municipality, dozens of artworks that blend traditional Chinese culture and trendy Italian design have appealed to even the most finicky of art fans in the city.
Decorating discarded items with graffiti, a number of Italian artists are injecting vitality with a modern touch into old memories.
Divided into halves, an old wooden window now presents itself with an armed warrior and a crowned princess common in Italian opera on one side, and a typical actress and an elder male actor from Peking Opera painted on the other side. Such a collision of different but seemingly interlinked cultural elements is a common theme at the exhibition.
This piece of art is named "Opera" and is the creation of Barbara Vaccaro, who was born in 1975 and hails from Italy's Sicily. She is committed to showing the hidden connections between China and her motherland, using everyday goods no longer used, produced or needed by Shanghai residents as conduits for her artistic expression.
Through her reuse of discarded furniture and windows, old items gain a new vision and life as if time was "sealed up."
One of her artworks, "No more," consists of three old-fashioned laundry boards, one of which even has some cracks on its surface. However, Vaccaro's paintings on these items have enriched their meanings.
"Housework, such as washing clothes, was usually the duty of Chinese women in the past. With the development of society and technology, women have freed their hands and the washboards are no longer used, which also represents the progress of Chinese women's social status and role," said Vaccaro.
Orlando Daga, another exhibitor, is more interested in integrating ideas from Chinese classical works into his creations. He brought 13 pieces of artwork from his latest series, named "Window."
Traditional Chinese-style windows of different shapes and in various colors are interwoven with multiple silk threads by Daga. The window itself symbolizes the external world, while strands of silk can be seen interlacing through the window, which is indicative of the internal connection between different elements -- an artistic expression of existence in traditional Chinese philosophy, said Daga.
Daga has learned more about oriental philosophies since he first came to China in 2014. The Italian soon found that many traditional Chinese philosophical works, such as "Tao Te Ching" by Lao Tzu and the work of ancient Chinese philosopher Zhuangzi, became his main sources of inspiration.
In addition to using windows, Daga also combines colors with the Eight Diagrams in his paintings themed on water, fire and earth etc., to explore the relationship between humans and space. Different diagrams and colors are used as his major background color with blue representing lake water, while brown and yellow represent mountains. The image of people in the middle of the canvas is also often wrapped in layers of ripples, symbolizing the connection between natural elements and mankind.
"Chinese philosophy is very interesting because it gives you a different point of view about how to interpret things," he explained, adding that Chinese philosophy allows him to reflect on topics including harmony with the inner self, the outer energy of people and our relations with the universe and nature.
The exhibition, which starts from April 7 and will last until May 7, provides visitors with opportunities to appreciate the fusion of Chinese and Italian art and culture.