The 100th anniversary of Warner Bros. on Wednesday marks the start of an exciting cinematic carnival for movie fans as the 13th Beijing International Film Festival (BJIFF) approaches. Over 180 films, including new releases, rare screenings and classics, will be shown in local cinemas during the festival.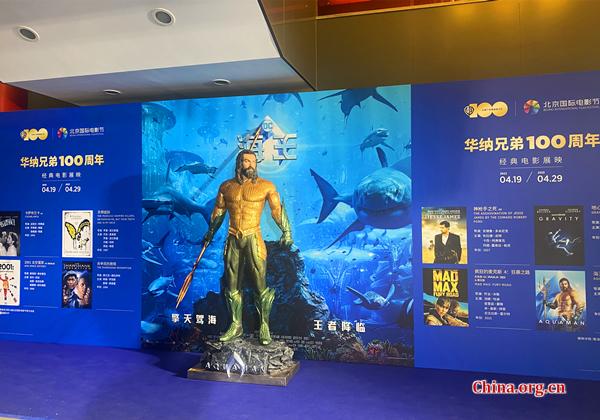 An "Aquaman" statue and a themed background billboard are displayed at the China Film Archive Art Cinema for the "WB 100" centennial celebration in Beijing, April 19, 2023. [Photo/China.org.cn]
The celebration began with a sold-out showing of the DC superhero blockbuster "Aquaman" at the China Film Archive Art Cinema, the first film in the Beijing Film Panorama section of this year's BJIFF. Lead actor Jason Momoa sent a video message to express his excitement for the Beijing audience, stating, "I'm so excited for you to see it again or for the first time. I'm very proud of this film and its success all around the world, and it all started in China. Thank you all for your support. 'Aquaman 2' is a totally new epic adventure. I can't wait to share it with you later this year."
In 2018, "Aquaman," directed by James Wan, the talented Australian filmmaker of Malaysian Chinese descent, exceeded all expectations and raked in an astounding 2 billion yuan ($292 million) in the Chinese film market, demonstrating China's tremendous enthusiasm for the movie.
The "WB 100" centennial celebration will feature screenings of eight classic Warner Bros. films, including "2001: A Space Odyssey" (1968), "Gravity" (2013), and "Mad Max: Fury Road" (2016) in IMAX format, along with "Casablanca" (1942), "The Fearless Vampire Killers" (1967), "The Shawshank Redemption" (1994), and "The Assassination of Jesse James by the Coward Robert Ford" (2007), in addition to "Aquaman."
Warner Bros., now merging with Discovery to form Warner Bros. Discovery, was established on April 4, 1923, as one of Hollywood's eight major production companies. Over the past century, Warner Bros. has built a vast library of more than 145,000 hours of programming, which includes 12,500 feature films and 2,400 television programs comprising more than 150,000 individual episodes. The studio has an extensive range of classic content, including "My Fair Lady," "A Clockwork Orange," "The Exorcist," "The Matrix," "The Lord of the Rings," and "Harry Potter." The studio also boasts beloved franchises like DC Comics superhero movies, Looney Tunes, and TV shows such as "Friends" and "Game of Thrones." Warner Bros. is involved in many aspects of the entertainment industry, such as film and television production, animation, comic books, video games, consumer products, themed entertainment, studio tours, and brand licensing.
To celebrate its centennial, Warner Bros. will be honored in China through a variety of activities, including a special themed exhibition at the China World Shopping Mall in Beijing from March 25 to May 8 and a "WB 100" booth at the Beijing Film Market section located in Langyuan Station, an emerging cultural and creative industrial park in Beijing's Chaoyang district. The company will also collaborate with Tencent Video and other partners to promote online viewing of its classic movies, release commemorative products like online games and merchandise throughout the year, and participate in industry events during the BJIFF. Gillian Zhao, president of Warner Bros. Discovery China, will attend forums and a Hollywood masterclass and serve as a juror for the Project Pitches of the Beijing Film Market.
In a statement regarding "WB 100," Zhao reaffirmed Warner Bros.' ongoing commitment to China's film industry, saying, "For years, Warner Bros. has upheld the principle of being 'rooted in China and embracing the world,' introducing impactful and culturally representative classic stories from around the globe to Chinese audiences. Additionally, we remain dedicated to telling Chinese stories and promoting Chinese culture and filmmakers on the international market. Warner Bros. Discovery is committed to continuing to root itself in China as it embarks on its second century of development, making tangible contributions to Chinese cinema and fostering cultural exchanges between China and the world, enabling more heartwarming stories to shine."
Warner Bros. Discovery also announced on Wednesday that its latest superhero production, "The Flash," had been approved for release in China.
In addition to the "WB 100" celebration, the Beijing Film Panorama, running from April 20 to 29, will showcase over 180 films from around the world in 27 cinemas. The 13th BJIFF selection includes many eagerly anticipated films, with tickets selling out within seconds for titles such as Hou Hsiao-Hsien's "A City of Sadness," Benny Chan's "A Moment of Romance," and Stanley Kubrick's "2001: A Space Odyssey."
This year's Beijing Film Panorama offers various categories, including Restored Classics, Filmmaker in Focus, and Vision. A standout feature of the event is the special presentation of 10 recent films produced by countries along the Silk Road, showcasing the unique creativity of Asian cinema as 2023 marks the 10th anniversary of the Belt and Road Initiative. Another section will feature classic films by Zhang Yimou, this year's Tiantan Award jury president, with several digitally restored. Moreover, the Virtual Reality section has been upgraded to the Extended Reality (XR) Section to highlight the integration of XR imaging technologies into the arts. Notably, Universal CityWalk Cinema of Universal Beijing Resort is collaborating with Beijing Film Panorama for the first time, primarily showcasing the three installments of the popular "Kung Fu Panda" franchise.