The 13th Beijing International Film Festival (BJIFF) held its opening forum, "Film Power Forum on Industry - Projecting Your Stories Across Seas," in Beijing on Sunday.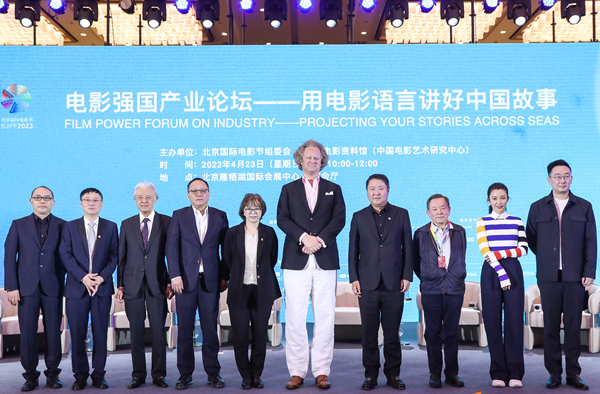 Hosts, guest speakers and filmmakers pose for a group photo after the conclusion of the "Film Power Forum on Industry - Projecting Your Stories Across Seas" during the 13th Beijing International Film Festival held in Beijing on April 23, 2023. [Photo courtesy of the BJIFF Organizing Committee]
Ando Hiroyasu, chairman of the Tokyo International Film Festival (TIFF), German director Florian Henckel von Donnersmarck, Chinese producers Fu Ruoqing, Bill Kong, and Yu Dong, actress Li Bingbing, and director Lu Chuan gathered to exchange their respective experiences in the film industry. They shared insights on crafting compelling Chineses tories, increasingthe international outreach of Chinese films, fostering cultural exchanges and mutual learning, and boosting the global recognition of Chinese culture. The discussion spanned multiple aspects of the industry, including acting, creation, production, and film festivals.
At the start of this year, three Chinese Spring Festival blockbusters –"Full River Red,""The Wandering Earth 2," and "Hidden Blade" – were released in North America and various other foreign markets, garnering impressive box office results and widespread critical acclaim.
Fu Ruoqing, chairman of China Film Group, reflected on "The Wandering Earth 2" and its international distribution experience at the forum. He emphasized that the film was made with the intention of achieving a simultaneous global release. "Currently, Chinese films that manage to secure simultaneous overseas releases mainly belong to the science fictionand martial arts genres. 'The Wandering Earth 2' is a hardcore sci-fi blockbuster, and we were confident this high-quality film could hold its own overseas. This film embodies the values of a shared future for humanity and can resonate with overseas audiences."
The team behind "The Wandering Earth 2" collaborated with Well Go USA for overseas distribution, surpassing expectations. In terms of market returns and feedback, the film was released in more than 30 countries and regions, generating over $14.5 million at the international box office.
Yu Dong, chairman of Bona Film Group, offered four suggestions to improve China's capabilities of film distribution and export as well as its influence. First, he proposed cultivating international buyers by inviting them to Beijing to watch and select Chinese films. Second, he recommended international co-productions, with Chinese and foreign parties contributing both funds and market distribution capabilities together, binding distribution and interests beforehand. Third, he suggested establishing a mature international release schedule, making China's Spring Festival film seasona global one, like Hollywood's Christmas and summer seasons. Finally, he emphasized the importance of establishing an appropriate intellectual property rights protection system for films intended for overseas release.
The Disney nature wildlife documentary "Born in China," directed by Lu Chuan, achieved impressive box office results, earning $13.87 million in North America and $25 million worldwide. Lu, who is set to release his latest work,"Beijing 2022," on May 19, emphasized that Chinese films can successfully expand their reach through global distribution channels. "We collaborated with Disney on 'Born in China.' Initially, I was concerned about the box office performance of a nature-themed documentary, but I saw that Disney was vigorously promoting it. Trailers were playing on screens in Disney's offline stores and a star-studded premiere was organized, with Woody Allen and the Coen Brothers attending. We saw this not only in Chinatown but also in various communities, with school buses full of children heading to the theaters accompanied by parents. I felt incredibly proud of it," he said.
Actress Li Bingbing has starred in several international blockbusters, portraying capable and intelligent Chinese female characters in films such as "Resident Evil: Retribution,""Transformers: Age of Extinction," and "The Meg."Before accepting any co-production offer, she first examines the story and the character. Furthermore, she assesses whether the role perpetuates stereotypes and biases or presents a powerful, multidimensional character with depth. "Chinese women are changing nowadays, and the whole world should witness their true selves," she said. She also encouraged actors aspiring to work in co-productions to learn foreign languages, as language should not become a barrier to acting. "Only by mastering the language can you act confidently," she added.
Ando Hiroyasu, the chairman of TIFF, emphasized that East Asian countries like China, Japan, and South Korea share a unique cultural and aesthetic sensibility, which imparts a distinctive value to their films. "In the era of globalization, while showcasing our cultural heritage through cinema, we must preserve our traditions while being open to the new cultural changes of the times," he noted.
Florian Henckel von Donnersmarck, the acclaimed director of films like "Never Look Away" and "The Lives of Others," asserted that national culture is universal from a creative standpoint. He observed that numerous favorable conditions exist for Chinese films to gain global recognition, and urged creators to stay true to their cultural roots. "The best way to overcome cultural limitations is to genuinely showcase the various aspects and elements of this country and allow people worldwide to experience and feel them."
"Chinese films right now are the high point of their reputation internationally," added Donnersmarck. As a member of the committee that selects films for the Best Foreign Language category at the Academy Awards, he noted that when Chinese films are shown in theaters as contenders for the category, they tend to attract a full house, which is not always the case for films from other countries.
Donnersmarck commended China's capacity to draw in gifted filmmakers, highlighting that the nation has built and sustained a compelling framework for the film industry. He went on to describe China as a "filmmaking paradise," with abundant resources and investment, and noted that film companies and the Chinese government have both given significant support to the industry, which is something he and his fellow foreign filmmakers deeply admire.