"Born to Fly," the Chinese answer to the Hollywood blockbuster "Top Gun," is a tribute to the unsung heroes who test China's fighter jets and safeguard the country's airspace.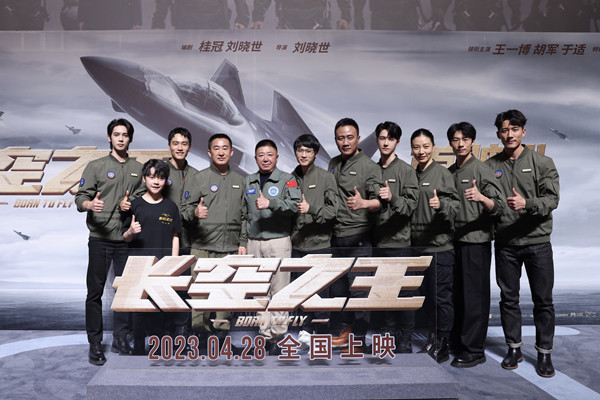 The cast and crew of "Born to Fly" pose for a group photo at the premiere in Beijing on April 23, 2023. [Photo courtesy of Alibaba Pictures]
Directed and written by Liu Xiaoshi, and starring Wang Yibo, Hu Jun, and Yu Shi, the film focuses on China's best test pilots. It tells the story of a team of Chinese pilots called upon for a secret mission to test military jets in extreme situations, pushing their boundaries to guarantee safer aircraft for the frontline air force. The film, supported by China's air force, showcases authentic and thrilling scenes featuring China's J-16 fighter jets and J-20 stealth fighter jets.
The film revolves around the birth of the J-20, China's most advanced fighter jet that stands out even compared to those developed by other major powers. The film also focuses on the aviation personnel, scientists, and engineers who have made significant contributions to society, the country, the advancement of China's aviation technology, and national defense. They are truly remarkable, said the director at the Beijing premiere on Sunday.
He added, few films globally focus on the air force or fighter jets, linked to each country's aviation industry's hard power. China's complete aviation industry chain was the foundation to produce "Born to Fly." His generation has been fortunate to witness China's aviation industry catching up and even surpassing developed countries. Now, thanks to the country's pivotal advancements in equipment development, they have the opportunity to create a film centered around aviation themes.
Liu began working with the Aviation Industry Corporation of China (AVIC) in 2008, producing many science and research films and documentaries, making him an aviation machinery expert. His feature film directorial debut, "Born to Fly," was inspired in 2012 by the launch of the Liaoning aircraft carrier, preparing for China's first carrier-based aircraft takeoff and landing training. Liu was acquainted with one of the five test pilots on board, whose dedication to pushing the limits of flight inspired him to make a film celebrating these extraordinary pilots.
In the spring of 2019, the project finally materialized as Liu and another screenwriter, Gui Guan, began the creation process. Joined by their crew, they conducted extensive research and surveys in various aircraft manufacturing plants, flight design research institutes, and flight test centers throughout China. Drawing on the millions of words they recorded as reference documents, they found inspiration in the true events and touching stories of real pilots. By crafting realistic and convincing characters, the film's final cut emerged as an emotionally stirring and awe-inspiring cinematic experience.
After attending the premiere, special guest and J-20 test pilot Li Gang expressed that he had been captivated by the film's profound impact and emotions. He mentioned that the film not only authentically portrayed the charm of test pilots and contemporary military personnel but also demonstrated the rapid development of the aviation industry. Li reminisced, in an instant, it brought him back to the days when he flew alongside his comrades-in-arms, evoking memories of those passionate years."
"Born to Fly" is set to hit Chinese cinemas on April 28, one day ahead of the May Day holiday. Additionally, the film has also been selected as the closing film of the ongoing 13th Beijing International Film Festival. Garnering rave reviews from both the audience and critics at the premiere, the film's box office potential has been boosted by the star power of Wang Yibo. As of Tuesday, presale tickets for "Born to Fly" have surpassed a staggering 70 million yuan ($10.13 million), placing it ahead of all other films released during this period, according to China's entertainment big data platform, Lighthouse.