Veteran Chinese producer and filmmaker Huang Jianxin recently shared with China.org.cn his belief that film can serve as a powerful medium for communication despite humanity facing difficult times and uncertainties, such as the COVID-19 pandemic and conflicts between nations.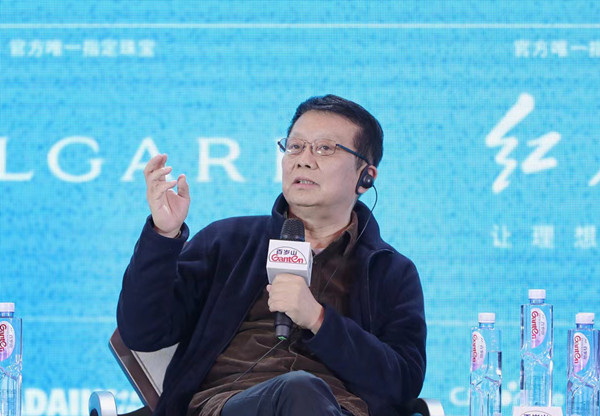 Huang Jianxin, the creative force behind blockbusters like "The Battle at Lake Changjin," "My People, My Country," "1921," and "The Mummy: Tomb of the Dragon Emperor." [Photo courtesy of the BJIFF Organizing Committee]
"In the last three years, the global landscape has undergone significant changes, with the pandemic and numerous conflicts presenting immense challenges and causing widespread confusion," Huang observed.
He believes that movies can help break down barriers and enable people to connect through shared cultural experiences. According to Huang, films possess a unique ability to communicate more deeply and clearly through visual language. They can evoke beauty with captivating imagery and convey warmth through a simple smile. This power makes movies an indispensable communication medium, particularly during times of hardship and uncertainty.
Huang's views align with those of Yin Hong, a professor at Tsinghua University and vice chairman of the China Film Association. Yin also attended the "Film Power Forum on International Cooperation – Cultural Exchange with Films" at the 13th Beijing International Film Festival (BJIFF) alongside Huang and other industry professionals. He highlighted that as humans increasingly find themselves in the same boat – one he referred to as "a boat of uncertainties" – facing challenges in areas such as the ecology, technology, and the pandemic, movies should strive to create a peaceful environment that reduces conflict and misunderstanding.
The Chinese film market experienced a successful start during the Spring Festival holiday, earning a total of 6.76 billion yuan ($981 million) – the second-highest record for that period. However, the market slowed after the holiday despite the release of numerous films. Huang discussed the box office results for the first three months of the year, pointing out that while the overall performance was strong, there were issues with the number of films being released. He mentioned that more films, including many older ones, were released compared to previous years, resulting in a lower average box office for each film. Although some films performed well, many struggled to find their place in the market. Huang hopes this issue can be resolved soon, as the film market is highly market-driven.
"Films that don't fit into designated release periods, such as the Spring Festival or summer season, can be greatly affected in terms of box office earnings. This has been a recent issue for this year's movies, with some films earning significantly less than expected due to being released at the wrong time. We are also dealing with new market characteristics for the first time and are trying to find ways to help these movies achieve the results they deserve," he explained.
Huang recalled how Chinese filmmakers sought international investment for art-house films in the industry's early days. The domestic film market became profitable as China's economy and culture developed, and overseas investment increased. With market growth, China began investing in cultural projects worldwide. Huang stressed the importance of peaceful and equal communication between filmmakers globally, as the film industry has the potential to unite people in their artistic pursuits.