Despite sudden heavy rain and hail in northern Beijing's Huairou district, stars braved the elements to walk the red carpet of the closing ceremony of the 13th Beijing International Film Festival on April 28.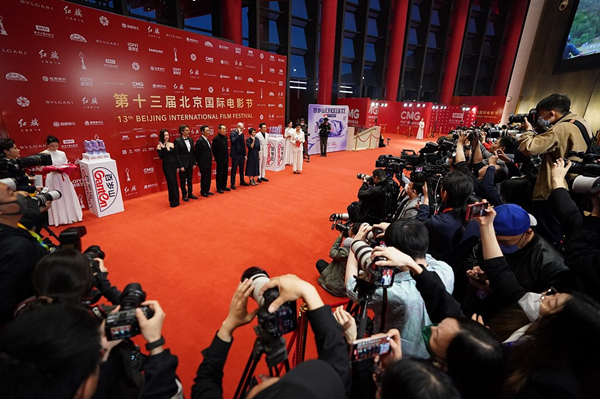 International jury members of the Tiantan Award pose for a photo at the red carpet during the closing ceremony of the 13th Beijing International Film Festival. [Photo/VCG]
More than 100 celebrities were in attendance, most of whom were cast and crew from around 20 featured movies. The films on show ranged from contenders for the festival's top honor, the Tiantan Award, to some upcoming blockbusters. On the sidelines, they shared their passion for cinema and revealed some behind-the-scenes details.
Wu Yanshu, an 85-year-old veteran who won last year's Tiantan Award for best actress for her heartwarming movie Song of Spring, described the annual event as a "lucky place" that holds a special place in her heart. She expressed her desire to continue acting as long as the audience needs her.
Ge You, one of the most famous actors in China for comedy hits like The Dream Factory, also shared his decades-long love for movies, mentioning he is willing to patiently wait for good scripts and directors.
As the first international film festival in the country to fully resume all in-person activities since the COVID-19 outbreak, the event attracted nearly 1,500 movies from 93 countries and regions to join the competition for the Tiantan Award. It has also become a carnival for movie fans, with over 180 films screened at 27 cinemas.
Singaporean film director Anthony Chen, known for Wet Season, said the festival has always given him a sense of freshness. He expressed hopes the festival continues to expand its international presence and encourages greater cinematic exchanges between Chinese and foreign filmmakers.
Deemed an incubator for emerging talent, this year's Forward Future Section drew nearly 500 movies from more than 60 countries and regions to compete for its seven awards.
Hong Kong actress Kara Wai said she collaborates with young directors by acting in one or two of their films each year. She also expressed excitement at having met many new young directors through the festival.
The closing movie for the festival is Born to Fly, which tells the story of a group of test pilots from the People's Liberation Army Air Force. Opening domestically on Friday, the movie has already grossed over 75 million yuan ($10.8 million), topping China's box office charts. Director Liu Xiaoshi, who walked on the red carpet with the cast, said he hopes the movie will pay tribute to the pilots who risk their lives to fly test missions for the development and improvement of China's most advanced fighter jets.