During the 13th Beijing International Film Festival (BJIFF), film executives attended a workshop to discuss the development of China's film content franchise assets and the impact of technology on the industry's future.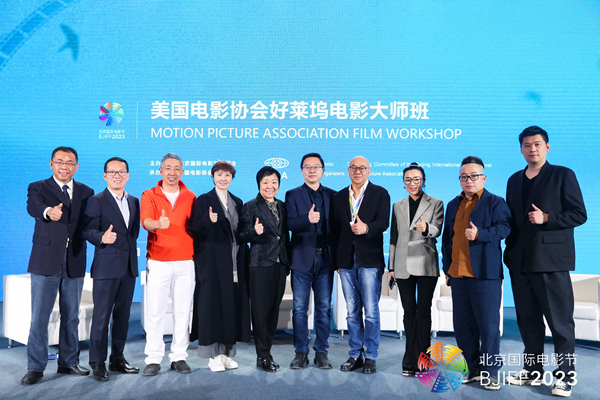 Guest speakers pose for a group photo during the Motion Picture Association Film Workshop held during the 13th Beijing International Film Festival (BJIFF) in Beijing, April 27, 2023. [Photo courtesy of MPA]

In his opening speech, William Feng, the head of greater China and vice president of Asia Pacific for the Motion Picture Association (MPA), highlighted the rapid changes in the global film industry due to factors like streaming media and artificial intelligence (AI) applications. Feng noted that throughout the century-long history of world cinema, milestone events and major transformations have been closely linked to technological advancements and industrialization.
On April 27, attendees at the Motion Picture Association Film Workshop delved into themes such as film and TV intellectual property (IP) assets and the digital future of the Metaverse, examining prominent tech-related subjects. Esteemed Chinese filmmakers and industry leaders participated in two panel sessions, focusing on developing digital assets within the Chinese film and TV ecosystem and discussing film and TV technology, AI-generated content, and content creation in the Metaverse.
Gillian Zhao, president of Warner Bros. Discovery China, underscored the importance of storytelling and high-quality content in developing classic IP. She encouraged domestic peers to adopt a more flexible approach to IP authorization while emphasizing the significance of the entire industry chain in creating a comprehensive ecosystem. Zhao also highlighted the use of digital assets as a tool to maintain fan enthusiasm and attract more fans, citing "The Matrix" movies in the U.S. as an example.
Li Jie, senior vice president of Alibaba Pictures and CEO of Taopiaopiao under Alibaba Group, stressed the importance of a unique worldview and adaptability to different formats for successful IP. Li noted that China's IP industry has a weak foundation and requires influential works and character roles to expand. He identified three critical factors for successful IP development: sustainability, strong commercialization, and vitality.
JC Cheng, president of Fosun Pictures, proposed essential factors to consider while building a mature and complete ecological IP system, including characters, emotions, stories, scenes, symbols, commercial awareness, planning, and implementation paths. Cheng emphasized that constructing such a system requires time and patience, focusing on long-term planned operations rather than short-term monetization.
Director Xue Xiaolu stated her belief that selecting a good story is the foundation for developing IP. In addition to the frequent adaptations of online novels, she suggested that excellent serious literary works, foreign novels, picture books, and other materials should be considered for film and television adaptations. Xue cited the successful adaptation of "Dune" (a 1965 sci-fi novel) to express that IP development requires time and patience, emphasizing that classic literary works can stand the test of time.
Li Ning, CEO of New Classics Pictures and senior VP of New Classics Media under China Literature, emphasized the importance of adapting literary works. He suggested integrating numerous authors and works to create a comprehensive IP digital ecosystem, converting suitable works for digital asset development into various content forms. Li also noted that their broad definition of IP includes content within various intellectual property rights as long as it has commercial value. Li also stated that AI technology could improve industry efficiency and speed, better serve company profit goals, and make film production more efficient, marketable, and profitable.
At the workshop, several speakers shared their views on the advancements of AI and other cutting-edge technologies being used or considered for film production.
Lyu Yangming, president of Huawei Cloud Hybrid Cloud, asserted that AI serves as the driving force behind the audio and video industry, from movies and TV to mobile internet and the Metaverse, creating new opportunities. "With 90% of the top 10 global box office movies utilizing virtual production, AI technology can create many opportunities in film and television production. The ability to harness cloud computing power and advanced models will determine the competitiveness of film and television-related companies."
Gong Caichun, president of the Wuhan Metaverse Research Institute and director of the Metaverse committee of the Beijing Information Industry Association, argued that the copyright of machine-generated content in the future Metaverse space is legally disputed. To resolve this issue, systemic changes and revisions of relevant legal aspects are necessary. Additionally, rights confirmation, source tracing, and watermarking technologies can be employed to protect IP and encourage innovation.