Prominent Chinese director Zhang Yimou held a masterclass on April 27 during the 13th Beijing International Film Festival (BJIFF), sharing his cinematic universe with the attendees and his thoughts on how to attract audiences back to the cinema amid competition from rivals such as short video apps and video games.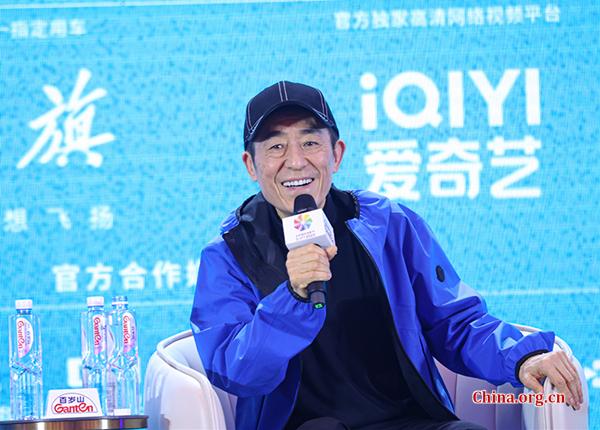 Zhang Yimou speaks at a workshop and masterclass held in Beijing during the 13th Beijing International Film Festival, April 27, 2023. [Photo by Lun Xiaoxuan/China.org.cn]


Zhang, who was later given a lifetime achievement award by the film festival organizers on April 28, believes that having grown up in the era of visual media, today's audiences are much smarter than one might imagine. As a creator, he stressed the importance of setting aside the "artist" ego and tapping into the spirit of innovation to attract audiences to the cinema. "The cinema is the ultimate destination of the film industry and market," he said. "To become a world leader in the film industry, we must first be able to draw audiences to the cinema."
He explained: "If audiences don't go to the cinema, and instead choose to watch films on the internet or short videos, the film industry may become obsolete. Therefore, we must try to reach the general public, get as close to audiences as possible, and interact with them instead of being too inflexible with our own artistic ideas. Personally, I advocate for this kind of creative approach."
"What makes a good film? There are different opinions," Zhang added. "But one thing is certain: for creators, attracting audiences is essential for survival, and for the Chinese film industry to become a global powerhouse. Otherwise, it's all just a bubble."
Known as a leading figure in China's "fifth-generation" of filmmakers, Zhang Yimou is one of the country's most internationally recognized auteurs. His recent historical suspense comedy-drama, "Full River Red," grossed 4.54 billion yuan ($659.4 million) to become the highest-earning movie of his 36-year directorial career and one of the most financially successful movies in Chinese history.
"Its box office performance exceeded my expectations. I once thought 2 billion yuan would have been a great success. Combining education with entertainment is very challenging, but I was pleasantly surprised by the audience's positive response," Zhang said.
What really captivated Zhang was the poem "Full River Red." He explained: "The story of several illiterate soldiers who were willing to sacrifice their lives to obtain Yue Fei's final poem is a legendary tale from history that has created a unique sentiment and elevated the concept. Such themes are rarely seen in world cinema, and have the ability to transcend cultures."
From his award-winning art films of the 1980s and 1990s, such as "Red Sorghum," "Raise the Red Lantern" and "The Story of Qiu Ju," to the commercial blockbusters of the 2000s led by "Hero," Zhang Yimou firmly grasps the sentiment of the times and the hearts of ordinary cinemagoers. Nowadays, he has a special love for genre films. "In an art film, emotions can be conveyed throughout the entire movie, but in a genre action film, only one-tenth of the time may be used for emotional expression. It's precisely these well-placed emotional moments that make me feel that this is a sophisticated approach and leaves a lasting impression on people."
For decades, Zhang Yimou has been constantly innovating in the film industry. He revealed that even if he has worked on a script for years, he will abandon it if he lacks confidence in his creativity for it. He aims to incorporate his distinctive film aesthetics into every movie he creates. Interestingly, Zhang has always tried to showcase Chinese traditional culture. "I insist that all of my movie titles be written in calligraphy. I believe that using calligraphy for movie titles is a very cultural approach internationally," he said.
At the age of 73, Zhang Yimou still maintains a strong creative energy. In addition to directing the e-sports-themed online series "League of Legends," he will also start shooting a neorealist film this June. He also emphasized the importance of continuous learning, saying, "With every movie I make, I need to innovate and do things that I've never done before."
Zhang is serving as the jury president for the Tiantan Awards at this year's BJIFF. The jury decided the winners of 10 awards, which were announced on April 28. Matias Bize's film "The Punishment" ("El Castigo") won the Best Feature Film award, while Zhang Lyu's "The Shadowless Tower" received 5 awards.
During a press conference attended by the jury members on April 25, he expressed his high hopes for the future of Chinese films: "The Chinese film market should not only be bigger and stronger, but Chinese films must also go out into the world. We must let Chinese culture, works and sentiments reach movie lovers all over the world. Only then can we say that Chinese films have a strong influence and that we have contributed to the betterment of humanity and the world."