The 3rd Sanyuesan Ethnic Groups Film Culture Week was held from April 28 to May 3 in Nanning, Guangxi Zhuang Autonomous Region. During the event, critically acclaimed films featuring Chinese ethnic groups were screened, alongside a roundtable forum and other activities showcasing ethnic cultures.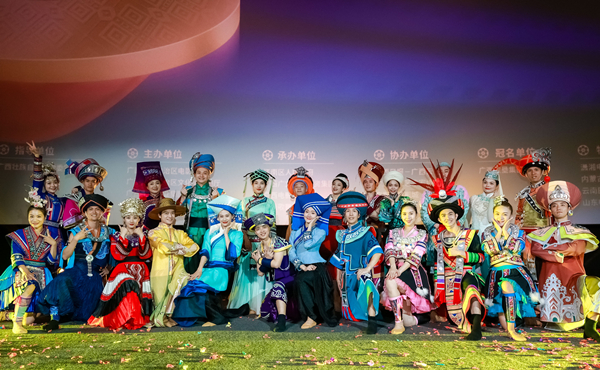 Performers in ethnic costumes pose for a group photo at the opening of the 3rd Sanyuesan Ethnic Groups Film Culture Week, April 28, 2023. [Photo provided to China.org.cn by event organizers]
The film event received over 100 submissions from across China, with the organizing committee carefully selecting 12 ethnic films — including "Huang Wenxiu," "Spring Returns to My Homeland" and "Kong & Jigme" — as well as five short films, which were screened free of charge during the event.
The name of the film festival was inspired by Guangxi's "Sanyuesan" folk festival, also known as "Sam Nyied Sam," a traditional festival celebrated by many ethnic groups in China and especially in Guangxi.
The selected films covered a wide range of themes and genres, including poverty alleviation, poverty relief education and homeland construction. Some films vividly depicted the moving stories of various ethnic groups united in their struggle to overcome difficulties and obstacles, striving to achieve the Chinese dream of national rejuvenation. Others told ordinary yet beautiful stories that showcase the solidarity and friendship among different ethnic groups, who support and help each other.
Liu Kun, deputy director of the Publicity Department of the Communist Party of China (CPC) Guangxi Zhuang Autonomous Regional Committee, expressed his hope that the event would inspire more talented filmmakers to participate in the production and creation of ethnic feature films.
Huang Kehong, chairman of Guangxi Cultural Industry Group and one of the organizers, expressed his desire that the film week would deepen the unity and cohesion of various ethnic groups in their ideals, beliefs, emotions and cultures. He emphasized that this would promote the unity of all ethnic groups within the Chinese nation, and that such efforts would contribute to promoting China's cultural strength and comprehensive modernization.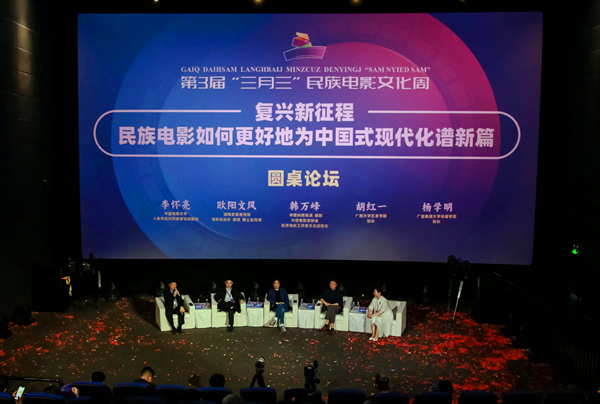 Experts participate in a themed forum exploring the current and future development of ethnic films during the 3rd Sanyuesan Ethnic Groups Film Culture Week, April 28, 2023. [Photo provided to China.org.cn by event organizers]
A roundtable forum was also organized to further analyze the current development and future of ethnic films, attended by film and cultural experts who exchanged their opinions on the theme of "A New Journey of Rejuvenation: How Ethnic Films Can Better Contribute to a New Chapter in Chinese Modernization."
Li Huailiang, dean of the Institute for a Community with Shared Future at the Communication University of China, proposed four key words for the forum: ethnic films, Chinese modernization, unity in diversity and ethnic community. Meanwhile, Ouyang Wenfeng, a professor at the College of Literary Studies of Central South University, emphasized the importance of ethnic films aligning with China's overall national community and addressing the country's spiritual and cultural needs.
"Such films must balance the relationship between material and spiritual life, and between ethnic groups and the world," Ouyang said. "They should tell the story of the Chinese nation well, while seeking the root of the ethnic soul and spiritual belief."
Han Wanfeng, a Chinese director and screenwriter, emphasized that in order for ethnic films to receive more attention and recognition, it is necessary to incorporate the aesthetics of the Chinese national community throughout the entire film creation process and to provide more texts for the development of Chinese ethnic film aesthetics.
As a scholar and screenwriter, Hu Hongyi, dean of the School of Art at Guangxi University, reexamined past box office hits and discovered that it is touching and down-to-earth stories and character images that truly move audiences. He emphasized that "ethnic films" is more than just a label, and should focus on creating good stories within ethnic regions or groups.