Distributors announced Tuesday that the China-U.S. co-produced sci-fi monster blockbuster "Meg 2: The Trench" will arrive in Chinese theaters this summer. Its first installment was hailed as one of the best examples of Sino-American film co-production.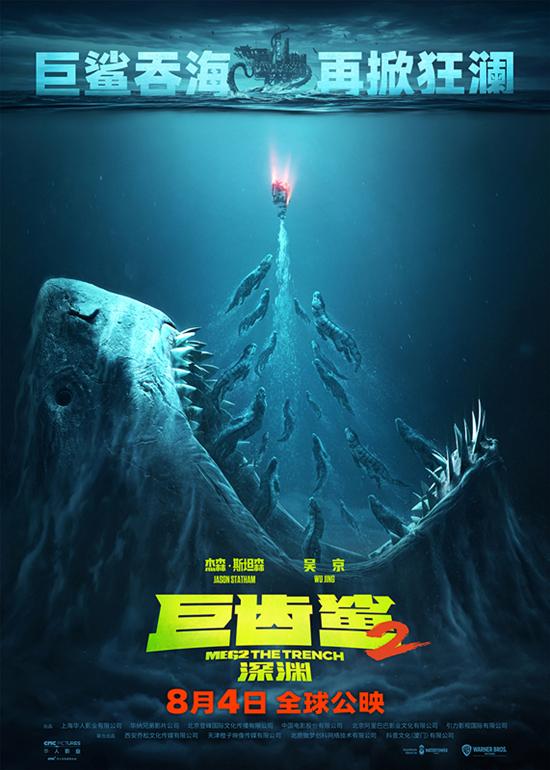 A new Chinese poster released for "Meg 2: The Trench" shows the giant shark. [Image courtesy of CMC Pictures]
In the highly anticipated sequel to the 2018 sci-fi giant monster horror film "The Meg," Chinese action megastar Wu Jing will join British action star Jason Statham. "Meg 2" is set to be released in China on August 4, simultaneously with North America and many other markets worldwide.
The film is directed by Ben Wheatley and loosely based on Steve Alten's 1999 book "The Trench." Although the director has changed, the sequel will see the original cast and crew return, including scriptwriters Dean Georgaris, Jon Hoeber, and Erich Hoeber, as well as actors Sophia Cai, Cliff Curtis, and Page Kennedy from the first installment.
The first installment of "The Meg" was well-received by audiences in both China and the United States, demonstrating the success of co-production, where Chinese elements were seamlessly integrated rather than forced for the Chinese market. It was regarded as a significant milestone for a Sino-American project primarily developed by a Chinese company, gaining widespread popularity.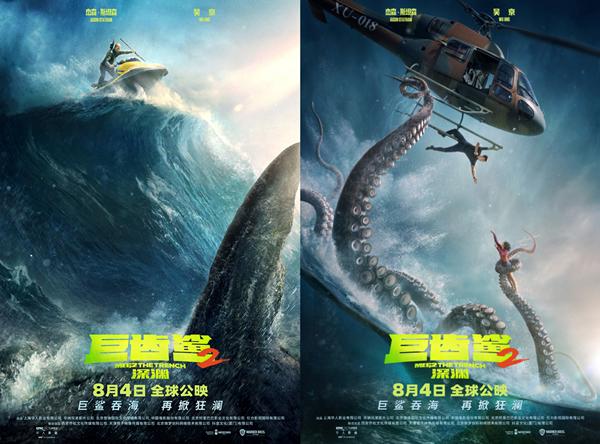 Two new Chinese posters released for "Meg 2: The Trench" show Jason Statham and Wu Jing in action. [Image courtesy of CMC Pictures]
In North America, it grossed $145 million, while in China, it earned 1.05 billion yuan ($166.8 million), contributing to a global total of $530 million when combined with other market grosses. "The Meg" surpassed "Kung Fu Panda 3" as the highest-grossing China-U.S. co-production of all time, boosting confidence in Chinese and American filmmakers and showcasing the potential of cultural cooperation. This achievement has provided valuable insights and experiences for both the Chinese and American film industries.
In a recent interview with China.org.cn, Gillian Zhao, president of Warner Bros. Discovery China, one of the main producers of the film alongside China's CMC Pictures, emphasized the accomplishments of "The Meg" as an outstanding example of co-productions. The film, created in partnership with China's CMC Pictures, has generated revenue through various channels worldwide.
Zhao explained, "If Chinese co-produced films can achieve even greater box office returns outside of China, then our Chinese films can have higher production budgets in the future because their revenue is global." She believes that a good and universal story that transcends cultural differences and historical backgrounds will work on the global platform.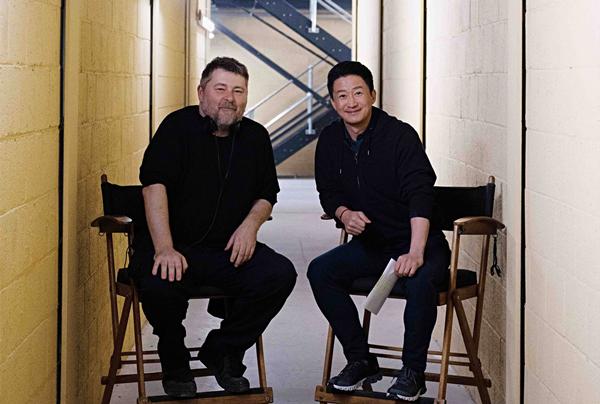 A photo released by CMC Pictures shows Wu Jing and director Ben Wheatley on the set of "The Meg 2: The Trench." [Photo courtesy of CMC Pictures]
On Tuesday, three new Chinese posters and a trailer were released, showcasing the enormous sharks and featuring lead actors Wu and Statham in action. The trailer reveals Statham and Wu teaming up to embark on an adrenaline-filled underwater journey, investigating new creatures at the bottom of the ocean and facing off against a trio of giant sharks.
Wu Jing, renowned for his roles in Chinese juggernauts like "The Wandering Earth" and "Wolf Warrior," recalled his curiosity and excitement after reading the script for the sea monster movie. Despite his childhood fear of monsters, he saw this as an opportunity to challenge himself and understand the intricate process of filming underwater.