At 81 years old, Dong Renwei, a prominent figure in China's sci-fi and popular science scenes, remains tireless in his efforts to promote Chinese science literature globally.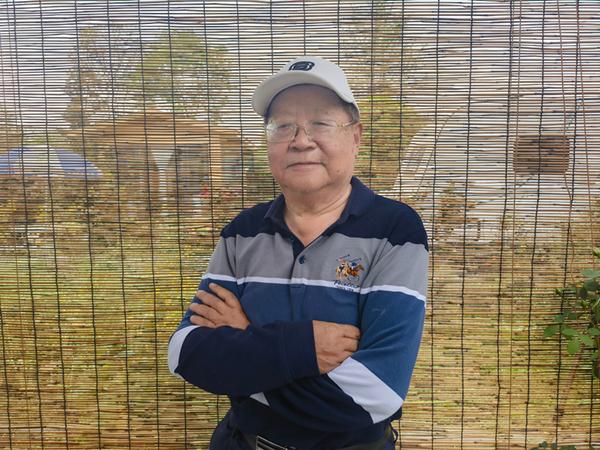 A photograph of Dong Renwei. [Photo provided to China.org.cn]
Dong has led a storied life and made many significant achievements. Born in April 1942 in Chongqing, he studied biology at Sichuan University before going on to become a senior engineer in the field. In his spare time, he was a prolific author, writing over 100 books in the genres of popular science, science fiction and literature. After retiring, Dong continued to dedicate himself to popular science and sci-fi causes, co-founding various important organizations and events, including the Chinese Nebula Awards, which is China's top sci-fi prize.
During the recently concluded 14th Chinese Nebula Awards and Children's Science Fiction Nebula Awards, along with their respective affiliated conventions and summit forums over the weekend, the mogul delivered numerous speeches, acted as a host, promoted new projects and presented awards. Immediately after the awards ceremony, he traveled to Chengdu in Sichuan province with several other sci-fi writers to inspect the construction of venues for the 81st Worldcon and participate in an industry conference. "I'm 81, but I feel as if I'm just 18," he remarked.
In his vision, the Chinese Nebula Awards brand, which he, his peers and followers have spent 14 years and a significant amount of private capital building, should be elevated to another level. He aims to transform it from a sci-fi literature awards ceremony into a sci-fi festival that encompasses related industries such as movies, games, cartoons and merchandise.
In addition, he and his co-founders originally envisioned the award as a global recognition of all Chinese sci-fi professionals, whether domestic or overseas. As the awards ceremony tours different cities every year, Dong has proposed hosting the awards in Hong Kong, Macao and even foreign territories such as Australia, the United States and the United Kingdom, to attract participation from foreigners.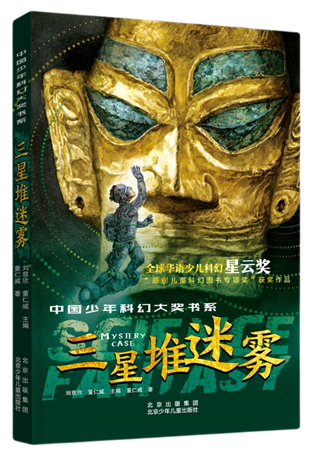 The book cover art of Dong Renwei's sci-fi story "Mystery Case of Sanxingdui." [Image courtesy of Beijing Children's Publishing House]
Currently, Dong is working on two books about life science and biology, aiming to contribute to China's popular science library by exploring cutting-edge scientific topics. Additionally, his children's sci-fi story, "Mystery Case of Sanxingdui," which was published last year, received high praise and was awarded at this year's Children's Science Fiction Nebula Awards, which just so happened to take place in Guanghan, the home city of the mysterious Sanxingdui Ruins site in Sichuan.
The inspiration for the book came during an expedition tour that began in 2007, when Dong and his colleagues embarked on a quest to uncover clues about the origins of the legendary Chinese hero Yu the Great. At the same time, they also aimed to unravel the mysteries surrounding the ancient Shu Kingdom, which was connected to the Sanxingdui Ruins site, he revealed.
However, their research was abruptly interrupted by the devastating Wenchuan Earthquake in 2008, which claimed the lives of nearly 70,000 people and left around 18,000 missing. Dong emotionally recalled that many of his friends perished during the disaster 15 years ago. Fortunately, he had completed his part of the research and returned to Chengdu on May 11, 2008, just one day before the massive earthquake struck. This harrowing experience is also documented in his book.
After the expedition tour resumed, he continued gathering materials in Sichuan. However, in the end, his evidence fell short of what he deemed necessary to produce academic papers that could definitively determine the historical truth. As a result, Dong decided to convey his perspective on the lost history through the guise of a sci-fi narrative and pave roads for future generations. "This book is not just for children; anyone can read it and be inspired," he said. "In the future, I hope to see many more individuals carry on with my expeditions and research, and become renowned scholars."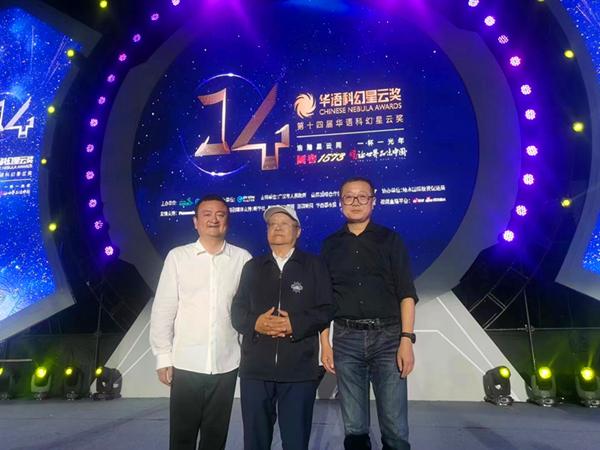 Dong Renwei (C) poses for a photo with Gan Weikang (L), his partner and president of Eternal Vision Science Fiction Media Co. Hainan (EV/SFM), and Liu Cixin (R), renowned sci-fi writer, on stage at the 14th Chinese Nebula Awards gala held in Guanghan, Sichuan province, May 13, 2023. [Photo provided to China.org.cn]
Despite his advanced age, Dong Renwei tries to keep moving forward and make each day count. He explained his personal motto: "As long as I'm alive, I'll keep working. If I die, so be it. Whatever the case, when it comes to an end, it is the end." Furthermore, he actively keeps up with the times by keeping abreast of the latest technologies, including the much-discussed ChatGPT. "I just want to say, artificial intelligence (AI) is powerful, but the human race needs to remain in control and take the initiative."
In his vision of sci-fi, humanity should invest significant time and energy into transforming into superhumans or posthumans, utilizing technologies such as gene editing. "Then we will never be surpassed by AI," he stated. "The entire human race should unite. Must we wait for an AI crisis or an alien invasion to bring us together? If we continue to harm and kill one another, how can we progress and advance?"