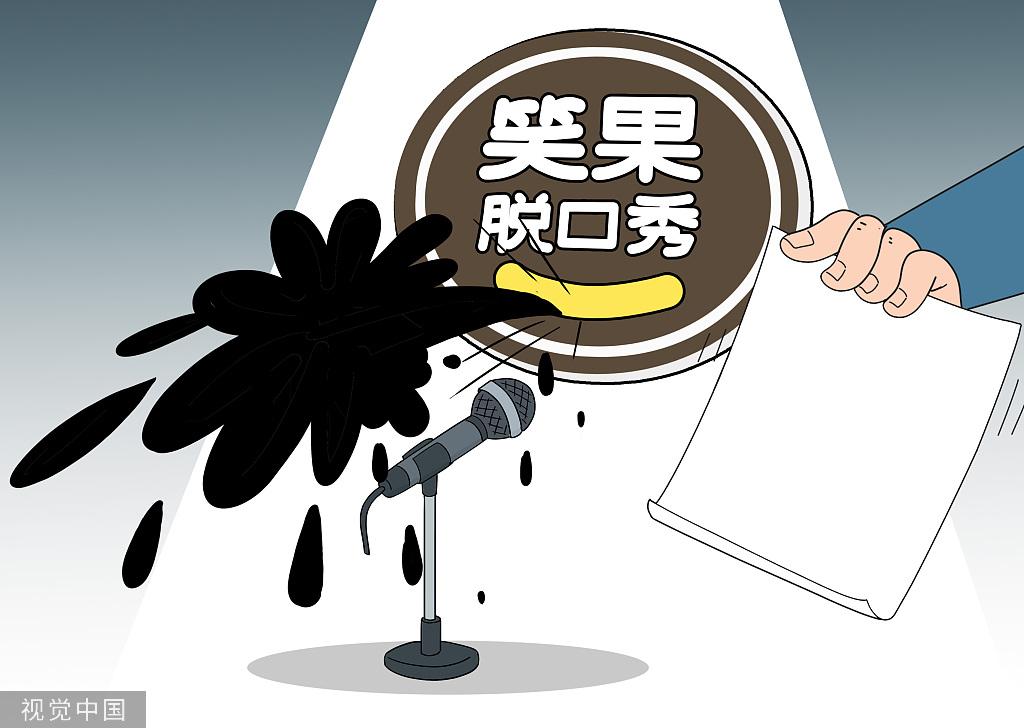 [Photo/VCG]
Xiaoguo Culture Media Co has received penalties from the Beijing Municipal Administration of Culture and Tourism, for one of its comedian's inappropriate remarks during a performance, in which he likened the behavior of two stray dogs to "having a good work style, being able to fight and win battles" — the slogan for the PLA.

The talk show company has received a warning, an income confiscation of 1,325,381.6 yuan and a fine of 13,353,816 yuan. Further investigations into the violations of the individuals involved and their performing agencies and venues will be carried out in accordance with the law. The Beijing Municipal Administration of Culture and Tourism has also decided to suspend all performances of the company in Beijing indefinitely.
"The PLA is a strong defender of national security and the well-being of the people. We will never allow any company or individual to smear the glorious image of the PLA and will never allow any harm come to the people's deep feelings toward the soldiers. The serious subject matter cannot be turned into entertainment. We will adhere to strict regulation and law enforcement, and firmly oppose behaviors that only seek laughter and economic gains without considering social responsibility. We encourage all literary and artistic workers to abide by laws, maintain ethical values and provide the public with nutritious spiritual food," said the authority with in its statement.
Talk shows have been increasingly popular those years. As a new form of the entertainment industry in China, talk shows offer a unique form of entertainment that is both informative and amusing. However, no shows should become sensationalized and tabloid-like in their approach to gain profits.
In an effort to stay relevant and increase viewership, some performers have resorted to cheap tactics, including crossing the red line. This is unacceptable, and is not sustainable in the long term. The audience deserves better. They deserve quality content that is informative, thought-provoking and enlightening.
Minimum standards and regulations must be strictly met and abided by, regardless of the entertainment industry. Talk shows should not be an exception. Its entertainers must act as responsibly as they can for their words and behavior in accordance with law and regulations, which is the bottom line of the entire profession. Instead of seeking the number of views or shocking moments, the talk shows should put the quality of the content as their top priority. It is essential to establish a minimum set of standards for all talk shows, which includes a strict code of ethics that all hosts and guests must adhere to.
In conclusion, talk shows must have minimum standards, and they should not cross the red line simply for the sake of performance. We owe it to ourselves and to future generations to ensure that our entertainment industry operates ethically and to the highest standards.