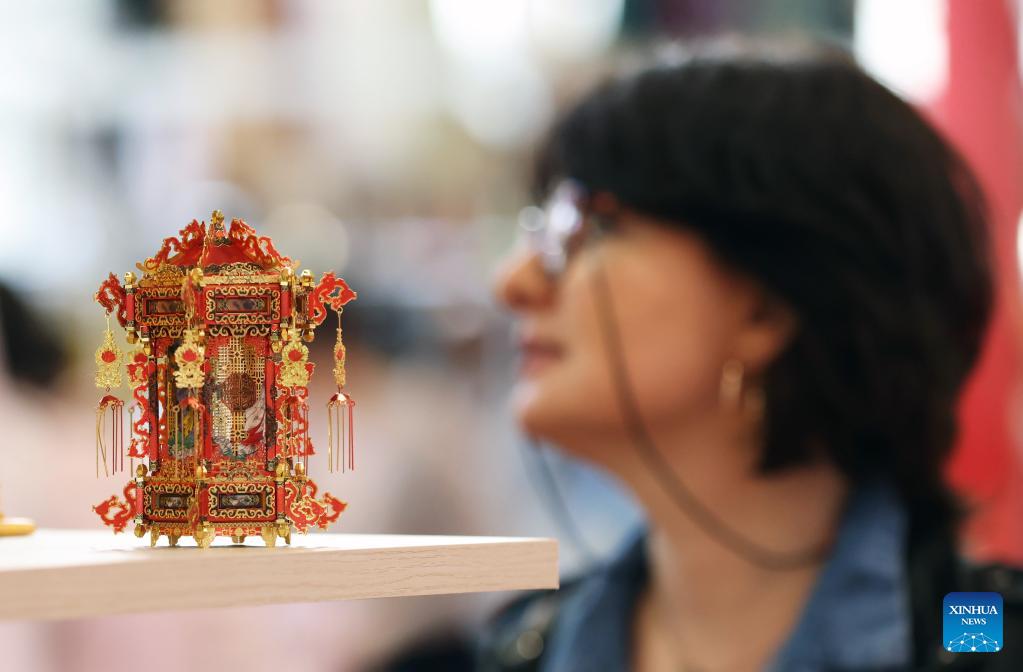 A woman visits an exhibition on Chinese culture at the Porte de Versailles exhibition center in Paris, France, May 2, 2023. [Photo/Xinhua]

Liberal arts scholars and museum professionals from home and abroad joined a webinar on May 18, also International Museum Day, to examine the role museums play in promoting cultural communication and fostering understanding and appreciation among different civilizations.
The event was part of an annual dialogue of the China-Europe-America Museums Cooperation Initiative, a program highlighting museums as cultural intermediaries in people-to-people exchange.
Gao Anming, vice president and editor-in-chief of China International Communications Group, underscored the advantage of museums in strengthening intercultural ties.
"Museums have been a sanctuary for preserving human civilization and a place for cultural exchange, and its existence offers solid proof that equal communication among different civilizations is a promising endeavor and that replacing clashes with mutual learning can be achieved," Gao said.
Gao further called for cooperation among global museum professionals in launching exhibitions, communicating liberal arts knowledge, and utilizing related technological advancements.
Liu Yi, director of Nankai University Museum, shared his insights in the sustainable development of the museum industry and highlighted the importance of attracting and encouraging public engagement in building museums into a platform for cultural communication.
This idea echoes those of Gretchen Dietrich, executive director of the Utah Museum of Fine Arts. "Museums need to be much about people as they are about art and objects," she said.
"When community-centered curators work collaboratively and respectfully with art-centered museum educators, the resulting exhibitions and installations are always so much more meaningful and impactful than they would be otherwise," she added.
In recent years, Chinese museums have been collaborating with their overseas counterparts to organize exhibitions of exquisite cultural relics from around the world, allowing people to see these relics up close and learn more about the civilizations that created them. These museums and related exhibitions have also become important tools to present China's stories to the world.
Most recently, a Chinese culture exhibition kicked off on April 27 at the Porte de Versailles exhibition center in Paris. The 12-day event presented a multi-dimensional and panoramic view of China to local people via traditional Chinese literature, art performances, and handicrafts.
Similar cultural exchange events have been held consistently over the years. For example, Beijing's Summer Palace Museum and the Victoria and Albert Museum in London held a virtual and in-person exhibition in June 2022, showcasing artworks from both countries from the 16th to the 20th century. An alliance of museums among BRICS countries was also established in October 2018, which has further boosted the connectivity of their cultural resources.
China's museum industry has seen rapid development since 2012, with significant progress made in facility construction and an increase in cultural relics collections.
According to the National Cultural Heritage Administration (NCHA), as of the end of 2022, the number of museums in China reached 6,183, doubling from 2012. China has also set a hot pace for the sector's high-quality development and aims to build itself into a country with top-level museums by 2035.
Rough statistics from the NCHA also show that during the past May Day holiday, museums across the country received over 50 million visits, reaching the highest level in history. It is estimated that the sector's market scale will exceed two trillion yuan in the next few years.