The 1986 masterpiece, "Laputa: Castle in the Sky," by Japanese animation legend Miyazaki Hayao, is scheduled for re-release in China on June 1, coinciding with International Children's Day. This gives parents, familiar with the classic, a chance to experience it anew and introduce it to their children.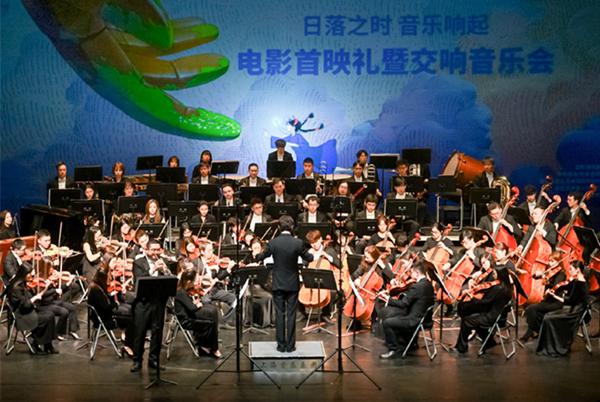 The Shanghai Philharmonic Orchestra is invited to play at a premiere event of the Japanese animated feature "Laputa: Castle in the Sky," held in Shanghai, May 21, 2023. [Photo courtesy of Table Film]
Written and directed by Miyazaki, the film was Studio Ghibli's inaugural production and is considered one of Miyazaki's finest animated features. Set in a fictional steampunk version of the 19th century, the story follows the adventures of Pazu and Sheeta, a boy and girl determined to safeguard a powerful crystal from the clutches of the military, secret agents, and a family of sky pirates led by the formidable Captain Dola. As they do this, they seek a legendary floating castle that possesses immense wealth and advanced technology that could either control or destroy the world.
China first imported the film on June 1, 1989. However, the film market then was drastically different from today. Chinese animation historian Ah Fu stated that theaters rarely screened animated features at that time, resulting in limited news coverage, minimal screenings, and modest box office returns.
Consequently, generations of fans in China primarily watched the film through TV, VHS, DVDs, downloads, and video streaming sites, cultivating a deep affection for it over the years. On China's review aggregator website, Douban, the film has an exceptionally high score of 9.2 out of 10 from over 809,200 moviegoers.
To celebrate the theatrical re-release in China, the distributors and marketing teams organized six premiere events across various cities, including Beijing and Shanghai. These events featured orchestral performances of the film's iconic music, composed by Joe Hisaishi, along with other scores from Miyazaki's animated classics.
Suzuki Toshio, the president and co-founder of Ghibli, also greeted Chinese audiences via a pre-recorded video and shared some behind-the-scenes stories. He referred to "Laputa: Castle in the Sky" as an unforgettable film and recalled the moment when Miyazaki, fresh from their collaboration on "Nausicaä of the Valley of the Wind," presented the story of "Laputa: Castle in the Sky" within just five minutes. This greatly impressed Suzuki, and he soon learned that the story had been simmering in Miyazaki's imagination since childhood.
"A story that originated when Hayao Miyazaki was an elementary school student, brought to life as a movie by him in his 40s. Life indeed brings forth such wonderful things!" Suzuki exclaimed. He also revealed that Miyazaki has a deep affection for China and even chose Chinese as his second foreign language during his university studies.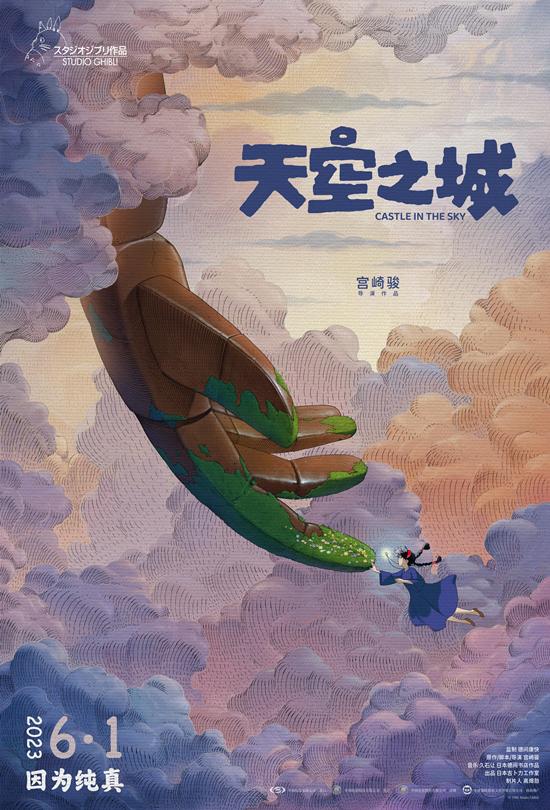 A poster for the re-release of "Laputa: Castle in the Sky" in China. [Image courtesy of Table Film]
Miyazaki has announced his retirement from feature films several times, the last being in 2013 after the release of "The Wind Rises." However, it seems he couldn't simply let go, particularly when new ideas arose. In 2016, he came out of retirement once again and is now diligently working on his forthcoming film, "How Do You Live?," set to be released in Japan on July 14, 2023.
Some of his cherished classics have graced Chinese screens in recent years. In 2018, "My Neighbor Totoro" (1988) debuted in China, raking in a box office revenue of 173 million yuan ($24.53 million). The Academy Award-winning "Spirited Away" (2001) was introduced to Chinese screens in 2019, earning an impressive 488 million yuan. "Ponyo" (2008) followed in 2020, grosssing 28.41 million yuan.