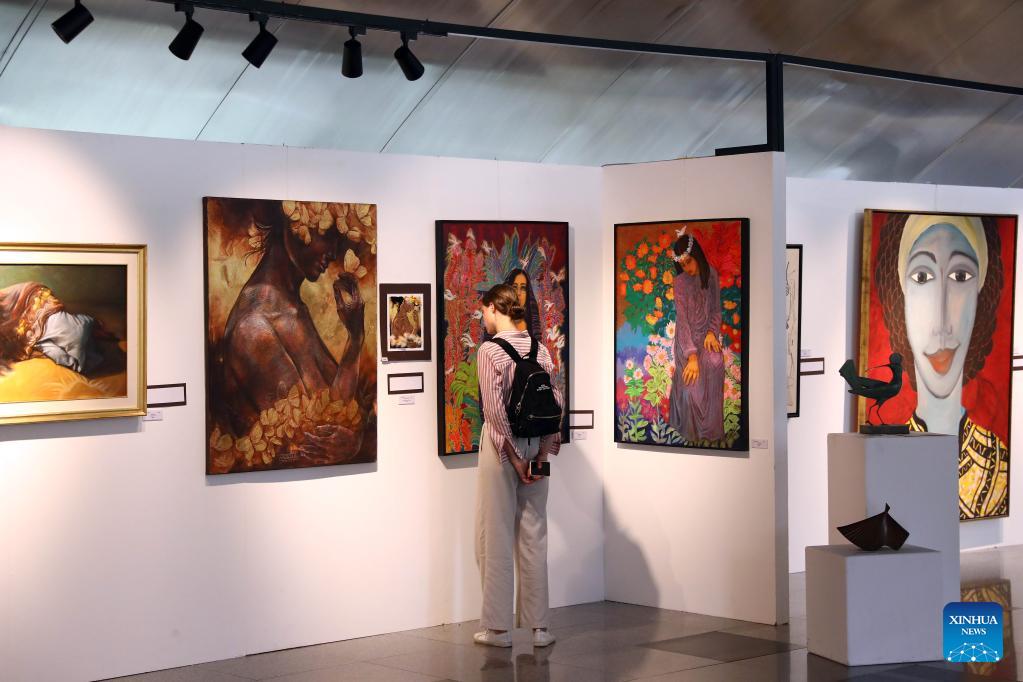 A visitor looks at paintings at an art exhibition during the first edition of Empower Her Art Forum in Cairo, Egypt, on May 21, 2023. (Xinhua/Ahmed Gomaa)
Along a tube entrance leading to the central hall of the National Museum of Egyptian Civilization (NMEC), eye-catching paintings, sculptures and installations with feminine touches were displayed.

The innovative works were featured during the first edition of Empower Her Art Forum, an international art exhibition organized by the Artoday platform and hosted by the NMEC from May 20 to 24 to shed light on women's empowerment through art.
The gallery gathered more than 100 female artists from around the world, including Egypt, Bahrain, Belgium, Georgia, Germany, Italy, Kuwait, Lebanon, Oman, Spain, Syria, Sudan, Türkiye and Yemen.
"We send a message that women have a voice and we want it to be heard through art," said Shereen Badr, chief organizer and founder of Empower Her Art Forum.
"We have also created a website to market their works online, which is a means of economic empowerment, besides artistic empowerment," the organizer told Xinhua.
Among the artworks was a dress made of single-use plastic bags. The piece is created by Zainab Talaat, an Egyptian artist and fashion designer.
Talaat said her work aims to raise awareness through art and warn against single-use plastic items as well as fast fashion, both of which were described by her as "pollutants."
The art forum included a live painting workshop, where visitors watched while artists painted live.
During the live painting event, Maka Zedelashvili, a Georgian artist, was painting a new artwork called Rooster as a Symbol of the Sun, besides her acrylic-on-canvas piece "Tree of Life" that was displayed in the gallery.
"Women need to be empowered worldwide. Women's artworks also need more promotion and support," the Georgian artist told Xinhua.
Anna Gryzlova, a tourist from Russia, said the forum was "interesting" because it didn't only feature classic art but also presented a diverse collection of art forms.
"You can see what artists want to tell you in these paintings. I actually like it because I like to visit museums and also enjoy some paintings," Gryzlova said.
The forum organizer said there is no better place than the National Museum of Egyptian Civilization to hold the event, as the forum is themed "Woman Is Civilization."
The NMEC is not just a place for exhibiting antiquities but also "a cultural lighthouse" that can host various artistic and cultural activities, said Fayrouz Fekry, the museum's deputy director.
"Empower Her Art Forum is one of the activities presented by the museum to enable visitors to see something new and different every time they visit the museum," Fekry told Xinhua.