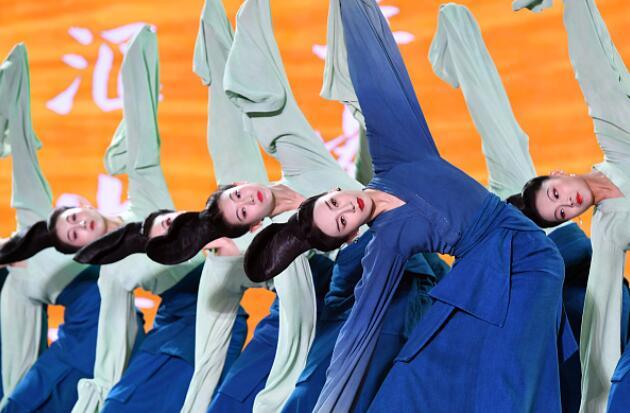 Dance drama "Poetic Dance: The Journey of a Legendary Landscape Painting" was staged in Hebei province on Sept. 15, 2022. [Photo/VCG]

The "Poetic Dance: The Journey of a Legendary Landscape Painting" will be showcased in Macao from August 24 to 28, according to its production company China Oriental Performing Arts Group.
The performance, led by renowned directors Zhou Liya and Han Zhen, draws inspiration from Wang Ximeng's painting of "A Panorama of Rivers and Mountains." It tells the story of a modern researcher from the Palace Museum who "travels" back to the Northern Song Dynasty (960-1127) and sees Wang Ximeng's inner world and painting creation process.
Since its premiere at the National Center for the Performing Arts in August 2021, the dance drama has received overwhelming acclaim, with over 300 performances across more than 30 cities in China.
Jing Xiaoyong, chairman of China Oriental Performing Arts Group Co., Ltd., highlighted the show's success in igniting national pride, thanks to its incorporation of Chinese cultural elements, poetic themes, and innovative production and narrative concepts.
"Macao is a unique and historical city where Chinese and Western cultures combine," Director Zhou said, noting that they will strive to present the best performance for the audience.
The dance drama is scheduled for a five-day run at the Venetian Theatre in Macao.