The China Science Fiction Convention (CSFC) 2023 opened in Beijing on Monday night, igniting a week-long celebration filled with a wealth of engaging activities.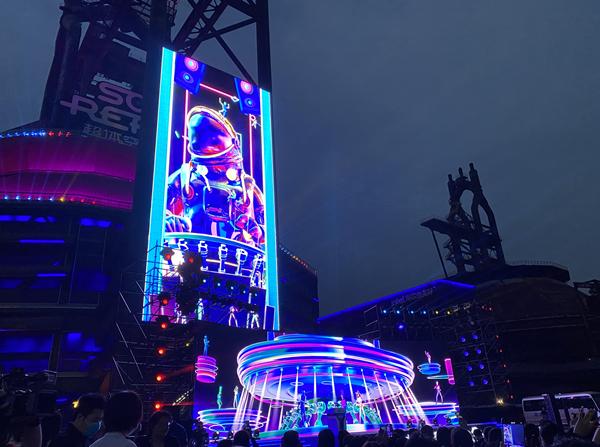 A captivating holographic visual show mesmerizes attendees at the China Science Fiction Convention 2023 opening ceremony held in Beijing, May 29, 2023. [Photo/China.org.cn]
The CSFC 2023 is taking place in Beijing from May 29 to June 4, as a significant component of this year's Zhongguancun Forum.
The opening ceremony at Shougang Park showcased futuristic performances by dancers, a cyberpunk-styled hologram 3D show, metaverse displays, and sci-fi video clips projected onto towering screens on the park's iconic blast furnaces. This area in Beijing's Shijingshan district was renovated from an old steel plant into a hub for China's sci-fi and hi-tech sectors. To further enhance the sci-fi atmosphere, the ceremony was hosted by a digital human.
"Science fiction is a fantastic realm centered on science and the future. It can stimulate imagination and creative thinking and arouse young people's interest in science. It is also an indispensable bridge to connect global scientific discourse and jointly open up our imaginations," Francesco Verso, a renowned Italian sci-fi writer, said at the event.
"China is a country full of wisdom and imagination and full of innovation and creation. With the joint efforts of everyone, science fiction has become more and more prosperous," Verso observed. "I believe that with the help of the promising platform of the China Science Fiction Convention, Chinese science fiction will continue to obtain new achievements and make outstanding contributions to the development of global science fiction."
"Science fiction has the power to transcend time and space and to connect reality. It prompts us to think and care about humanity's past, present, and future," commented German Sinologist Martin Woesler. "Today's science fiction conference is a testament to this theme. I hope that in the near future, the world will see, through Chinese science fiction works, a new China with infinite possibilities while shouldering responsibility for the common future of humanity."
During the opening ceremony, the local government officially granted business nameplates to the Beijing Yuanyu Science Fiction and Future Technology Research Institute, as well as the studios of Chinese sci-fi luminaries Liu Cixin and Wang Jinkang. Additionally, the winners of the 2023 Science Fiction Planet Awards were revealed, recognizing the innovative technological breakthroughs made by high-tech enterprises Enhanced Robotics (ER), Noitom, and Ommo Technologies, Inc.
The convention is set to showcase a diverse selection of sci-fi movies, including an online exhibition of 30 Chinese and foreign science-fiction films via the Tencent Video platform. Furthermore, it promises to immerse on-site audiences with a collection of seven captivating virtual reality (VR) and augmented reality (AR) experiences.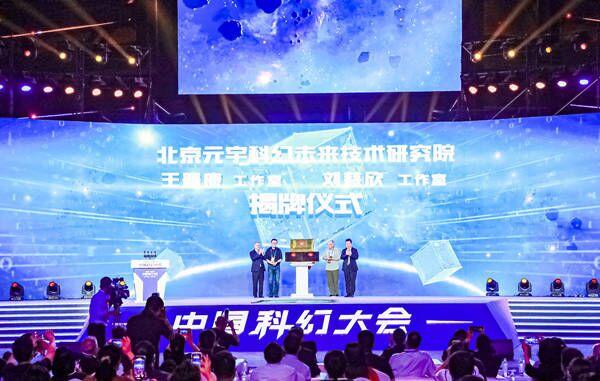 The local government officially grants business nameplates to the Beijing Yuanyu Science Fiction and Future Technology Research Institute, as well as the studios of Chinese sci-fi luminaries Liu Cixin and Wang Jinkang, during the opening ceremony of the China Science Fiction Convention 2023 held in Beijing, May 29, 2023. [Photo courtesy of the CSFC Organizing Committee]
During the opening ceremony, a preview of the 2023 China sci-fi industry report was unveiled. The report, jointly compiled by the China Science Fiction Research Center and the Research Center for Science and Human Imagination, reveals an encouraging trend for China's science fiction industry in 2022, with a total revenue of 87.75 billion yuan ($12.3 billion). The sci-fi reading sector generated 3.04 billion yuan, a 12.6% year-on-year increase, while the sci-fi film and television industry generated 8.35 billion yuan, a year-on-year increase of 16.1%. The full report was officially published on Tuesday.
Shu Wei, deputy secretary of the leading Party members group and full-time vice president and executive secretary of the secretariat of the China Association for Science and Technology (CAST), highlighted the rapid progression of China's scientific and technological strength and achievements. He emphasized the importance of sci-fi as a unique and effective form of science popularization that is increasingly playing a prominent role in enhancing scientific literacy among the public.
"Science fiction is increasingly capturing social attention and attracting active participation from science and technology professionals with its unique allure," he said. "It is poised to make a significant contribution to advancing our national capabilities in popularizing science."
A diverse range of 40 activities, including themed forums, a sci-fi carnival, and high-tech and sci-fi exhibitions, will be held during the week-long CSFC. The event boasts an impressive guest list that includes officials, entrepreneurs, and renowned figures from China's sci-fi scene, such as Liu Cixin and Wang Jinkang, as well as foreign participants like Verso and Woesler.