Japanese animated feature "Doraemon: Nobita's Sky Utopia" is set to please Chinese children on June 1, coinciding with International Children's Day.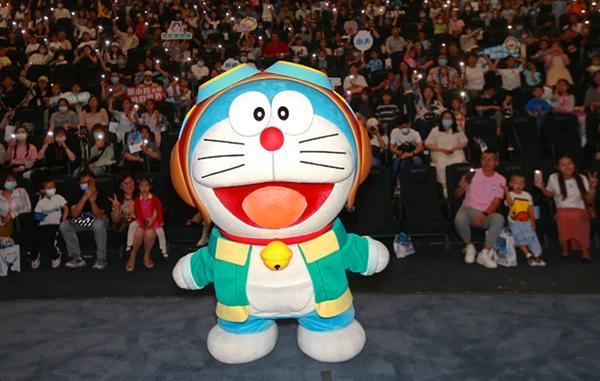 A life-size Doraemon poses with cheering crowds in a theater in Beijing at the premiere of "Doraemon: Nobita's Sky Utopia," May 28, 2023. [Photo courtesy of Today Pictures]
The film, directed by Takumi Doyama and produced by Shin-Ei Animation, is the 42nd film based on the Japanese animated series "Doraemon," created by Fujiko F. Fujio. The story is set in Paradapia, a mysterious crescent moon-shaped island in the sky that is being made into a perfect, utopia-like world, where everyone seems to live happily but has a dark secret hidden within. Doraemon, Nobita Nobi, and his friends embark on an adventure to find this utopia with the help of Doraemon's new gadget and airship called the "Time Zeppelin." The installment also introduces Sonya, another cat-shaped robot who is seemingly perfect in every way and becomes a good friend of Doraemon.
Besides bringing back familiar characters and introducing a new adventure, the film provokes what it means to "become perfect," sparking discussion among audiences, including children or parents. One audience member attending the China premiere packed with parents and children in Beijing on Sunday described the film as "the best Doraemon film in five years."
As a classic franchise, the Doraemon film series has been brought to Chinese cinemas for nine consecutive years. The 3D animated film "Stand by Me Doraemon" holds the record as the highest-grossing Doraemon film in China, earning a staggering 529 million yuan. The latest installment, "Doraemon: Nobita's Little Star Wars," surpassed 99 million yuan at the Chinese box office in 2022. "Doraemon: Nobita's Sky Utopia" was released in Japan in March and has already grossed more than $31.60 million before it hits China.
Interestingly, June 1 will also witness the re-release of the 1986 Japanese masterpiece, "Laputa: Castle in the Sky," directed by animation legend Hayao Miyazaki, in China. It is another film that revolves around the concept of an ideal land equipped with advanced technology in the sky.