Lorenzo di Bonaventura, a veteran Hollywood producer known for his work on blockbusters such as the "Transformers" franchise, has expressed his desire to do more U.S.-China co-productions, citing fantastic experiences in the past.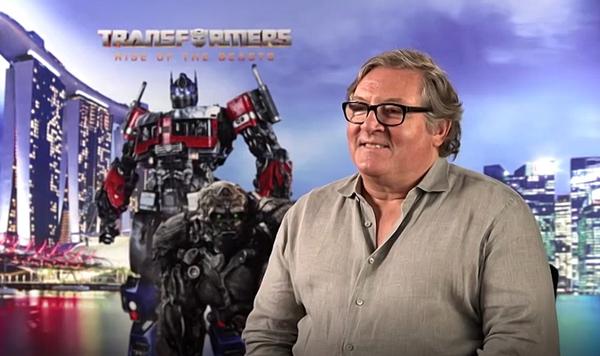 Lorenzo di Bonaventura, a veteran Hollywood producer, speaks to China.org.cn in an interview. [Photo courtesy of Paramount Pictures]
"I have now done three co-productions with China," he said in an interview with China.org.cn. "All three have been great experiences, and I would love the opportunity to do another one, and it's very fun. Obviously, our culture and Chinese culture, there's a lot of differences, but there's also a lot of similarities. And so bringing people together, you find there are more similarities than differences."
The "Transformers" franchise has seen great success in the Chinese market, which led to franchise co-productions, most notably the fourth installment, "Transformers: Age of Extinction," in 2014. The film featured the renowned Chinese actress Li Bingbing and recruited minor Chinese characters through a TV contest on the China Movie Channel. In addition, the movie prominently featured the Wulong Scenic Area in Chongqing and Hong Kong as crucial locations in the story. The installment later grossed 1.97 billion yuan in China, the highest among all the franchise's movies released in the country.
Now, the producer has embarked on a new journey with "Transformers: Rise of the Beasts." Directed by Steven Caple Jr. and starring Anthony Ramos and Dominique Fishback, the highly anticipated film takes audiences on a globetrotting adventure with the Autobots in the 1990s and introduces a new faction of Transformers – the Maximals – as allies in the existing battle for earth against Unicron and Terrorcons.
Di Bonaventura stated that involvement in the new faction of Transformers is a response to the long-standing demand of fans. "We always want to please the fans as these movies are made for the fans. So, I think it would be crazy not to [introduce them]. We have been considering the inclusion of the Maximals for quite a while. We have had discussions about them for a long time. It's not easy to simply add such an element to what we were already doing because, think about it, cars and animals, do they mix? It's not simple. So, we needed to find a story that would allow that to happen. And finally, we figured out a story that made it possible."
"Also, we thought, let's introduce some new villains. But I'm sure the Decepticons will come back in the future," he added.
Regarding what keeps attracting people back to the Hasbro robot franchise, di Bonaventura said, "I think there's one thing that is fundamental. The creators' idea of Transformers is that your car can be a person. That is something that you have a strong relationship with; is something completely different than what you expect. That's really the cornerstone. And then what we have tried to do is create an experience for the audience that is funny, that is action-packed, that is emotional. And it also takes you to places that are really extraordinary. So that's, I think, why we've been able to keep it going."
"We make these movies to be fun and to entertain but also to be about something a little more. And that little more is about the world right now, our real world. It's a complicated world, and we all need to figure out how to work together better."
A huge Transformers installation consisting of mechanical statues of Optimus Primal and Optimus Prime is on display at the popular commercial area of Sanlitun in Beijing, starting from June 2, 2023. [Photo courtesy of Paramount Pictures]
Paramount Pictures and IMAX are now gearing up for the China premiere of "Transformers: Rise of the Beasts" on June 5, followed by a nationwide release on June 9, which is the same date as the North American release and many other markets around the world.
Di Bonaventura further shared his observations on the film market in the post-pandemic era. "In terms of the global market, I feel relieved because we didn't know if the audience was going to come back. And now we see the audience has really come back, and I think they will continue to. It's reaffirmed our belief in cinema and that cinema offers something that nothing else can replace. So, on that level, I think that's really fantastic."