Paramount Pictures and IMAX China held an innovative, unique premiere for the new robot action-adventure, "Transformers: Rise of the Beasts" on Monday, enthralling the attending audience in a picturesque resort valley nestled among the Jinshanling Mountains in Chengde, Hebei province.
The audience watches "Transformers: Rise of the Beasts" at a temporary outdoor IMAX theater in Aranya, Jinshanling, inside a valley in a mountainous region of Chengde, Hebei province, June 5, 2023. [Photo courtesy of IMAX China]
IMAX constructed a temporary outdoor theater specially for the premiere at Aranya, Jinshanling, an emerging holiday resort cradled in the foothills of the mountains near the ancient Jinshanling Great Wall. The theater is the first of its kind in East Asia. A group of 40 personnel worked tirelessly, overcoming frequent harsh winds, heavy rain, and logistical challenges with the IMAX projector to build this marvel, supported by a spectacular screen frame composed of 40 tons of steel scaffolding and comprehensive supporting facilities.
The breathtaking scenery was seamlessly integrated with vibrant lighting and decorations mimicking the Peruvian jungle featured in the film, engendering a sci-fi ambiance. The roaring mechanics and bombastic sounds of Transformers resonated through the valley.
"I think it's incredible that above you is the sky, and then you're watching this amazing movie on an amazing screen. It's just such a cool idea," exclaimed Lorenzo di Bonaventura, a veteran Hollywood producer known for his work on blockbusters, including the live-action "Transformers" franchise.
In the aftermath of the COVID-19 pandemic, it's unusual for a foreign film to hold such a grand premiere event in China, especially while the Chinese film market is still recovering, and foreign cast and crew members are yet to return for promotional trips, a common occurrence pre-pandemic. However, given the "Transformers" franchise's popularity in China, the new film was worth the treat.
The "Transformers" series has garnered a substantial Chinese fan base, primarily due to the popularity of the American animated series since its introduction to China in 1987. This popularity has been perpetuated over generations through cartoons, movies and toys. As a reflection of China's fast-growing film market, the previous six installments have collectively grossed 6.5 billion yuan ($913 million). The fourth installment, "Transformers: Age of Extinction," which incorporated advertisements from Chinese brands and featured stars like Li Bingbing and Han Geng, was shot in Hong Kong and Chongqing's Wulong Scenic Area. It became the highest-grossing film in the series at China's box office, generating 1.97 billion yuan, surpassing its North American total.
Directed by Steven Caple Jr. and starring Anthony Ramos and Dominique Fishback, "Transformers: Rise of the Beasts" marks the franchise's return after a five-year hiatus since 2018's "Bumblebee." The new installment takes audiences on a globe-spanning adventure with the Autobots in the 1990s and introduces a new faction of Transformers, the Maximals, who join the battle for Earth against Unicron and the Terrorcons. With its setting in the 1990s, the film emanates a strong sense of nostalgia, enriched with classic hip-hop songs from the era. It also features faithful renditions of the Autobot designs from the original cartoon and introduces characters from the classic 1990s animated television series "Beast Wars: Transformers."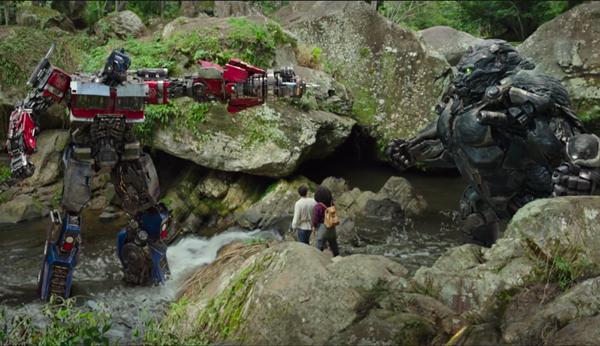 A still image from "Transformers: Rise of the Beasts." [Photo courtesy of Paramount Pictures]
"I was a fan before directing a 'Transformers' movie. I was a fan of Michael Bay's version of the films. But most importantly, the animated cartoon movie ('The Transformers: The Movie') was a game changer for me when I first saw it as a child. I wanted to relive that experience and have people experience what I did as a kid. For me to step into the franchise and do that and make an imprint on the huge legacy of 'Transformers' has been really special," the director told China.org.cn via an online interview.
Producer Lorenzo di Bonaventura expressed his confidence in selecting Caple Jr. as the director, particularly after viewing his work on "Creed II." Di Bonaventura stated, "It's a complicated world and we all need to figure out how to work together better. Somebody like Steven has so much humanity and can bring that kind of emotionality to the characters and the desire to work together. So that's why we thought he would do a great job because he's so comfortable and strong at building the kind of emotional relationships that we needed for this movie."
Filled with impressive stunts, fierce robot battles, exhilarating car chases, and stunning explosions, "Transformers: Rise of the Beasts" not only continues the tradition laid down by its six predecessors but also elevates the action to new levels, promising to keep viewers coming back for more. Despite the excitement of these sequences, Caple Jr.'s direction ensures the film remains tightly focused.
To keep the audience emotionally invested during the action sequences, Caple Jr. gave each character a specific objective to accomplish. "That's a lesson I learned while making 'Creed II,'" Caple Jr. said. "Every fight mattered in that movie. It wasn't just punching for the sake of punching. You want to ensure the audience understands exactly what the characters are fighting for."
Steven Caple Jr., director of "Transformers: Rise of the Beasts," speaks to China.org.cn in an interview. [Photo courtesy of Paramount Pictures]
The action reaches its pinnacle in the stunning location of Machu Picchu, Peru. Caple Jr. revealed that the tourist spot became accessible to them once the COVID-19 pandemic had subsided. During filming, they were shooting a scene where the character Noah Diaz (Anthony Ramos) is sprinting across a field with what appears to be a big stick following him – a placeholder for Optimus Prime, later brought to life via CGI in post-production.
"Somebody then yelled from the top of the room, and they're like, 'run, Optimus, run,' and he had so much emotion. I was like, man, it's just a reminder that we're doing something special and that people really love the franchise and really love Optimus Prime. He leaves an impact on people, no matter where they are from. And the special moment, I think, is something that we all remember because it was such a beautiful location, we were all together, and it was just a reminder that we're doing something that's beyond a regular movie."
"Transformers: Rise of the Beasts" will be released in China and many other markets worldwide on June 9.