A forum was held in Beijing to mark the 20th anniversary of the passing of the "Father of Chinese Science Fiction," Zheng Wenguang, and to announce new projects, including films, TV series, and a theme park related to his works aimed at reviving the legacy of the sci-fi guru.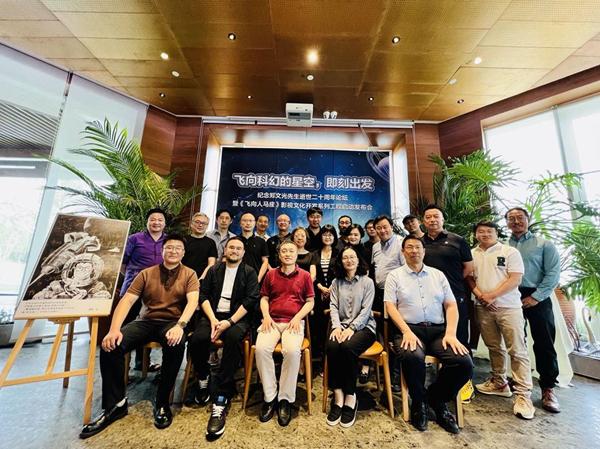 Sci-fi experts, writers, editors, publishers, and entrepreneurs pose for a group photo at a forum to pay tribute to Chinese sci-fi pioneer and astronomer Zheng Wenguang in Beijing, June 19, 2023. [Photo courtesy of Eight Light Minutes Culture]
Zheng, born in April 1929 in Vietnam as an overseas Chinese, returned to his motherland China in 1947. In 1954, he created and published the science fiction short story titled "From Earth to Mars," which was the first sci-fi story in the People's Republic of China (PRC), established in 1949. In 1979, Zheng wrote and published the first original science fiction novel in the PRC, "Flying to Sagittarius." He was also a research fellow at the Beijing Astronomical Observatory and passed away in June 2003.
In the Western literary world, Zheng was best known for his story "The Mirror Image of the Earth." Within the Chinese literary community, his most renowned work is "Flying to Sagittarius," a sci-fi masterpiece that explores the theme of space exploration.
"Flying to Sagittarius" was ahead of its time, depicting scientific and sci-fi concepts such as gravitational slingshots, black holes, and neutrino communication. It received the first prize in a national award for children's literature and art creation, igniting a nationwide craze and inspiring generations of Chinese readers. Remarkably, many of the technologies described in the book, including the depiction of Chinese astronauts piloting their own spaceships, have become realities over four decades later.
Wu Yan, a sci-fi scholar, educator, writer, and professor at the Southern University of Science and Technology, recalled his high-school days when he approached Zheng by knocking on his door to get to know him. Regardless of their age difference, their friendship blossomed, and Zheng became Wu's mentor. Wu praised Zheng for his broad knowledge in diverse fields and his ability to consistently offer fresh insights in his writing and conversations. He admired Zheng's unique worldview and the profound impact he had on people's lives and culture, highlighting Zheng introduced the concept of "sci-fi realism" and contributed to three major schools of Chinese science fiction: futurism, sci-fi realism, and science popularization in the sci-fi style.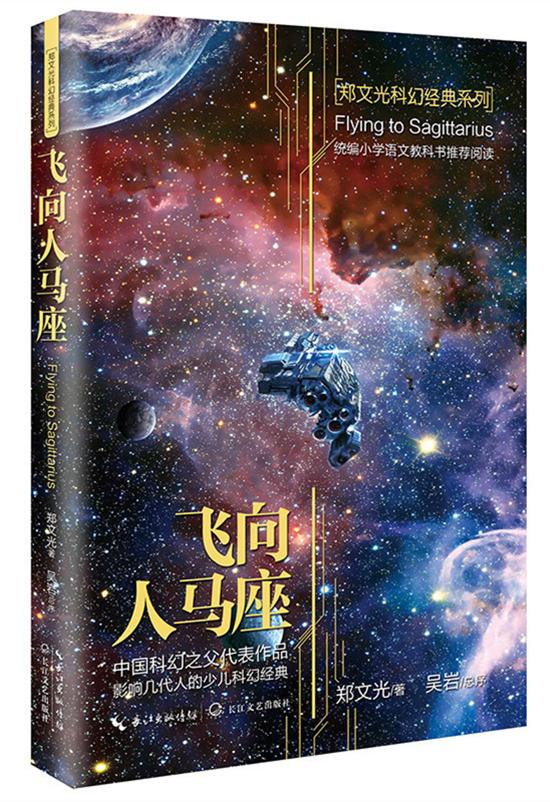 Book cover art of the new edition of "Flying to Sagittarius." [Image courtesy of Changjiang Literature & Art Press]
Chen Ling, the secretary-general of the China Science Writers Association, pointed out that Zheng was not only a sci-fi writer but also had remarkable achievements in academic research.
According to Chen, Zheng's works embody a strong scientific essence, reflecting his unwavering pursuit of scientific ideals and the beauty of humanity. "With his visionary and emotionally impactful storytelling, Zheng has been a frontrunner in advancing theoretical development and innovation in science fiction," she said. "He bridges the realms of popular science and science fiction, as well as the boundaries between romantic fantasies and realism, through his creative expressions. As a prominent pioneer in Chinese science fiction literature, Zheng Wenguang has made outstanding contributions to the promotion and development of science popularization and science fiction in China."
Sci-fi experts, writers, and publishers, such as Yang Jibo, Yan Peng, Zhao Xiaobei, Ling Chen, Jiang Bo, Yin Chuanhong, Baoshu, Chao Xia, Chen Jie, and many more guests also shared their memories and tributes at the forum. Sci-fi moguls Tan Kai, Dong Renwei, and Xiao Jianheng also spoke via video link to remember their old friend.
One of Zheng's family members, the renowned film director Leste Chen, who helmed blockbusters like "The Great Hypnotist" and "Miss Granny," also attended the event and expressed gratitude to the participants. "I first met my uncle-in-law when I was 8 years old and spent a joyful summer in Beijing. I remember him as the gentlest member of the family. As I got to know him later and his remarkable works, I realized that he had sown the seeds of science fiction in the hearts of young people for generations, and his contributions continue to flourish today. Now, thanks to his inspiration, we also have the ability to create our own outstanding sci-fi films like 'The Wandering Earth' and compete with Hollywood."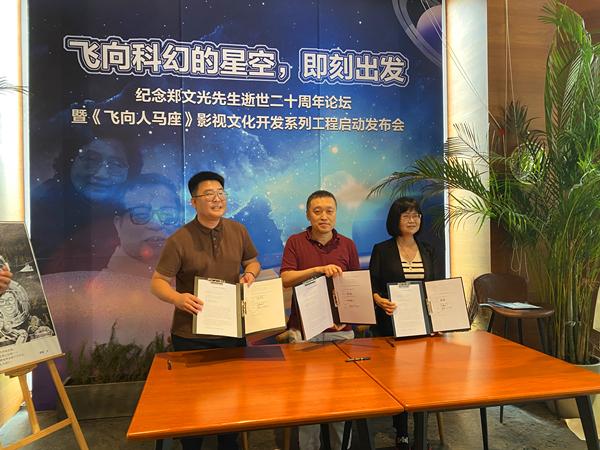 From left to right: Zhang Heliang, the president of Beijing Smart Media Culture Limited Liability Company; Wu Yan, a sci-fi scholar who was entrusted as a representative of China's sci-fi pioneer Zheng Wenguang's family; and Yang Feng, founder and CEO of Chinese sci-fi brand Eight Light Minutes Culture, hold up the contracts to develop film, TV, and theme park projects based on Zheng's works at a press event held in Beijing, June 19, 2023. [Photo/China.org.cn]
Zhang Heliang, the president of Beijing Smart Media Culture Limited Liability Company, also announced at the forum the development plans for the film, TV, and online series adaptation of Zheng's classic "Flying to Sagittarius" within the next four or five years. Furthermore, a theme park camp near the Universal Beijing Resort is also part of the development plan and is expected to open to the public next year.
Chinese sci-fi brand Eight Light Minutes Culture, acting as the license agent for the copyrights of Zheng, later signed a cooperation agreement with Beijing Smart Media Culture to develop these projects.