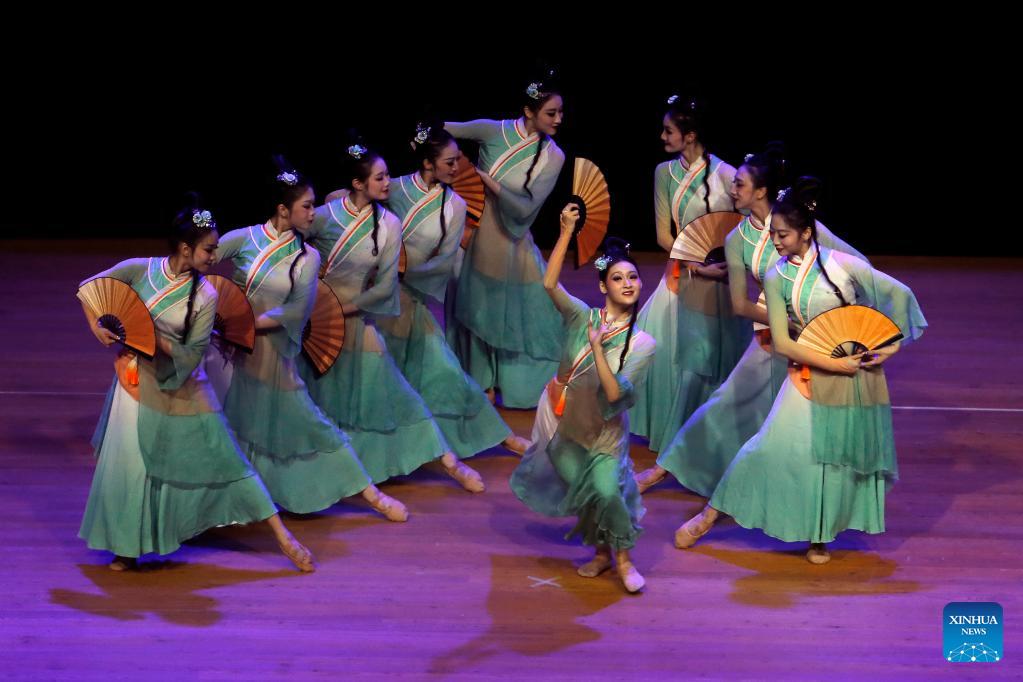 Members of Beijing Dance Academy perform in Bucharest, capital of Romania, June 25, 2023. Beijing Dance Academy has presented a classical Chinese dance show at the University Politehnica of Bucharest. (Photo by Cristian Cristel/Xinhua)
The 1,000-seat Auditorium of the Polytechnical University of Bucharest was packed on Sunday evening with people from all walks of life enjoying a set of wonderful dance performances from China.

Horia Necula, vice-rector of the university, thanked the Beijing Dance Academy for having chosen its big Auditorium to stage the exceptional performances, while Han Chunlin, Chinese ambassador to Romania, welcomed the audience, assuring them of the high-level and enjoyable nature of the show.
The ten dances presented took the audience into a fantastic world of history, art and beauty. The dance "Freedom" suggested energy and grace, and the green clothes of the dancers bespoke the everlasting values of humankind. The "Impression of Tang" raised curiosity to learn more about the time-honored Tang San Cai symbolism of the white, amber and green glazes, while "A Journey of Proud Chant" portrayed the life of Li Bai, the renowned "God of Poetry" of the Tang Dynasty, who was also the greatest Chinese poet.
The exquisite combination of strength and flexibility of the dancers' bodies, their unique artistry and perfection, and their ability to convey emotions deeply impressed the audience, who lavishly praised the performances.
"I see a lot of work in this dance academy, and I highly appreciate their efforts to present the Chinese culture and to make bridges to the world. One can feel emotions which are also meant to create bonds with other cultures," said Romania's former Prime Minister Viorica Dancila.
Zafar Iqbal, Pakistani ambassador to Romania, was also dazzled by the dancers' superb ability to convey emotions through movements, music, clothes and facial expressions. "I am in awe. The artists are magnificent. I rarely see such a huge audience applauding for minutes on end and making the artists come back of the stage several times."
After Bucharest, the dancers will go to the Sibiu International Theater Festival. The performances in Romania mark the opening of a new chapter of Sino-Romanian art exchanges, the Chinese ambassador told the audience before the show.
"I believe that tonight's art exchange will transcend time and space, continue to convey the concepts of equality, mutual learning, dialogue and tolerance among civilizations, deepen the mutual understanding and traditional friendship between the people of China and Romania, and promote the development and progress of human civilization," Han said.