Cui Rui, the director of the summer blockbuster "Lost in the Stars" told China.org.cn that he wanted to push for the ultimate visual and audio experience in a very stylish way, while also ensuring that the film resonated with broader audiences.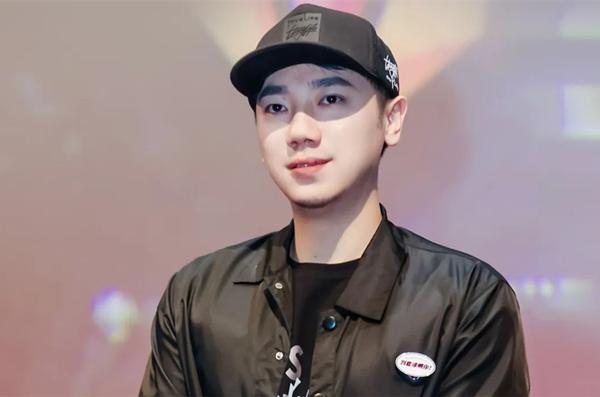 Cui Rui, director of "Lost in the Stars." [Photo courtesy of As One Production]
Cui has seemingly succeeded. His feature film directorial debut, with its numerous unexpected plot twists, has skyrocketed in the Chinese film market, surpassing 1.5 billion yuan ($207 million) at the box office by Friday noon after debuting on June 22. Experts now predict that the film may top the summer season box office chart and eventually gross more than 3 billion yuan, a stunning performance.
Cui is no stranger to the film business, having graduated from the School of Cinematic Arts at the University of Southern California. Besides creating some great shorts, he has worked in various roles on numerous Hollywood blockbusters, including co-executive producer for Roland Emmerich's "Midway" and visual effects coordinator for "Mad Max: Fury Road." While studying in the United States, Cui watched "Detective Chinatown," directed by Chen Sicheng, which struck him due to its international perspective. Inspired by Chen's film, Cui sought to collaborate with him, eventually being recruited by Chen as a director and having Chen serve as his producer for "Lost in the Stars."
"As I actually grew up within the system of commercial films, I have always wanted to utilize my accumulated filmmaking experience to create more perfect commercial films that tell great Chinese stories. When I first saw this script, it immediately attracted me because it is a groundbreaking suspense film with rising tension. Additionally, it has the ability to touch on some social topics that are worth exploring," he said.
When he entered the project as the director of "Lost in the Stars," the film had already been in development for a while, and Chen had already formulated some ideas about the script. Cui mentioned that he and Chen shared the same aesthetic aspirations when it came to making the film and worked together toward the same goal. The film inherits certain elements from the "Manslaughter" film franchise developed by Chen, such as the story being set in Southeast Asia and the creation of suspense, but Cui emphasized that "Lost in the Stars" is even more stylish and features enhanced designs throughout, aiming to push the viewing experience to the extreme.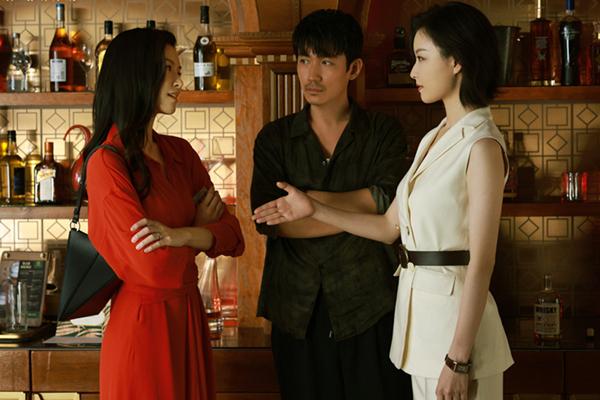 A still image from "Lost in the Stars." [Photo courtesy of As One Production]
The film features a stellar cast, including Zhu Yilong, Ni Ni, Janice Man, Du Jiang, and Huang Ziqi, who all deliver powerful performances. It tells the heart-wrenching story of a wife who mysteriously vanishes during an overseas trip. However, the plot takes an intriguing turn when another woman unexpectedly appears, claiming to be the vanished woman, just as the husband's search for his wife reaches a dead end. On the film's creative team is co-director Liu Xiang, known for previously directing the critically acclaimed crime film "Knock Knock."
Cui admitted that he is a long-time fan of the suspense film genre and has watched numerous suspense movies, including some of the oldest classics. "I am fond of this genre and appreciate how it enables us to delve into the complexities of human nature by leveraging its distinct characteristics, thus allowing us to present films in a powerful and fast-paced manner. In today's world, audiences are becoming more discerning and eager to consume content swiftly, actively engaging in discussions. I just want to create a film within this genre that offers a great degree of interactivity."
The director hoped that his film could resonate with the audience, inspiring them to approach their love life with more seriousness and navigate the challenges and uncertainties in their relationships. The film aims to encourage individuals to treat their loved ones with sincerity, frankness, and rationality, rather than adopting a utilitarian or hateful perspective towards relationships. Additionally, the film incorporates themes such as "girls helping girls" to promote friendship, support, and care among people.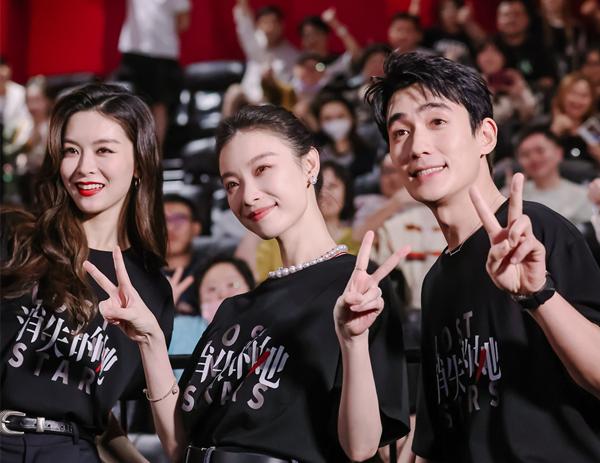 From left to right: actress Janice Man, actress Ni Ni and actor Zhu Yilong pose for a photo at the premiere of "Lost in the Stars" in Beijing, June 19, 2023. [Photo courtesy of Table Film]
Cui Rui also shared his ideas for his future plans with China.org.cn. First, he will helm an online series, which is a youth version of "Detective Chinatown," scheduled for release next year. Next, he intends to delve into film projects that combine the genres he loves, including suspense, noir, and sci-fi.