The Lucasfilm franchise finale "Indiana Jones and the Dial of Destiny," in which 80-year-old Harrison Ford reprises his iconic role, was released in Chinese theaters on June 30, simultaneously with its launch in several other international film markets. This installment marks the first time the world-famous franchise was released in the Chinese market.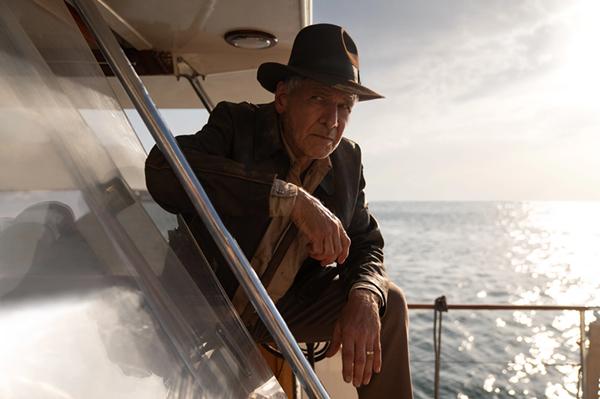 Indiana Jones, portrayed by Harrison Ford, in a still image from "Indiana Jones and the Dial of Destiny." [Photo courtesy of Walt Disney Studios]

The finale, directed by James Mangold and featuring Harrison Ford, Phoebe Waller-Bridge, Antonio Banderas, Toby Jones, and a nostalgic cameo by Karen Allen, heralds the return of the legendary hero of the beloved film series. In a new era with Indy nearing retirement, he struggles to fit into a world that seems to have outgrown him. However, when an old rival resurfaces, the archaeologist and adventurer must once more don his hat and wield his whip to prevent the ancient and potent artifact Antikythera, created by Greek philosopher Archimedes, from falling into the wrong hands.
The latest installment successfully recaptures the franchise's prior momentum, charm, thrill, and glory, introducing new elements of excitement and fun, from skeletons and creepy tombs to car-chase mayhem and new compelling characters. Despite Ford's advanced age, it effectively stirs nostalgia while also captivating viewers with tense and action-packed scenes. Furthermore, the inclusion of history-based puzzles and its stunning sci-fi MacGuffin are sure to enthrall audiences worldwide.
This legendary franchise, which has inspired countless action movies featuring treasure-hunting tomb raiders, was celebrated by Chinese celebrities and audiences at its China premiere at the Shanghai Disney Resort on June 26. Renowned writer Xu Lei, better known by his pen name Nanpai Sanshu and acclaimed for his best-selling novel series "The Grave Robbers' Chronicles," recognized Indiana Jones as one of the influences that "illuminated his writing journey."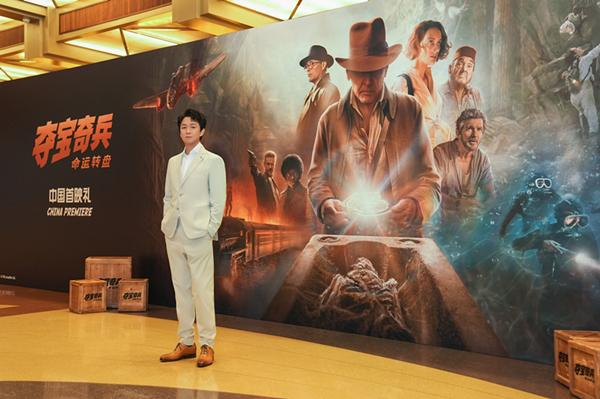 Actor Pan Yueming, who dubbed Indiana Jones in "Indiana Jones and the Dial of Destiny" for its Chinese version, attends the film's premiere at the Walt Disney Grand Theatre, Shanghai Disney Resort, Shanghai, June 26, 2023. [Photo courtesy of Walt Disney Studios]
Pan Yueming, who dubbed Indiana Jones in the film's Chinese version, expressed his lifelong passion for Indiana Jones. He emphasized how the franchise has profoundly influenced his career, particularly in recent years. Pan received recognition for his leading role as Hu Bayi in popular online series such as "The Worm Valley" and "Kunlun Tomb," both adaptations of Zhang Muye's fantasy novel series "Ghost Blows Out the Light," written under the pen name Tianxia Bachang.
The swashbuckling Indiana Jones franchise, directed by Steven Spielberg and produced by George Lucas, has long been a treasured icon for generations of Chinese movie fans who have watched the series and experienced his previous adventures via VHS, DVD, or streaming platforms. "The Fugitive," featuring Harrison Ford, was the first revenue-sharing Hollywood blockbuster imported into the Chinese market in 1994, revolutionizing the Chinese film industry.