Hollywood megastar Tom Cruise has done it again with his new film "Mission: Impossible – Dead Reckoning Part One," which is filled with daring stunts, breathtaking action scenes, and his endless charisma. The film ignited wows from the audience at the China premiere in Beijing on Tuesday.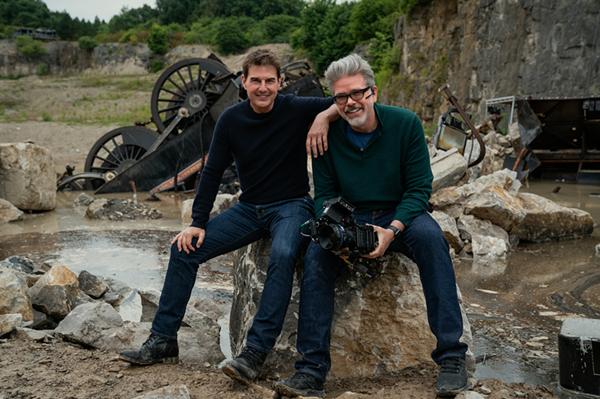 Actor Tom Cruise and director Christopher McQuarrie pose on the set of "Mission: Impossible – Dead Reckoning Part One." [Photo courtesy of Paramount Pictures]
"We are constantly trying to build on every movie to bring you an absolutely unrivaled experience. Director Christopher McQuarrie and I have approached 'Mission: Impossible – Dead Reckoning' with that same commitment to practical filmmaking," Cruise said via a pre-recorded video before emphasizing how much he missed all his Chinese friends and fans.
Cruise visited China in 2018 to promote "Mission: Impossible – Fallout." However, the COVID-19 pandemic and its lingering aftermath have nearly halted overseas promotional tours to China by foreign cast and crew. Despite these challenges, Chinese movie fans have eagerly followed the progress of the new installment of the popular action franchise. The critically acclaimed film is now set for release in Chinese theaters in various formats, including IMAX, on July 14.
Over the course of its six installments and 27 years, the "Mission: Impossible" franchise has gained popularity in China and holds significant relevance. The second installment was directed by Chinese director John Woo, while the third film, helmed by J.J. Abrams, was shot in Shanghai and the ancient water town of Xitang in Zhejiang province. China has imported nearly all of the "Mission: Impossible" installments, grossing a total of 2.9 billion yuan in the country. "Fallout" so far stands as the highest-grossing film in the franchise in China, earning 1.25 billion yuan.
"Dead Reckoning Part One," starring Cruise, Hayley Atwell, Ving Rhames, Simon Pegg, Rebecca Ferguson, Esai Morales, and Vanessa Kirby, is one of the most expensive films ever made and the most expensive in the franchise with an estimated budget of $291 million. It is also the longest in terms of runtime, spanning 156 minutes.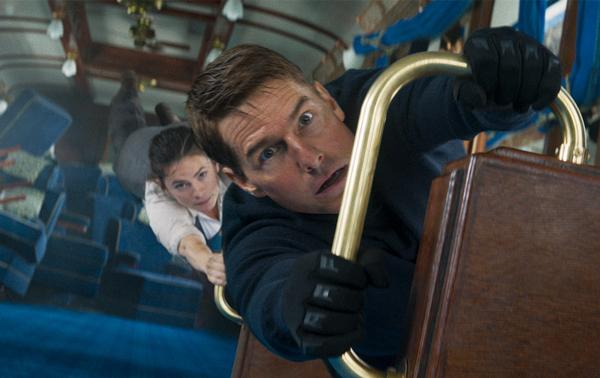 A thrilling scene in "Mission: Impossible – Dead Reckoning Part One" where characters fight for survival in a train wreck that dangles from a broken bridge. [Photo courtesy of Paramount Pictures]
This opening chapter in that two-movie arc sees Ethan Hunt and his IMF team on their most dangerous mission yet: trying to save the world from a mysterious, all-powerful artificial intelligence villain with the power to control the way humanity perceives reality. "The stakes in this story are as global as global stakes get," said McQuarrie, also noting the key to crafting an engaging story is by tapping into the audience's emotions, which "makes that action worth doing."
The most stunning stunts in the film include Cruise fighting on a moving train, engaging in a car chase on the streets of Rome, and, in particular, riding off a cliff on a motorbike. These stunts were performed during real takes, by Cruise himself, emphasizing practical filmmaking rather than relying on computer-generated visual effects.
For the motorbike scene, Cruise rode a motorbike off a purpose-built ramp on the side of a mountain in Norway, a vertiginous rock face situated approximately 1,200 meters above sea level – all on the first day of principal shooting on Sept. 6, 2020. He then descended 4,000 feet into the ravine below before opening his parachute at a mere 500 feet from the ground. While the director and a small crew breathed a collective sigh of relief after the first successful run, Cruise picked himself up and repeated the stunt seven more times, ensuring the footage was perfect.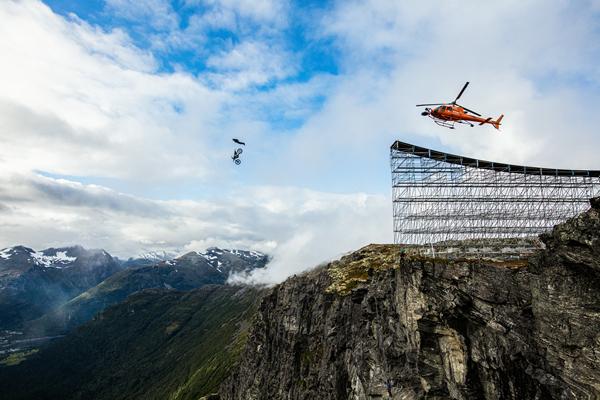 A photo captures the moment when Tom Cruise rides a motorbike off a cliff on a mountain in Norway. [Photo courtesy of Paramount Pictures]
The stunt was undeniably the most dangerous of Cruise's career, which is quite a statement considering his previous jaw-dropping endeavors in the "Mission: Impossible" films. Those include swinging around the exterior of the world's tallest building, Dubai's Burj Khalifa, in "Ghost Protocol," hanging onto the side of an Airbus A400M mid-flight in "Rogue Nation," and launching himself out of a Boeing C-17 Globemaster III from 25,000 feet, executing a high altitude low opening (HALO) jump on film for the first time ever in "Fallout." This time, after a year of rehearsals in the U.K. during pre-production, Cruise had completed over 500 skydives and 13,000 motocross jumps in preparation.
"Every time I went off the ramp, it was dangerous. It was risking my life. And we wanted to keep that to a minimum," Cruise had previously said. "We have a saying on 'Mission: Impossible' movies: 'Don't be safe. Be competent.'"
An IMAX poster for "Mission: Impossible – Dead Reckoning Part One." [Photo courtesy of IMAX China]
"Dead Reckoning Part One" also marks a significant milestone for the "Mission: Impossible" franchise. "This is the first time we've ever split a 'Mission: Impossible' story over two movies. It's something we've never attempted before because of the complexity of these stories. The scale of these two movies is epic in every sense," said Cruise. The second installment of "Dead Reckoning" is scheduled for June 2024.