The new comedy blockbuster "Wonder Family" from China's most popular comedy brand, Mahua FunAge, is set to entertain audiences this summer with its chaotic, hilarious fun.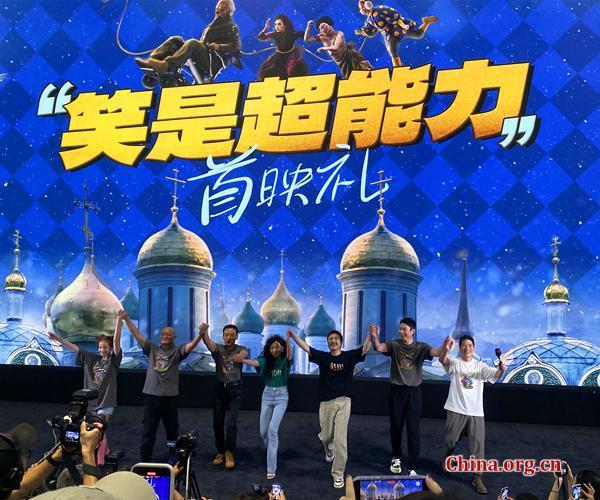 The actors and crew of "Wonder Family" hold hands to take a bow to express their gratitude to the audience at the film's premiere, held in Beijing, July 17, 2023. [Photo/China.org.cn]
The film stars popular comedians Ai Lun and Shen Teng, and is directed by Song Yang, who has showcased his talent since joining Mahua FunAge 18 years ago. As an actor, Song previously appeared in stage plays and successful films such as "Goodbye Mr. Loser" and "Hello, Mrs. Money." However, encouraged by Mahua FunAge's top executives, he embarked on his directing career and achieved remarkable success with "Never Say Die," which grossed an astounding 2.21 billion yuan at the box office.
His latest project, "Wonder Family," follows Zheng Qian (Ai Lun), a Chinese financial app developer from a family residing abroad. After a meteorite event, they acquire superpowers, but there's a catch – their powers only work when Zheng is nearby. The corrupt mayor Chickikov, played by Shen Teng, made-up to look like a foreigner, targets Zheng and aims to steal his app, compelling Zheng to join forces with his supercharged, chaotic, and eccentric family to protect themselves and their city. The film is an adaptation of the Russian fantasy comedy film "SuperBobrovy" (2016).
Song Yang aimed to unlock the potential of each of the actors involved and explore a new dimension to their performance abilities. For instance, Ai Lun, usually associated with comedic roles, was given the opportunity by Song to exhibit his emotional depth and complexity. Meanwhile, Shen Teng, one of the nation's most popular comedians, took on the role of a villain for the first time in his career under Song's direction.
"Wonder Family" also boasts an impressive supporting cast, including Tao Hui, Zhang Qi, and Han Yanbo, who deliver uproarious and distinct performances. Additionally, the film features a compelling acting debut by Russian teenage actress Polina. The film sparked continuous laughter at the China premiere held on July 17.
This year marks the 20th anniversary of Mahua FunAge. FunAge Pictures' last release, "Moon Man," grossed 3.1 billion yuan ($429 million) in 2022.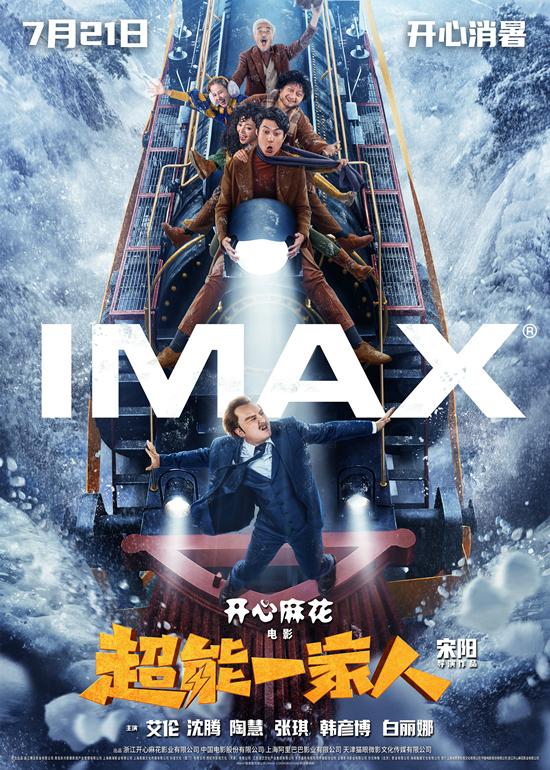 An IMAX poster for "Wonder Family." [Image courtesy of Imax China]
Shen Teng, at the premiere, promised to carefully choose his characters and scripts in the future, striving not to disappoint the audience with each of his performances.
Director Song also expressed his gratitude and stated, "We will always strive to bring joy to you through our hard work."
"Wonder Family" is set for a nationwide theatrical release on July 21.