In Beijing on Tuesday, at the premiere of film "Barbie," everything was decorated in shimmering pink, the iconic color of girls' favorite toy. Men and women, also dressed in pink, busily took photos to celebrate the spectacular film's arrival to the city.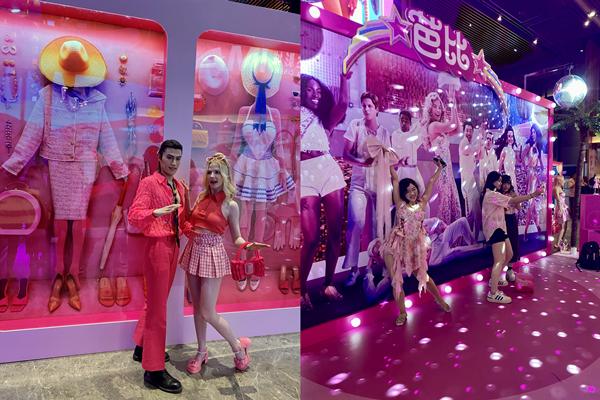 Guests at the premiere of "Barbie" pose for photos beside a "Barbie Land" installation at a cinema in Beijing, July 18, 2023. [Photo/China.org.cn]
Directed by Greta Gerwig and co-written with Noah Baumbach, the film is an adaptation of Mattel's Barbie fashion dolls and marks the first live-action Barbie movie following a series of computer-animated releases.
The star-studded cast includes Margot Robbie as Barbie and Ryan Gosling as Ken, who embark on a journey of self-discovery after venturing out from the utopia of Barbie Land into the real world. They attempt to uncover the truth behind why Robbie's character, Stereotypical Barbie, starts to question life and becomes less than perfect. Joining them on their adventure are actors America Ferrera, Liu Simu, Kate McKinnon, Issa Rae, Rhea Perlman, and Will Ferrell, among others.
Barbie, also known by her full name Barbara Millicent Roberts, is a fashion doll and fictional character created by Mattel in 1959. Since then, she has become an iconic figurehead of the brand, offering a wide range of dolls, accessories, and collectibles. Over the span of more than six decades, Barbie has played a significant role in the fashion doll market. With over a billion dolls sold, Barbie remains Mattel's most successful and profitable product line.
As a female director, Gerwig skillfully embraces the significance of Barbie, redefining the iconic toy for the modern era. Her film transcends expectations by delivering a thought-provoking message about womanhood, gender dynamics, and societal norms. Concealed within a whimsical, pink, and surreal journey, it challenges traditional gender roles while satirically exploring existentialism, feminism, the patriarchy, and stereotypes. Through vibrant visuals, sharp humor, wit, and emotional depth, Gerwig creates an unforgettable experience, delving into the complexities of femininity.
The director's creative vision shines through in every aspect of the film. From its visually sumptuous aesthetics to its clever dialogue and well-executed musical dance numbers, it masterfully manages to balance the silly and the serious and expertly navigates the fine line between parody and commentary, resulting in a unique and engaging narrative. Margot Robbie and Ryan Gosling deliver what are perhaps their best performances to date, perfectly embodying the toy icons of Barbie and Ken, respectively.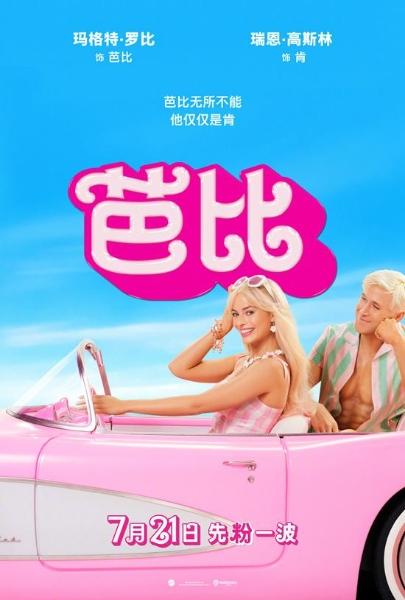 A Chinese poster for "Barbie." [Image courtesy of Warner Bros. Discovery China]
The sets come alive thanks to a generous use of a specific shade of pink paint, Pantone 219, which reportedly resulted in an international shortage. In addition, the film's soundtrack is also phenomenal.
The theatrical release of "Barbie" was scheduled for July 21 in the United States, China, and other markets. The soundtrack will be released on the same day, featuring songs by an all-star lineup of artists, including Ava Max, Charli XCX, Fifty Fifty, Khalid, Sam Smith, Lizzo, Nicki Minaj, Billie Eilish, as well as cast members Ryan Gosling and Dua Lipa.
Finally, the film's release has triggered a global cultural phenomenon dubbed "Barbenheimer." That's because "Barbie" will be released on the same day in multiple markets as Christopher Nolan's "Oppenheimer," the biographical film about J. Robert Oppenheimer, the so-called father of the atomic bomb. The contrasting tones and genres of these films have sparked a battle between the two films and their fans, causing many to post memes, fan art, and comedic posts on social media, with some suggesting that they be viewed together as a double feature.
Universal Pictures announced on Wednesday that "Oppenheimer" would be released in China, but no date has been given so far.