Chinese film director Wuershan told China.org.cn that dedicating nearly 10 years to creating and crafting his mythology epic trilogy "Creation of the Gods" was a worthwhile endeavor. The trilogy's first installment premiered nationwide this weekend, marking a potential milestone in this distinct genre of Chinese cinema.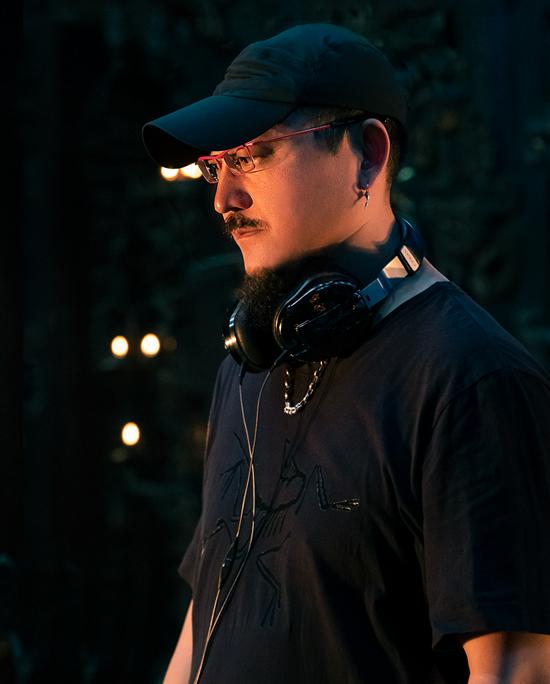 Director Wuershan on the set of "Creation of the Gods" trilogy. [Photo courtesy of Askwin]
Wuershan and his team have notably avoided the term "fantasy" in their marketing campaign. Instead, they preferred to call it "mythology," emphasizing that they have created a Chinese mythology epic and are making great progress. "To my knowledge, mythology epic films have rarely been created in Chinese-language cinema, nor has there been a trilogy of films on this scale," Wuershan said.
The story of "Fengshen" was Wuershan's childhood dream. As a young boy, he avidly read picture-story books adapted from "Fengshen Yanyi," or "The Investiture of the Gods." The novel, written during the Ming dynasty (1368–1644), is rich with mythology, folklore, and historical events. It left a deep impression on Wuershan. As he grew into adulthood, he pursued studies in art, immersing himself in books, paintings, and artworks related to art history, anthropology, and religion, with a particular focus on ancient China. This deepened his fascination for the grand and fantastical world of mythology.
The project began in 2014 when the Inner Mongolia-born filmmaker felt the time had come to fulfill his dream. This realization occurred during the production of his fantasy adventure film "Mojin: The Lost Legend," where he gained significant experience in commercially-backed filmmaking and the use of necessary technologies for creating visually heavy blockbusters.
In initial planning meetings, anthropologists, historians, and folklore experts discussed the fundamental elements of the "Creation of the Gods" story that could resonate with reality and maintain relevance in contemporary society. The director eventually concluded that the themes he wished to convey included the enduring struggle between good and evil and the development of heroes. He firmly believes that these timeless narratives will never lose their significance and relevance.
Filming commenced in 2018 with the goal of shooting three films back-to-back. Finally, this eagerly awaited project has now been unveiled.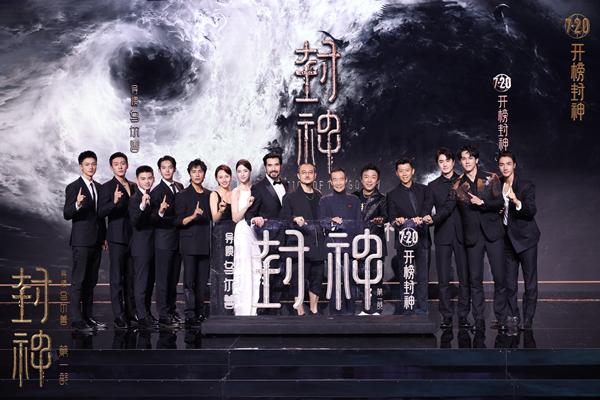 The cast and crew pose for a photo at the premiere of "Creation of the Gods I" held in Beijing, July 10, 2023. [Image courtesy of Askwin]
"Creation of the Gods I: Kingdom of Storms" is a fusion, according to the director. They adapted not only "Fengshen Yanyi" but also incorporated elements from another book of folk stories, "Wu Wang Fa Zhou Ping Hua" ("Storytelling of King Wu's Campaign Against King Zhou"), as well as certain aspects from other ancient Chinese classics such as the "Book of Documents" and "Six Secret Teachings." Wuershan emphasized that the film trilogy is not intended to be a historically accurate account; instead, it is a story derived from mythology and imagination. This explains why some of the film's makeup, props, and costumes may not necessarily adhere to the style of the Shang dynasty, the era in which the film is set.
The first installment, currently in theaters, focuses on the human world and primarily explores the cruelty of Yin Shou, a character name given to Di Xin, also known as King Zhou, who is bewitched by a fox spirit posing as his concubine Daji. It also follows the journey of the young hero and future king, Ji Fa, as he awakens and rises. Wuershan promises even more visually stunning scenes in the two upcoming installments currently in post-production.
"Creation of the Gods I" has grossed 381 million yuan over the weekend since its debut on July 20. Imax also reported that the film grossed 61.8 million yuan in this format and was Imax China's all-time best summer opening for a local language title.
The filmmaker acknowledged the challenges encountered throughout the production, ranging from scriptwriting to visual effects. Crafting a trilogy demands a distinct thought pattern and thematic expression tailored to the mythology epic genre. Each film of the trilogy must stand on its own while contributing to a cohesive narrative. Moreover, the production of the trilogy necessitates a complex setup and a colossal crew exceeding 8,000 members.
Developing the visual effects for this film required tackling the highest level of technical difficulty in visual effects, particularly when creating lifelike computer-generated characters, digital creatures, and massive battle sequences. "Creation of The Gods I" incorporates more than 1,700 visual effects shots, a process that took nearly four years to complete from pre-production through to final completion.
To tackle this immense undertaking, the director founded Myth Image, a company specifically established to produce, manage, and supervise all of the film's visual effects. In collaboration with seasoned companies worldwide, they successfully integrated Chinese aesthetics and creativity with the world's advanced film technology. Additionally, the director made diligent efforts to cultivate and discover artists from various fields, aiming to address any shortcomings within China's film industry.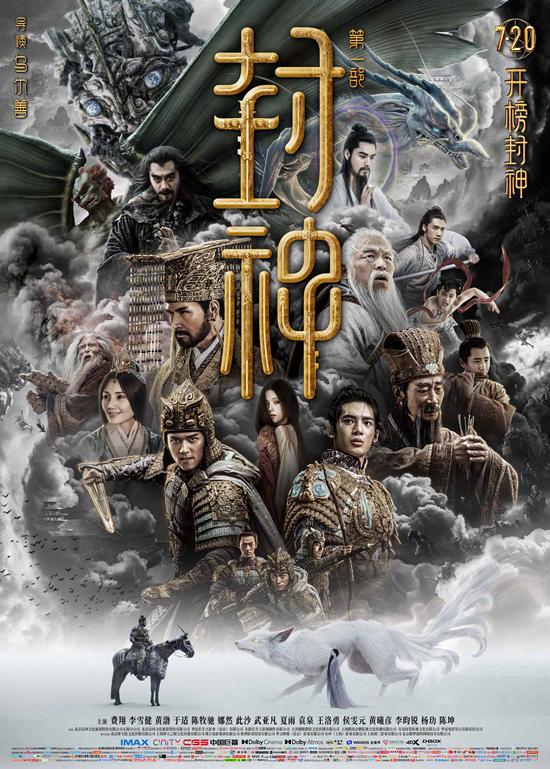 A poster for "Creation of The Gods I." [Image courtesy of Beijing Culture]
"These past 10 years have been a very right choice for me because, throughout the process of working on this project, I have learned so much. It has also allowed me to mature in my approach and attitude towards many things. I don't like doing things that have already been done and proved to be foolproof. I hope every time I undertake a new project only for the reason that I'm driven by my curiosity, filled with passion and a desire for challenges. It is this drive that gives me motivation and makes me feel fulfilled in life," Wuershan said.