Editor's note: China's Taijiquan, also referred to as Tai Chi or Chinese boxing, was added to UNESCO's Intangible Cultural Heritage list in 2020, becoming China's 41st entry on the list.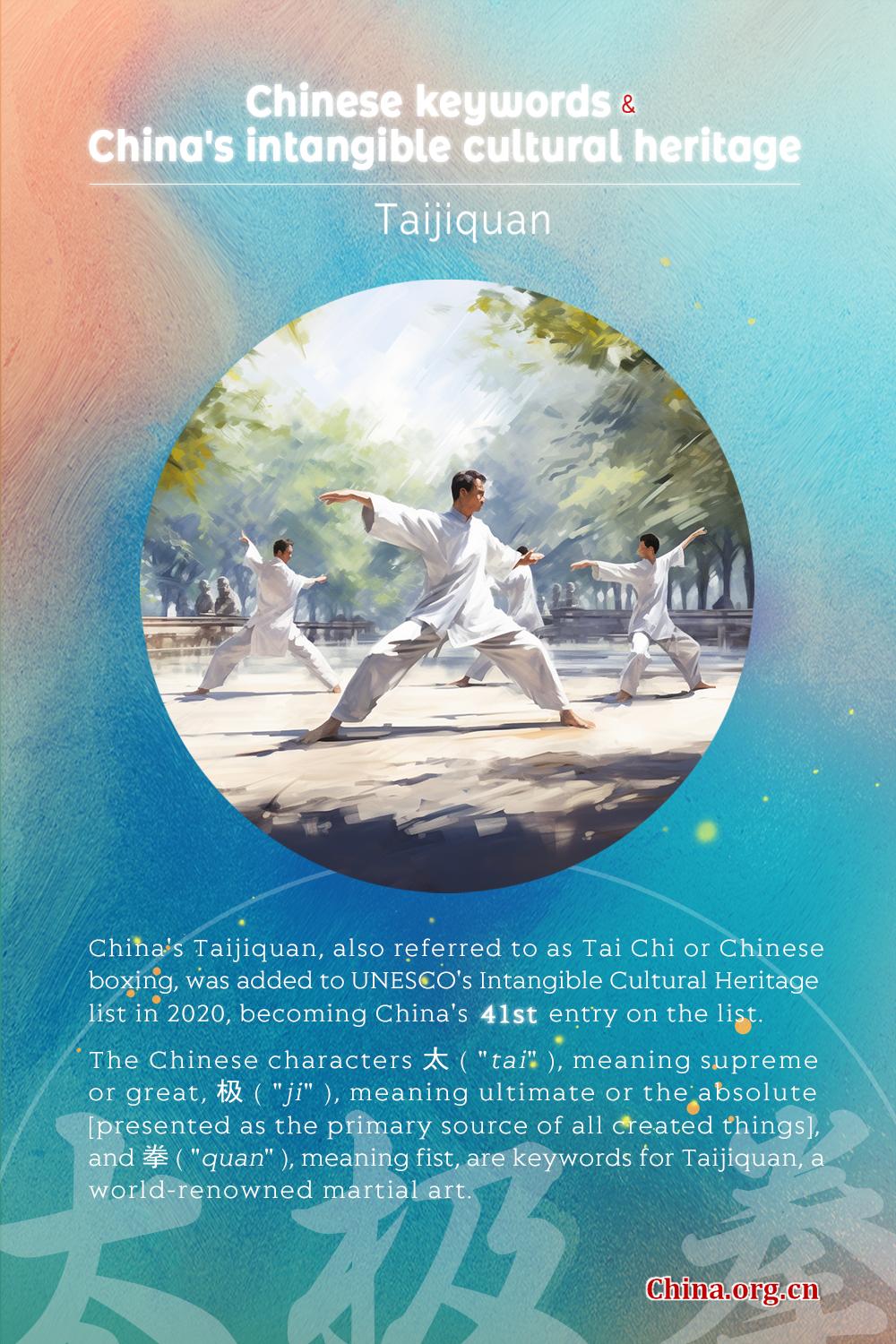 The Chinese characters 太 ("tai"), meaning supreme or great, 极 ("ji"), meaning ultimate or the absolute [presented as the primary source of all created things], and 拳 ("quan"), meaning fist, are keywords for Taijiquan, a world-renowned martial art.
The traditional physical practice of Taijiquan consists of making slow, balanced circular movements, chiefly for attaining bodily or mental control and also for self-defense. As UNESCO states, "Taijiquan's basic movements center upon wubu (five steps) and bafa (eight techniques) with a series of routines, exercises, and tuishou (hand-pushing skills performed with a counterpart)."
It's hard to trace Taijiquan's origins due to a lack of historical documents. However, many Chinese people and Taijiquan practitioners believe that Taijiquan was born around 16th and 17th centuries. They also posit two potential places where Taijiquan originated, paying their respects to these areas. One is Wudang Mountain in central China's Hubei province and the other is Chenjiagou Village in Wenxian County of central China's Henan province.
Influenced by Daoist and Confucian thought as well as theories from traditional Chinese medicine, Taijiquan developed into several schools named after a specific clan or master's name. In the past, it was mainly passed down through clan-based transmission or the master-apprentice model. Today, it is practiced throughout China by people of all ages and from all walks of life. It has also been incorporated into China's formal education system.
Taijiquan has spread to more than 150 countries and regions, attracting more than 100 million practitioners. "Safeguarding the element would increase its visibility and dialogue about the diverse ways Taijiquan is practiced by different communities," UNESCO states.
Find out more about China's intangible cultural heritage and their keywords:
China's 42nd UNESCO's ICH element: Wangchuan ceremony
China's 43rd UNESCO's ICH element: Traditional tea processing