Chinese pop sensation Lay Zhang has teamed up with the globally beloved entertainment franchise Pokemon to launch a new single and accompanying music video titled "Pokemon Party," scheduled for release on Aug. 4.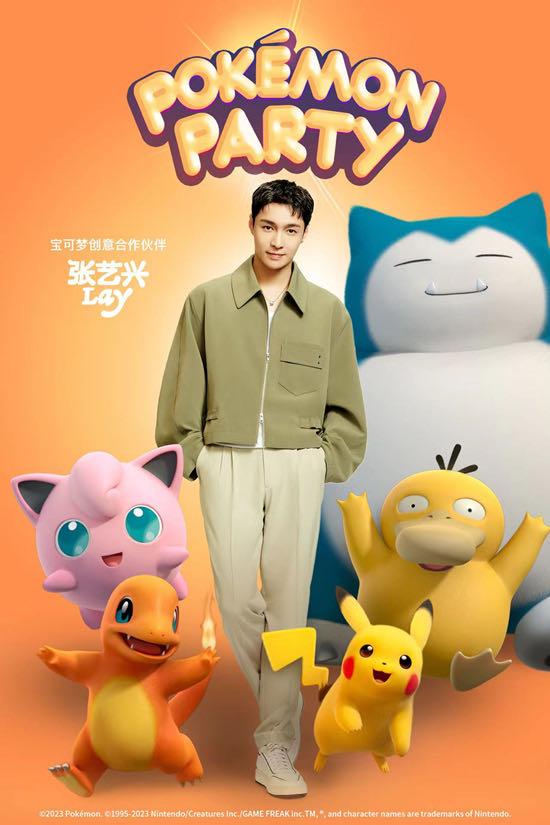 A poster for Lay Zhang's single "Pokemon Party." [Image courtesy of Capitol Records China]

In this upbeat track, Zhang takes on the role of a "Pokemon trainer" and brings together the worlds of music and Pokemon fandom. Produced by Capitol Records China, a preeminent label under Universal Music Group China, this groundbreaking collaboration underscores the strengthening relationship between the international franchise and Chinese creatives.
Expressing his enthusiasm for the partnership, Zhang stated, "I'm thrilled to have been invited by Pokemon and Universal Music to co-create this musical piece. It not only fulfilled my dream of becoming a Pokemon trainer, but I'm even happier that I can bring my favorite Pokemon into my musical world. I hope everyone can feel the joyous energy of Pokemon from the music, and I hope more people fall in love with Pokemon alongside me."
As an internationally recognized Chinese pop superstar, Lay Zhang has carved out a multifaceted career as a singer-songwriter, producer, actor, and dancer. With nine original albums/EPs in his discography, he has accumulated over 13 million sales, more than any other Chinese mainland artist on the Tencent Music platform. Notably, he ranked sixth on the Forbes China Celebrity 100 list and was the first Chinese artist to break into the top five on the iTunes World Album Chart. He also ranked in the top 25 on the Billboard 200 Albums Chart. Collaborations with renowned artists such as Steve Aoki, Jason Derulo, and 24kGoldn, along with roles in films amassing over $430 million at the box office, bolster his profile. His upcoming film, "No More Bets," is set for release on Aug. 11.
The "Pokemon Party" music video combines live-action performance with CGI, portraying Zhang as a meticulous Pokemon trainer living alongside a delightful group of Pokemon. The visuals and sound of "Pokemon Party" encapsulate the inclusive and family-oriented spirit synonymous with Pokemon, delivering a heart-warming experience. Zhang, with his deep knowledge and passion for the Pokemon universe, was deeply involved in the creative process, contributing to every facet of the production. Chinese director Qian Ninghuang, known for the popular animated mini-series "Egg Yolk Man," wrote and directed the video's script. The production signifies Pokemon's innovative approach to promoting localized creativity within China.
Managing director of Capitol Records China, Tom Tang, added, "We're honored to team up with Pokemon and invite Lay Zhang to participate in this special music project. Pokemon's persistent refining of creativity and Lay Zhang's relentless pursuit of quality made the creation process full of challenges and fun. We look forward to Pokemon fans worldwide experiencing Lay's immense talent and charm through this new track, as well as appreciating the high quality of Chinese creativity as they join this joyous party. We are further excited about building more creative bridges between local artists and international brands through the medium of music."
Capitol Records China, a crucial player in this innovative collaboration, has facilitated the production and distribution of the new song, marking a substantial milestone as Pokemon expands its global relationship with Universal Music Group in the Chinese market. In 2021, Universal Music Group for Brands, Republic Records, and Capitol Music Group celebrated Pokemon's 25th anniversary with an extensive year-long music initiative. Collaborations with renowned pop stars, including Post Malone, Katy Perry and J Balvin, led to the successful launch of "Pokemon 25: The Album."