Renowned British filmmaker Christopher Nolan started his China tour by premiering his latest film "Oppenheimer" at Universal Beijing Resort on Tuesday, greeting enthusiastic Chinese fans and stunning the audience with the power of IMAX cinema.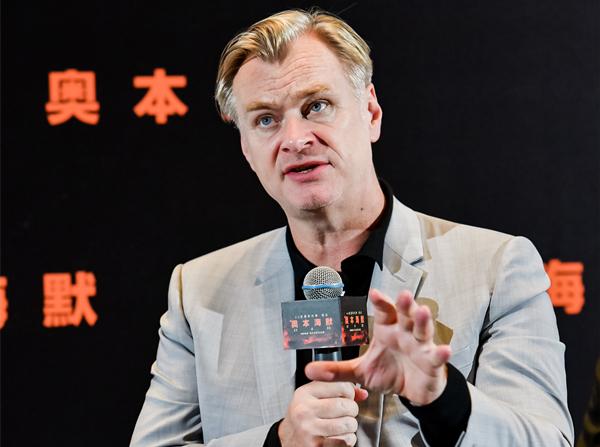 Director Christopher Nolan speaks to the audience at the premiere of "Oppenheimer" at Universal Beijing Resort's Beijing Universal CityWalk Cinema in Beijing, Aug. 22, 2023. [Photo courtesy of Universal Pictures]
Written and directed by Nolan, the biopic is an epic thriller that thrusts audiences into the pulse-pounding paradox of the title's enigmatic scientist who must risk destroying the world in order to save it. Adapted from the Pulitzer Prize-winning biography "American Prometheus: The Triumph and Tragedy of J. Robert Oppenheimer" (2005) by Kai Bird and Martin J. Sherwin, Nolan's highly anticipated 13th film explores the life, accomplishments, hardships, political turmoil, and legacy of its titular character, often revered as the "Father of the Atomic Bomb."
Set to be released in China on Aug. 30, the film has already received critical acclaim in various international markets, accumulating an impressive box office revenue of US $777 million as of Aug. 27. These exceptional numbers position the film as the fourth-highest-grossing production of 2023, the top-grossing World War II-related film, and the fifth highest-grossing R-rated film of all time.
Nolan, one of the world's most acclaimed directors and who boasts a strong fan base in China, has become the first prominent Hollywood director to return to the Chinese mainland after the COVID-19 pandemic. He embarked on a promotional tour for his latest film, generating excitement among Chinese fans and creating buzz across social media. "Oppenheimer" also marks his return after a six-year gap since promoting "Dunkirk" in China back in 2017. During two events held in Beijing, including the China premiere at Beijing Universal CityWalk Cinema, he interacted with enthusiastic crowds, signing autographs for fans. He also attended two more events in Shanghai later last week.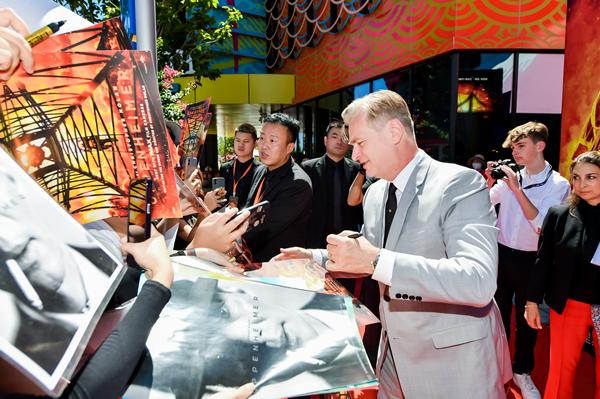 Director Christopher Nolan greets fans and signs autographs on the red carpet for the premiere of "Oppenheimer" outside Beijing Universal CityWalk Cinema in Beijing, Aug. 22, 2023. [Photo courtesy of Universal Pictures]
"Oppenheimer" features a talented and all-star cast, with Cillian Murphy portraying J. Robert Oppenheimer, while Emily Blunt takes on the role of his wife, Kitty Oppenheimer. Other notable actors include Matt Damon, Robert Downey Jr., Florence Pugh, Josh Hartnett, Casey Affleck, Rami Malek, Kenneth Branagh, Gary Oldman, and Tom Conti. However, due to Hollywood strikes in recent months, none of the actors made the trip to the China premiere.
The director revealed he had been familiar with Oppenheimer's history and his role in the Manhattan Project for a long time. His desire to create "Oppenheimer" stemmed from his interest in the fear and troubles the scientists faced as they pursued the secrets of fission for a fusion bomb. This fear, which Oppenheimer dubbed as "the terrible possibility," intrigued Nolan and even made an appearance in his previous film "Tenet." In it, a reference is made to Oppenheimer regarding the idea that he couldn't completely rule out the possibility of a chain reaction caused by the first Trinity test that would destroy the world.
"To me, that seemed the most dramatic story I'd ever heard – that these scientists, knowing there was this possibility, however small, went ahead and pushed that button and conducted that test," Nolan said at the premiere. "So, I became fascinated by the idea of bringing the audience into that room and being there for the Trinity test, of being there to take that risk on behalf of the entire world."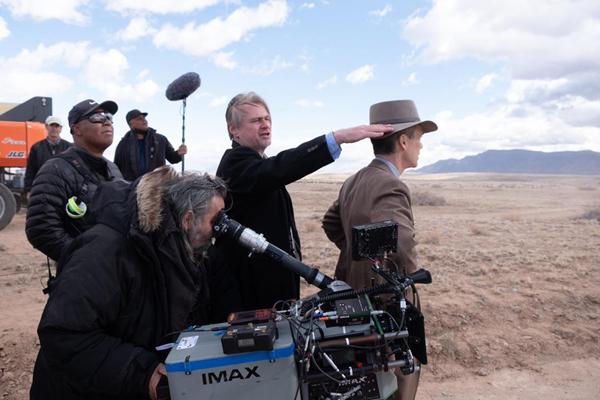 A photo shows director Christopher Nolan directing his "Oppenheimer" cast and crew, shooting a scene using an IMAX camera. [Photo courtesy of Universal Pictures]
Contrary to online rumors, Christopher Nolan did not detonate an atomic bomb for "Oppenheimer." Instead, he collaborated with cinematographer Hoyte van Hoytema and special effects supervisors Scott Fisher and Andrew Jackson to create a simulated version of an atomic explosion. Nolan's preference for real shots and practical effects over computer graphics was driven by his desire to capture a genuine sense of threat. He believed that while computer graphics are versatile, they lacked the necessary impact to depict the Trinity test and the imagined quantum world experienced by the film's protagonist. Consequently, the team decided to photograph real explosions and employed various techniques, ranging from capturing minute details to executing large-scale explosions using substances like magnesium flares, petroleum, and black powder.
As a long-time supporter of IMAX, Nolan exclusively shot "Oppenheimer" using large-format cameras such as the Panavision 65mm and IMAX 65mm. "I wanted to shoot the whole film on IMAX film because it's the best quality, highest resolution. It's the image format that sees the world the way your eyes do, and we wanted to be in [Oppenheimer's] head," he said.
The film also marks the first usage of sections shot on IMAX black-and-white photographic film, specially invented and created by Kodak for this project. Nolan intentionally alternated between color and black-and-white scenes to portray subjective and objective perspectives in the story. The filmmaking for "Oppenheimer" ambitiously experimented with using the world's largest cameras. As cinematographer Hoyte van Hoytema has previously stated, they aimed to explore whether IMAX could be equally powerful for close-ups, capturing the characters' psychological state by creating an intimate medium. This evolution in approach was driven by the story's demands and required putting these ideas into action.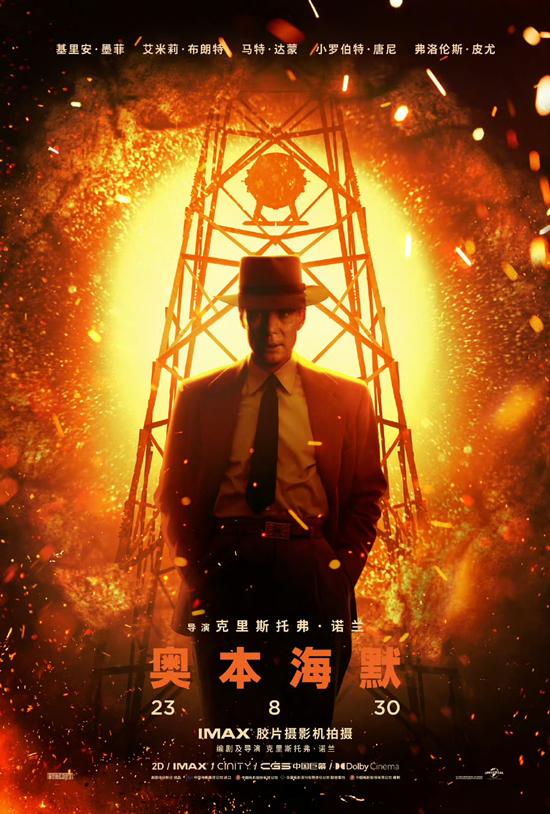 A Chinese poster for "Oppenheimer." [Image courtesy of Universal Pictures]
"What drew me to look at the story was the realization that there has never been a moment in history quite like that moment where the entire world changed, and it changed forever. There's no going back. And so Oppenheimer, when you look at the man and the role he played, from my point of view, he becomes the most significant individual in history. So the fact that his story hadn't been told in this way, as a big film for a lot of people around the world to experience with them, it's the type of gap in film stories that you're looking for. As a filmmaker, you're looking for these human stories that have not been told but that are dramatic and significant," Nolan said.