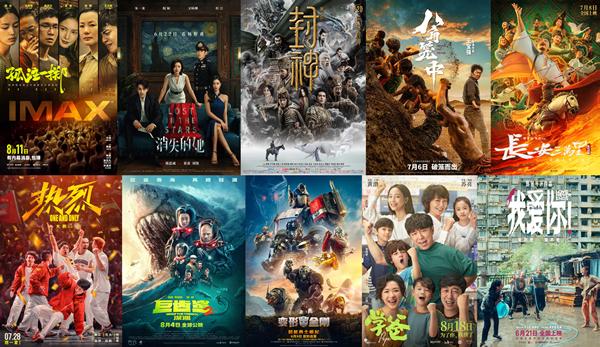 Posters for China's top 10 summer films. [Image provided to China.org.cn]

China's summer box office exceeded 20.6 billion yuan ($2.84 billion), making it a scorching season for the industry and indicating that the film market has fully revived.
The total gross for this year's summer movie season, which runs from June 1 to Aug. 31, is a significant increase from the 17.78 billion yuan during the pre-COVID summer of 2019. The box office even surpassed the combined earnings of the 2020 to 2022 summers – all impacted by COVID-19 – which were 3.62 billion yuan, 7.38 billion yuan, and 9.14 billion yuan, respectively, totaling 20.137 billion yuan.
From June 21 to Aug. 31, the summer box office surpassed 100 million yuan daily for 72 consecutive days, setting a new record. From Aug. 4 to Aug. 16 alone, the daily box office earnings exceeded 200 million yuan, indicating that this year's movies had particular stickiness among audiences.
This year's summer season witnessed the extraordinary success of five films, each earning more than 1 billion yuan. These include the anti-telecom-fraud thriller "No More Bets," which grossed 3.53 billion yuan; the crime thriller "Lost in the Stars," which earned 3.52 billion yuan; the Chinese mythological epic "Creation of the Gods I: Kingdom of Storms," which garnered 2.48 billion yuan; the powerful cage boxing drama "Never Say Never," which achieved 2.2 billion yuan; and the world's longest animated epic on China's ancient poets, "Chang An," which made 1.79 billion yuan. These films proved a cultural phenomenon in the country and each sparked heated discussions.
The remaining five movies in the top 10 summer films include the street dance drama "One and Only," which grossed 895 million yuan; the sci-fi monster blockbuster from Warner Bros. Pictures "Meg 2: The Trench," earning 826 million yuan; the imported Hollywood alien robot blockbuster "Transformers: Rise of the Beasts" with 655 million yuan; the Chinese education drama "Papa," which grossed 496 million yuan; and the touching drama about China's elders "Love Never Ends," grossing 428 million yuan.
In terms of audience admissions, the total number of moviegoers during this year's summer season reached over 503 million, slightly surpassing the 502 million recorded during the 2019 summer season and setting a new record for summer box office attendance. However, the much higher box office earnings can also be attributed to the increased ticket prices this year.
Occupancy rates have also bounced back, reaching 12%, which is nearly the same level as in 2019. In comparison, during the 2021 summer season, the theater occupancy rate dropped to as low as 5.4%.
IMAX China also announced on Aug. 31 its historic summer box office success, bringing in 710 million yuan. This figure surpassed the previous record set in 2019, which stood at 670 million yuan. Notably, IMAX China achieved its highest-grossing months ever recorded in July and August. This exceptional performance can be attributed to "Creation of The Gods I," directed by Wuershan. As the first installment of a trilogy, the film has already grossed over 248 million yuan across the IMAX network.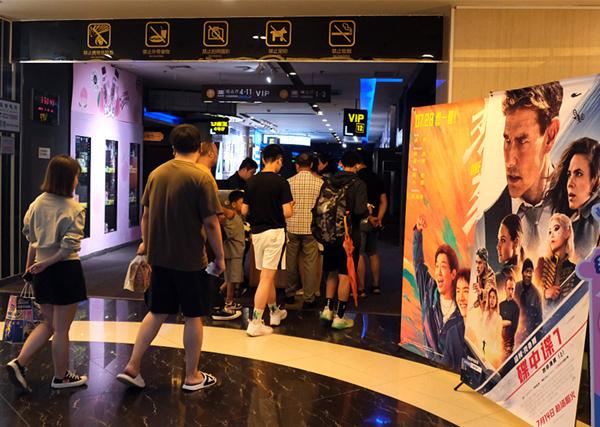 People line up to get into a cinema in Shenyang, Liaoning province, July 17, 2023. [Photo/VCG]

The impressive summer box office performance has significantly raised expectations for the overall annual box office takings. By Aug. 31, the cumulative box office takings for 2023 had reached 42.8 billion yuan, accounting for approximately 67% of the total earnings in 2019. Furthermore, the total number of movie admissions has surpassed 1 billion, exceeding the 712 million admissions for the entirety of 2022. In 2023, there have been 20 films that have grossed over 500 million yuan, with nine surpassing 1 billion yuan and six exceeding 2 billion yuan.
Among the current annual top 10 highest-grossing films, three were released during the Spring Festival season: "Full River Red" with 4.54 billion yuan, "The Wandering Earth II" with 4.03 billion yuan, and "Boonie Bears: Guardian Code" with 1.49 billion yuan. Five films were released during the summer season. The remaining films, "Godspeed" and "Fast X," were released outside of summer. Notably, while domestic films have performed exceptionally well, Hollywood blockbusters have underperformed, with only one Hollywood film, "Fast X," grossing 984 million yuan and making it to the annual top 10 list.
With summer coming to an end, the industry is now turning its attention to the next prime season: the back-to-back eight-day National Day holiday and Mid-Autumn Festival. This period is already scheduled for another round of blockbuster releases, including Zhang Yimou's anti-corruption crime thriller "Under the Light," Chen Kaige's war epic "The Great War," and Herman Yau's action-packed film "Moscow Mission," which features cross-border crime-fighting on a train.