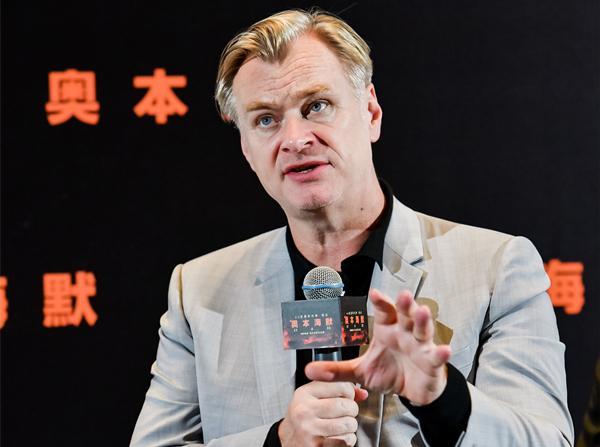 Director Christopher Nolan speaks to the audience at the premiere of "Oppenheimer" at Universal Beijing Resort's Beijing Universal CityWalk Cinema in Beijing, Aug. 22, 2023. [Photo courtesy of Universal Pictures]
The film, Oppenheimer, by Christopher Nolan, as both scriptwriter and director, tells the story of the complex life of Julius Robert Oppenheimer, known as the "father of the atomic bomb". It has earned nearly $800 million at the global box office so far, surpassing Tenet, Dunkirk and Interstellar to become Nolan's highest-grossing film in the past 10 years.

Such box office revenue is not only due to the global appeal of Nolan's films, but also because of the label of Oppenheimer as a scientific genius. After the United States built and used atomic bombs, Oppenheimer felt deep remorse, expressing his unease, contradiction, and even regret over the development of nuclear weapons. He considered himself to be the "destroyer of the world" and even a "murderer".
Later, he learned to draw a distinction between his own responsibility and that of the government, arguing that he had only built the atomic bomb, but it was the government leaders who had decided when and how it should be used.
After World War II, Oppenheimer's attitude toward nuclear weapons changed dramatically, and he finally chose to withdraw from the project. He opposed the US' development of the hydrogen bomb, arguing that peaceful uses of atomic energy should be pursued through the United Nations, rather than continuing to build nuclear weapons. His story appears particularly thought-provoking today when the world is facing rapid technological advancement and security threats from various sources, including nuclear proliferation.
As for the question of what responsibility do scientists have for technologies that may have unintended consequences, Nolan said it is the task of the film to ask the question, not pretend to have the answers. Oppenheimer's story is undoubtedly a cautionary tale about the role and responsibility of scientists.