As Joe Schott, president and general manager of Shanghai Disney Resort, addressed the excited audience gathered at a press preview event on Tuesday morning, he announced, "Today marks a pivotal milestone as we prepare to enter our next chapter. We're thrilled to have the opportunity to bring its stories and characters to life in the world's first and only Zootopia-themed land. Right here in Shanghai."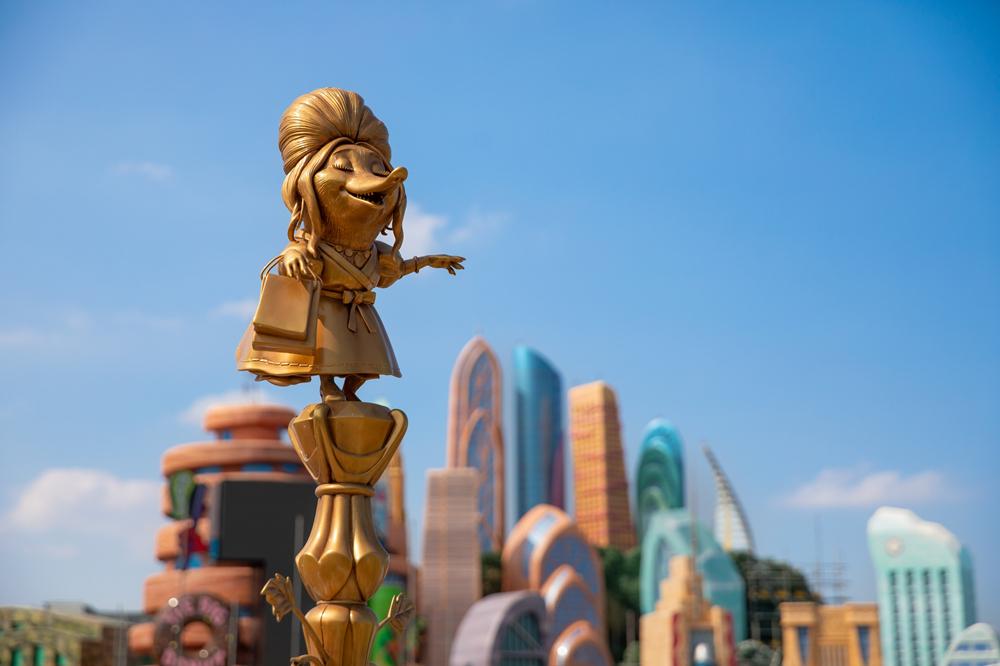 A statue outside Fashions by Fru Fru, the merchandise store in the Zootopia land at Shanghai Disneyland. [Photo courtesy of Shanghai Disney Resort]
Since its release in 2016, the Disney animated movie "Zootopia" has captivated audiences worldwide. In China in particular, the film grossed a remarkable 1.53 billion yuan ($236 million), making it the most successful imported animated feature of all time in the country. Inspired by the enthusiastic response, Disney decided to develop a theme land based on the movie at its Shanghai resort.
"Over the years of development, diverse minds and talent from around the globe from more than 140 disciplines worked tirelessly to create a unique 'mammalian' experience for our guests, immersing them in this metropolis' vibrant animal world," Schott said. "We are extremely proud of what they've created and confident that everyone will be amazed from the very first step into Zootopia."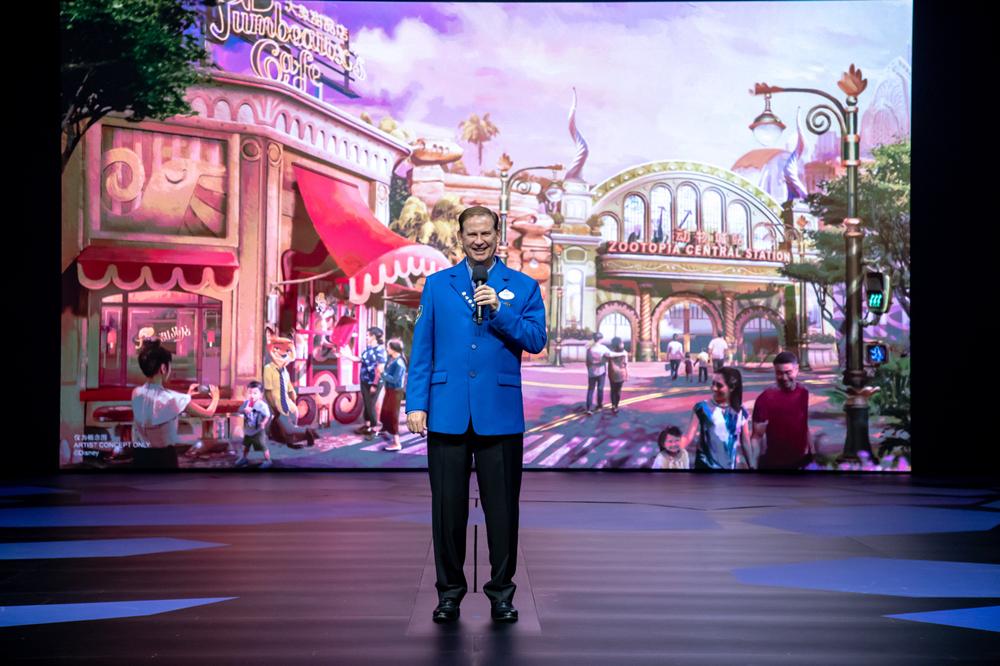 Joe Schott, president and general manager of Shanghai Disney Resort, speaks at a press preview for the Zootopia land at Shanghai Disneyland in Shanghai, Sept. 5, 2023. [Photo courtesy of Shanghai Disney Resort]
Subsequently, Disney imagineers and executives took to the stage to offer a tantalizing sneak peek into Shanghai Disneyland's latest addition. With a commitment to upholding the Disney's immersive storytelling legacy, they are dedicated to creating a land that embodies the best of Disney storytelling powered by state-of-the-art technology.
One of the highlights of the presentation featured imagineers utilizing the latest in audio-animatronics technology to bring characters to life within the Zootopia land. Continued developments in this technology have led to greater complexity, exemplifying a new generation of fully electric systems that enhance the experience of visitors.
Also, by incorporating cutting-edge robotic technology and an unparalleled focus on detail and artistry, the characters from "Zootopia" achieve an extraordinary level of realism, from their meticulously crafted costumes to their lifelike fur.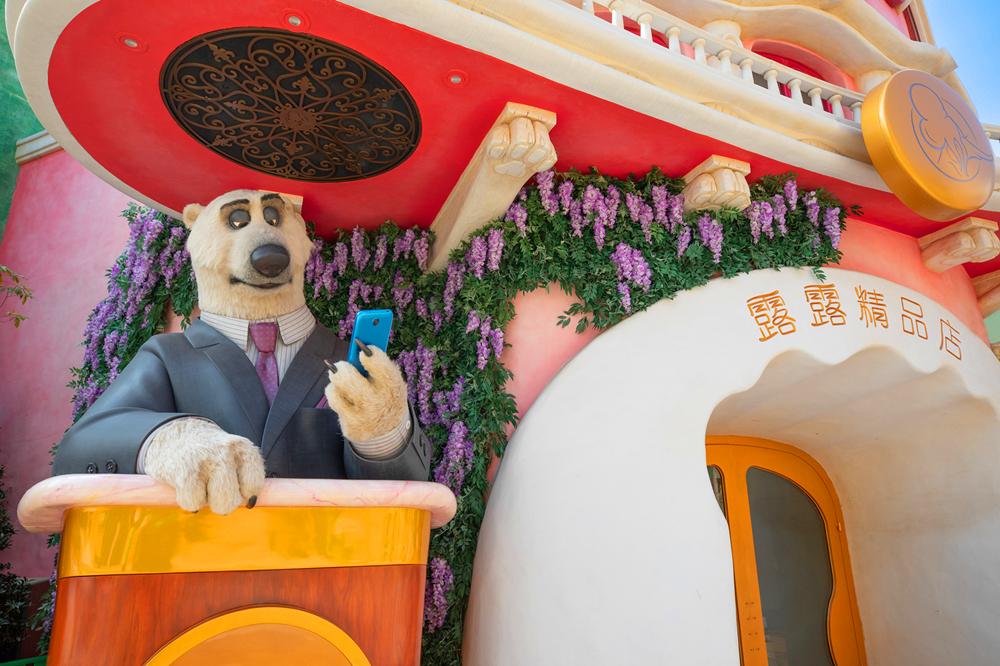 An audio-animatronic figure of the character Koslov stands guard at the entrance of Fashions by Fru Fru in the Zootopia land at Shanghai Disneyland. [Photo courtesy of Shanghai Disney Resort]
"We collaborated closely with Walt Disney Animation Studios to meticulously capture the essence of each character, ensuring their core movements and even the tiniest facial expressions were faithfully recreated," explained Xu Chang, producer with Walt Disney Imagineering Shanghai. "Additionally, every audio-animatronics character has been adorned with custom-tailored vintage costumes, staying true to the looks from the movie."
The star ride at the new theme land was unveiled as "Zootopia: Hot Pursuit." This thrilling attraction combines cutting-edge technologies with an innovative trackless ride system. Accompanied by the characters Judy Hopps and Nick Wilde, visitors will embark on a mission to rescue the city's renowned singing star Gazelle from her kidnapper, Bellwether. The adventure promises an array of fun-filled turns, spins, slides and drops, creating an exciting and family-friendly adventure, as explained by Dustin Schofield, senior creative director of Walt Disney Imagineering.
Characters will be brought to life not only through the audio-animatronics technology but also cutting-edge projection effects. Inventive methods created by imagineers allow digitized characters to interact with visitors in the ride and other venues throughout the land.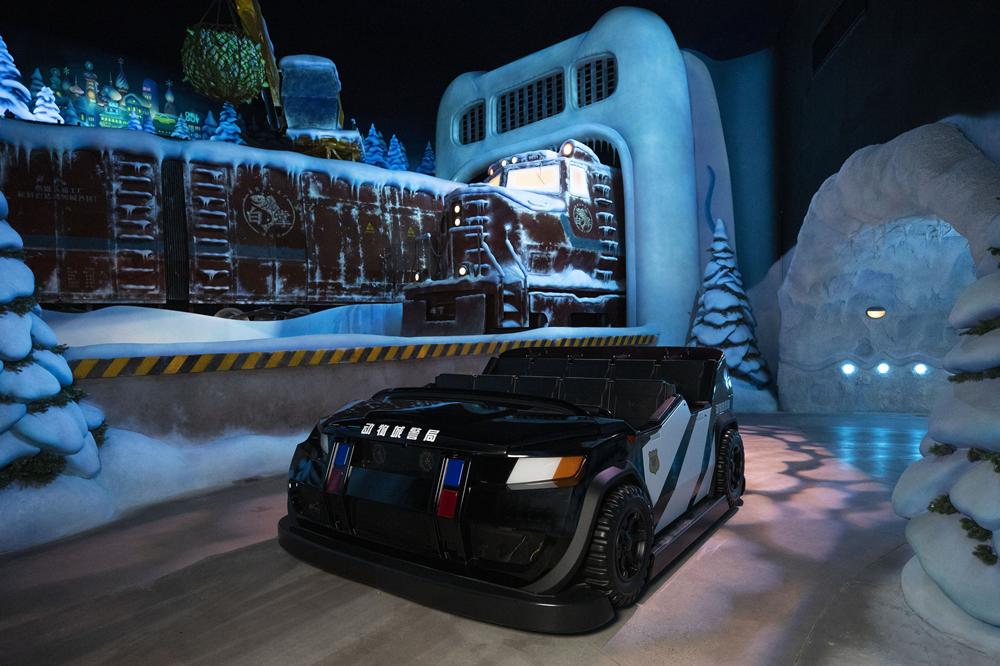 A police vehicle equipped with the innovative trackless ride system for "Zootopia: Hot Pursuit" attraction on display at Shanghai Disneyland. [Photo courtesy of Shanghai Disney Resort]
In addition, every single detail of Zootopia land, spanning entertainment, merchandise and food and beverage offerings, and a brand-new attraction, has been creatively "Zootopified" to immerse visitors in the mammalian metropolis. This includes through a faithful recreation of Jumbeaux's Cafe, the famous elephant-run ice cream shop in the film, as well as the iconic adorable paw-shaped popsicle. Meanwhile, city fixtures and facilities have been scaled to accommodate animals of all sizes, such as drinking fountains of different heights and benches of various sizes.
Furthermore, the guiding principle of Shanghai Disneyland, "Authentically Disney, Distinctly Chinese," resonates throughout the land, incorporating Chinese cultural elements and distinctive local Shanghai influences and humor, such as specially phrased and designed street and traffic signs.
The new Zootopia land is scheduled to open by the end of this year. As Schott eagerly expressed, "We cannot wait to see our guests be like, 'wow,' when they step into this place where anyone can be anything. The wait is almost over."