Popular 1980s teen idol and pop singer Alec Su announced in Beijing on Sept. 6 that he will embark on a new concert tour covering 26 cities across China.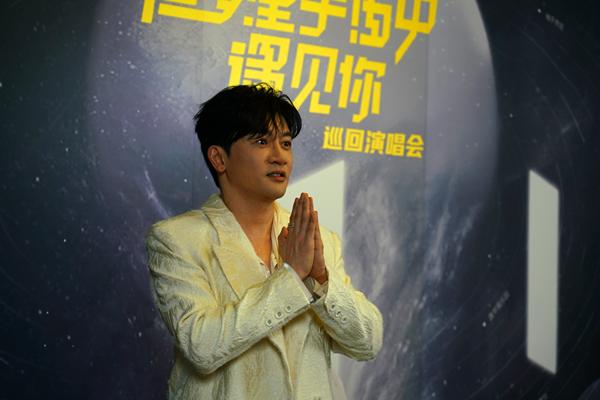 Pop singer Alec Su expresses his gratitude to his fans during a press conference in Beijing to announce his new tour, Sept. 6, 2023. [Photo by Xu Lin/China.org.cn]
The "Alec Su Crossing the Multiverse Concert 2023" tour will kick off in Shenzhen on Dec. 16 before heading to other cities around the country. Despite having a successful career in various entertainment professions, including singing, acting, and film directing, Su expressed that music may be his favorite medium and an especially effective way to connect emotionally with his fans.
"I am deeply moved that throughout these years, when I have been changing tracks and sprinting on different paths, there have always been many people supporting me, seeing me, and recognizing my work and supporting me until now," he told China.org.cn. "Whether they are new or old fans, everyone feels like old friends to me. So, during this concert tour, we can come together and reminisce about our youth through music. This is a wonderful thing."
Su continued, "The times have always been changing, and I have been continuously learning and embracing new things, constantly exploring untapped potential that I never could have imagined before. I have grown into what I am today before your very eyes. Sometimes, through the internet, I read your messages and posts and find that you have witnessed different versions of me. Some old fans may be busy with their own lives and pressures, but they still care about me. The collective memories of our shared youth evoke deep emotions within me."
Starting his career when he was 15, the singer, who will celebrate his 50th birthday on Sept. 11, revealed at the press conference that high-tech and sci-fi elements will be integrated into his performance. Audiences will have the opportunity to meet different versions of him in this traveling multiverse, which will span various eras of Su's career while enjoying songs from his back catalog. Su also expressed how he looked forward to singing along to his beloved songs with his fans.
"Because I have had quite a long career, people who knew me at different eras may have different expectations for which songs they want to hear at these concerts and the memories they want to evoke. There will be many different sentiments, so I wanted to use the concept of the multiverse to summarize my songs and memories from each phase of my life," he stated.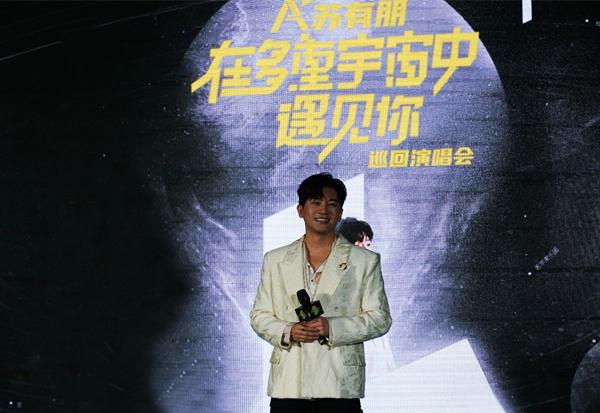 Pop singer Alec Su appears on stage during a press conference in Beijing to announce his new tour on Sept. 6, 2023. [Photo by Xu Lin/China.org.cn]
During the press event, Alec Su delighted the enthusiastic fans in attendance with a cappella renditions of some of his classic songs, eliciting cheers and applause. He also mentioned how he plans to undergo vocal cord and physical training in the months leading up to the opening night as part of his preparation.
Su, formerly a member of the Little Tigers, one of the earliest Chinese boy bands, is a versatile artist known for his hit songs such as "Green Apple Paradise,""Backpack," and "Cherish." He has also made a mark in the world of TV drama and film, with notable roles in productions like "My Fair Princess,""Romance in the Rain,""Heavenly Sword and Dragon Saber," and "The Message." Expanding his repertoire, he ventured into film directing, helming projects such as "The Left Ear" and "The Devotion of Suspect X." Over the years, Su has also acted in musicals and stage dramas, taken on producer roles for movies and TV series, lent his voice to animated films, hosted TV shows, and authored books.