Experts told China.org.cn that they believe artificial intelligence (AI) technology, such as the chatbot ChatGPT, will serve as an assistant to human beings in creating a better, more effective, and efficient future across a range of industries.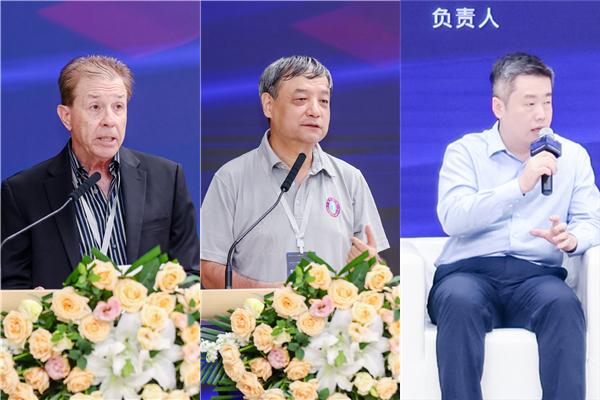 Marc Hebert, Sun Maosong, and Li Feng attend the 2023 AI + Design Innovation Forum held at the Academy of Arts & Design, Tsinghua University (AADTHU) in Beijing, Sept. 2, 2023. [Photo courtesy of AADTHU]
Marc Hebert, the board chair at Leonardo/The International Society for the Arts, Sciences and Technology (Leonardo/ISAST), as well as the chief operating officer at Estuate, a global information technology services company, made his remarks when attending the 2023 AI + Design Innovation Forum.
The event was held and organized by the Academy of Arts & Design, Tsinghua University (AADTHU) on Sept. 2 in cooperation with the Institute for Smart Scene Innovation Design (ISSID). At the event, a partnership between "Leonardo," a renowned international academic journal in the art and science field, and "Zhuangshi," an academic journal known for its comprehensive strengths in artistic design and published by AADTHU, was announced.
Hebert described how, despite AI entering the public sphere very fast and receiving a lot of hype, it has already had a dramatic impact in a number of disciplines, many of which relate to white-collar disciplines such as financial services.
"All of a sudden, people are realizing that if AI really achieves its promise, it will transform many different types of jobs and careers, mostly white collar, for the first time," he told China.org.cn. "Traditionally, technology has automated blue-collar jobs much more, but this is the first time that professional jobs will be totally transformed."
Though there are concerns about AI replacing humans in various fields, for example, in Hollywood, which is witnessing ongoing strikes partly as a response to AI threatening writers' jobs, Hebert said that he doesn't believe that AI will dominate human thinking anytime soon, adding rather that a partnership is more likely to arise between humans and the technology.
"I don't see [AI] as a threat. I see it as an enabler. Maybe it will eliminate some jobs. The people who don't adapt are the ones who will suffer. But just like any other technology, it will end up creating more jobs than it destroys," he said.
"The whole process of economic growth is all about creative destruction, and we want to get rid of the old jobs. Only 1% of people in the United States are farmers today, whereas it used to be 99% 100 years ago. That's a good thing. Farming has become much more productive and automated, and we need fewer people. But those people have now been able to evolve and learn and do other kinds of jobs. I think the same thing will happen."
Sun Maosong, a professor at Tsinghua University's Department of Computer Science and Technology and executive deputy dean at the Institute for Artificial Intelligence, shared the same outlook. He emphasized that while AI enhances efficiency and quality in various industries, it should not be seen as a complete replacement for human workers.
Acknowledging its flaws, Sun cautioned against blindly relying on AI-generated output. In fields like art or design for the mass market, although AI may reduce the workforce, it still necessitates the need for input from individuals with skills that surpass these machines. These talented individuals possess the ability to assess and correct any issues with the machine-generated output. Also, it is important to recognize that AI's influence is primarily limited to the internet and highly digitized areas rather than encompassing all facets of human life.
Sun and his team have been conducting research in the field of natural language processing for decades. This area focuses on teaching machines to comprehend human language, similar to what ChatGPT does. They have made significant contributions to various aspects of AI research since the global AI wave began in 2010, and their work is recognized as world-class in cutting-edge research.
By attending the forum, Sun sought insights into how artists are embracing AI in their creative processes, given that AI's combination of natural language processing and image generation directly impact art and design. For instance, users are now able to describe their desired painting, and AI can create it accordingly, albeit with some imperfections, he said. Therefore, this technology can serve as a valuable tool, especially in the creative realm.
"Overall, I believe [AI's] role is more of an assisting one. It acts as a collaborator with the artist, enabling them to achieve better results through human-machine synergy," Sun told China.org.cn.
Li Feng, the head of the CIB FinTech Research, views large language models (LLM) as a subfield within the broader AI landscape. Its primary focus currently revolves around conversational applications, drawing particular attention from the banking industry for its text generation capabilities. China Industrial Bank is actively exploring the utilization of LLM and similar AI chatbots initially as a means to collect information for internal purposes, with plans to extend it to customer service, prioritizing security and trust.
Moreover, leveraging large-scale language models can enhance specific areas of the workforce. For instance, combining them with search capabilities improves knowledge-based question-and-answer scenarios, and incorporating decision-making abilities enables more effective marketing and customer query solutions. This integrated approach aims to empower users and address their needs comprehensively.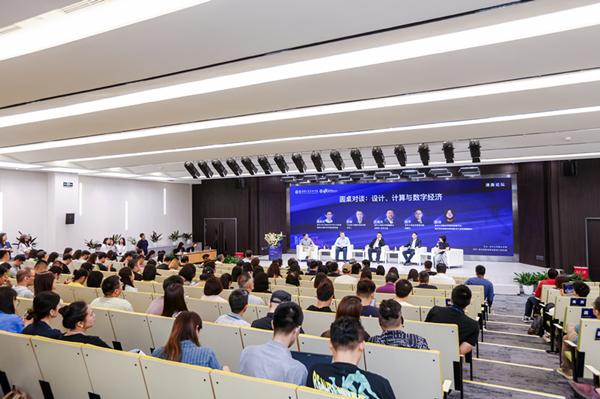 Experts join a discussion at the 2023 AI + Design Innovation Forum held at the Academy of Arts & Design, Tsinghua University (AADTHU) in Beijing, Sept. 2, 2023. [Photo courtesy of AADTHU]
According to Professor Li, AI will revolutionize the banking industry through various means. He described how it will start with automating manual tasks like customer service and basic services, followed by streamlining operations, risk management, and marketing through process optimization. AI will also play a significant role in online investment, financial markets, wealth management, sentiment analysis, and advanced services. However, this transformation faces challenges that need to be addressed, including developing large scale computational power, extracting high-quality data, and fostering collaboration between AI and business units, among other areas.
Li highlighted that current strategies involve a collaboration between humans and machines, leveraging AI to support business operations. This approach reduces workloads and eliminates repetitive tasks, leading to the emergence of new job roles, such as AI trainers. By retaining data and enabling machines to learn from it, decision-making processes are also enhanced. Frontline customer managers and financial advisors, who were previously occupied with answering mundane inquiries, can now allocate their time to more valuable activities like wealth planning and addressing complex financial issues for customers. This shift empowers them to utilize their expertise and creativity in a more effective manner.
Moreover, "In order to effectively utilize future advancements in AI, versatile talent is crucial. These individuals need to understand various scenarios, have relevant data knowledge, and possess compliance expertise," Li said. "Only then can they successfully implement and operate these scenarios in a meaningful way."