Several Chinese arthouse directors have banded together to participate in the creation and promotion of a unique arthouse movie, "Ripples of Life," directed by fledgling auteur Wei Shujun.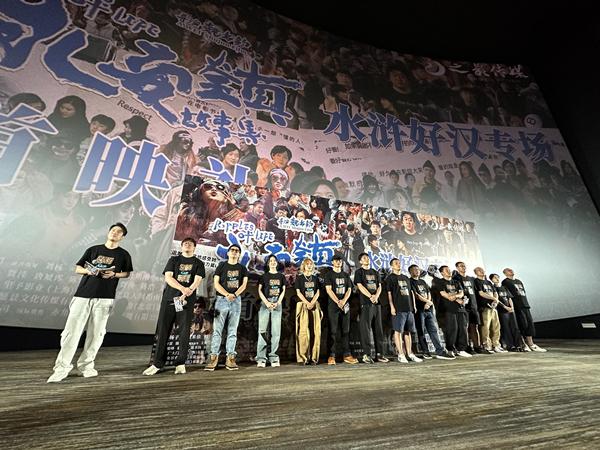 Cast and crew of "Ripples of Life" pose for a picture at the film's premiere in Beijing, Sept. 8, 2023. [Photo/China.org.cn]
The film, starring Yang Zishan, Huang Miyi and Liu Yang, depicts a film crew disturbing the tranquility of a once-peaceful town. As the story unfolds across three chapters, it interweaves the tales of a mismatched hotel matron , a hometown-bound actress, and a director and scriptwriter at odds with one another. These stories capture the essence and intricacies of life in the town.
At the premiere on Sept. 8, director and writer Wei revealed that he shot "Ripples of Life" in 2021 during a period of personal turmoil with scriptwriter Kang Chunlei. Just before filming, they revamped the script, creating a new draft in just three days and finalizing it within a week. "The revised script encapsulated our observations and disagreements we experienced then," Wei noted. In just 39 days, armed with the new script and cast, Wei Shujun crafted "Ripples of Life," weaving the storyline with the crew's actual experiences in an "intertextual" manner.
Regarding the creative differences between the director and the scriptwriter portrayed in the film, Wei stated, "The issues stemming from their conflict aren't resolved in the movie. These questions mirror my own confusion. I presented these issues rather than providing answers."
He added, "While parts of the film might come across as raw and nascent, it captures the excitement — and even the weariness — we experienced during the creative process, preserving the authentic essence of the script."
In addition to the standout performances from the actors, several renowned young Chinese arthouse directors contributed to the project. These include Liang Ming ("Wisdom Tooth"), Yang Jin ("Don't Expect Praises"), Zhai Yixiang ("This Worldly Life"), Song Chuan ("Ciao Ciao"), Yang Pingdao ("My Dear Friend") and Geng Jun ("Manchurian Tiger"), all of whom joined the cast and played roles, enhancing the film's appeal.
Wei expressed his deep appreciation for their involvement, noting, "Being real-life directors, they can genuinely relate to the challenges faced by the fictional director in the film. They were incredibly cooperative, often choreographing their own actions on set. It felt like a friendly gathering where everyone was simply enjoying themselves."
At the premiere, well-known arthouse directors such as Jia Zhangke, Diao Yinan, Li Yu and Li Runjun were also in attendance. They collectively urged theaters to allocate more screening slots for China's niche arthouse productions.
"After watching the film, I believe it's vivid. 'Touching' isn't quite the right word. It's immensely satisfying how it manages to elucidate our chaotic contemporary thoughts through three stories," praised arthouse guru and auteur Jia Zhangke.
Jia said he identified deeply with the film's female lead, played by Yang Zishan, who portrays an actress returning to her hometown. The nostalgic setting becomes tainted by everyday worldly challenges. "I deeply relate to her. Ever since I started making films, I've constantly been approached by people seeking my assistance — be it for education, medical treatment or financing. It's as if filmmakers have a solution for everything. In reality, this represents the parallel universe I just mentioned, where both sides don't truly understand each other. Filmmakers are often seen as helpless, vulnerable, yet constantly struggling individuals who express their dignity through their art. We can't solve real-world problems. The only proof of our worth and existence is in making films."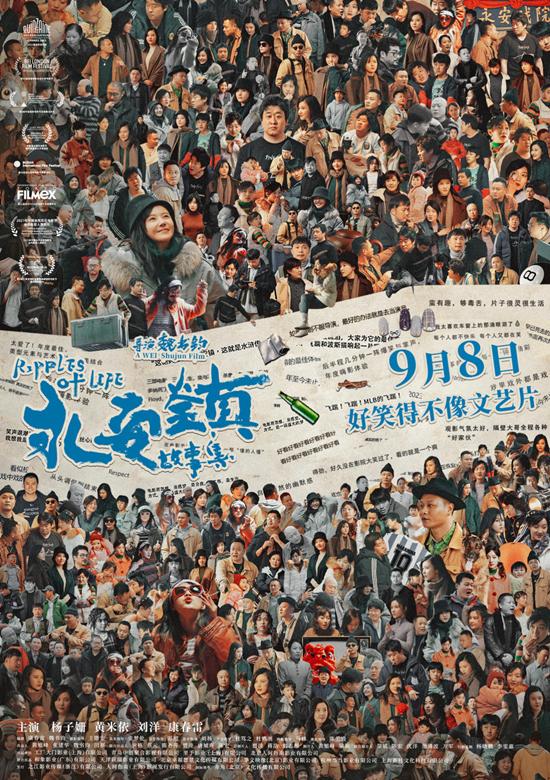 A poster of "Ripples of Life." [Image courtesy of Factory Gate Films]
"Ripples of Life," a film that's both a philosophical treatise and a satire originating from the SIFF Project, has garnered widespread industry anticipation and critical acclaim both domestically and internationally. Since its inception in 2007, the SIFF Project of the Shanghai International Film Festival, an important film financing initiative, has nurtured numerous remarkable projects and discovered emerging talents. It has pooled resources from the film industry to support budding Chinese filmmakers and strengthen Sino-international collaborations.
In 2021, Wei's film was selected for the "Focus" section at the 26th Busan International Film Festival and the "Director's Fortnight" section at the 74th Cannes Film Festival. At the 5th Pingyao Crouching Tiger Hidden Dragon International Film Festival, the film earned Wei the best director prize at the Fei Mu Awards and he also took home the youth jury award in the New Generation China section. Additionally, it secured the jury award in the International Competition at the Brussels International Film Festival.