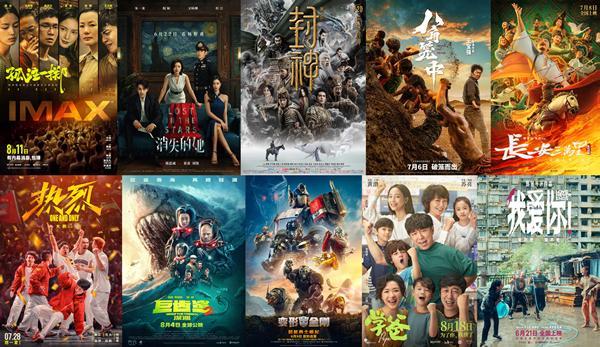 Posters for China's top 10 summer films. [Image provided to China.org.cn]
Box-office earnings impress as filmgoers return in numbers.

Despite arriving at a cinema in downtown Beijing close to 10 pm one weekday, Guo Huijia, a 34-year-old office worker, was surprised to find that almost 80 percent of the seats in the auditorium were occupied.
She decided to watch the crime thriller Lost in the Stars, the second-highest grossing film in China's thriving summer movie season, after seeing a promotional video showcasing heartthrob actor Zhu Yilong, who plays the piano as part of his lead role.
"When I walked out of the cinema at midnight, I couldn't help feeling a chill running down my spine. The movie tells a thought-provoking story that makes us reconsider the darkness within human nature, and serves as a warning to women in love," Guo said.
Due to her busy work schedule, Guo, a movie enthusiast, said she often goes to watch films late at night, mainly on weekdays. However, she noticed that in the past two months, the cinema she visited to watch Lost in the Stars had been consistently crowded.
As of Aug 31, box-office takings for the summer season, which started on June 1, had set a record by reaching 20.6 billion yuan ($2.75 billion).
The China Film Distribution and Screening Association and the live movie information tracker Beacon said more than 500 million cinema tickets were sold nationwide this summer at an average price of 40.80 yuan per person for the 35 million-plus screenings of the 138 films that were released.
Most industry insiders feel that the flourishing summer market shows that the domestic movie industry is recovering fast from the effects of the COVID-19 pandemic.
Yin Hong, deputy chairman of the China Film Association, said the summer frenzy, driven by a string of highly acclaimed and commercially successful blockbusters, rekindled Chinese audiences' desire to return to theaters, significantly boosting morale among domestic filmmakers.
This summer was the first time in months that students, who comprise a significant proportion of audiences during this season, had been able to visit cinemas without having to worry about pandemic prevention measures.
Moreover, a diverse choice of appealing movies was available, including some originally scheduled for release last summer or earlier, but which were delayed due to the pandemic. Yin said such a wide variety of genres and themes contributed to the thriving summer box office.
Rao Shuguang, president of the China Film Critics Association, said the movie lineup this summer included not only big-budget productions, but also some excellent films with moderate to low budgets, contributing to a more balanced and healthy development of the entire market.
"If the nation's annual box-office takings surpass 60 billion yuan by the end of this year, it will enhance confidence in the industry and encourage talent to produce more quality movies," Rao added.
Common themes
In recent years, Chinese moviegoers have shown a growing preference for domestically produced films, particularly those adapted from true stories or that draw inspiration from traditional culture and history.
Industry insiders said that as nine of the top 10 highest-grossing movies this summer were produced by Chinese companies, this served to further bolster confidence in the industry.
Widely regarded as one of the biggest dark horses this summer, No More Bets focuses on the reporting of cyberscams operated by criminal syndicates in Southeast Asia. The movie recently rose to first place on the summer earnings chart by bringing in nearly 3.8 billion yuan.
Lost in the Stars, which tells the story of a husband with a dark past, sat on the second seat on summer box-office charts, earning an impressive 3.52 billion yuan and accounting for 20 percent of ticket revenue generated during the season since the film was released on June 22.
Never Say Never, which depicts a former athlete who becomes a mine owner helping a group of poverty-stricken children pursue their dreams through mixed martial arts competitions, took fourth place on the summer chart, earning more than 2.19 billion yuan.
Lu Jianing, head of Nanning Minzu Cinema in Guangxi Zhuang autonomous region, said the common theme of these movies is their connection to highly debated social topics.
"Apart from providing entertainment, cinema plays a role in socialization. When these movies generate more online discussion, people become increasingly interested in watching them and discussing them with friends or family," Lu said.
While Lost in the Stars examines the question of whether women should exercise greater caution in matters of love and marriage, Never Say Never, in which the protagonist is unfairly caught in an online backlash, looks at the harm caused by cyberbullying, he added.
Despite Never Say Never including some violent scenes depicting intense mixed martial arts training and competition, Lu initially thought the movie might not be appropriate for children. However, to his surprise, many parents have welcomed the film for its inspirational message, which encourages young people to strive for a better future.
Movies inspired by traditional culture and classical literature have also become increasingly popular.
Two such examples are Creation of the Gods I: Kingdom of the Storms, a fantasy epic adapted from a Ming Dynasty (1368-1644) novel, and the animated movie Chang An, which chronicles the long friendship between poets Li Bai and Gao Shi. Chang An is also highly favored by many parents who consider it a good example to help their children learn about China's golden era of ancient poetry and some of the best-known poets during the Tang Dynasty (618-907).
These two movies took third and fifth place, respectively, on the summer box-office takings chart.
One and Only, which took sixth place, is a passionate tale about an underdog street dancer and his conflicted coach, respectively starring pop idol Wang Yibo and veteran actor Huang Bo. Meanwhile, Meg 2: The Trench, a Sino-US coproduction starring British actor Jason Statham and Chinese performer Wu Jing, which took seventh place on the chart, brings to life the prehistoric creature in the movie's title.
Among the top 10 movies on the chart, Transformers: Rise of the Beasts was the only one from Hollywood. It took eighth place, followed by the parenting-themed movie Papa and the Chinese romance film Love Never Ends, which took ninth and tenth places, respectively.
Rao, from the China Film Critics Association, said this summer's film market witnessed a growing diversity of genres and more word-of-mouth reviews than in recent years — proof of the efforts made by Chinese filmmakers to sharpen their storytelling abilities and improve visual effects.
"The majority of mainstream audiences in China now consist of discerning young people. Only works that are truly imaginative and creative can capture their attention and entice them to visit the cinema," he said.
Barbie, considered by most industry observers to be one of the most popular Hollywood films in China's summer market, achieved acclaim and financial success. The movie, the first live-action adaptation of the iconic toy doll, rated 8.2 out of 10 on the review site Douban and grossed more than 250 million yuan.
However, Spider-Man: Across the Spider-Verse, sequel to an Oscar-winning animated movie, and Mission: Impossible — Dead Reckoning Part One, starring Tom Cruise, failed to do as well as expected at the summer box office in China, respectively grossing 356 million yuan and 347 million yuan.
Yuan Yun'er, a critic based in Beijing, said that in the past, Hollywood movies with stellar casts and countless visual effects mostly earned more than 1 billion yuan. But domestic audiences' changing preferences indicate growing fatigue with familiar plotlines, and local theatergoers are now more interested in Chinese stories that offer fresh perspectives.
New trends
The increased use of advanced screenings to market some of the most successful blockbusters emerged as a new trend this summer, being employed on a larger scale than in previous years, researchers said.
Previously, it was commonplace for major cities to be chosen for such screenings about a week before a film's official release.
This practice was aimed at inviting critics, cinema managers and media representatives to a sneak preview of the movie and to share their views.
Zhi Feina, a professor at the Chinese National Academy of Arts, said the practice was being used to a greater extent this year as a major promotional method to boost advanced ticket sales.
On July 2, six days before its general release, advanced screenings were staged in 342 cities for the 168-minute-long animated movie Chang An, helping the film gross about 25 million yuan at the presale box office and propelling it to become this year's highest-grossing animated film to date in terms of presale figures.
After the benefits of advanced screenings became evident, use of this marketing strategy was maximized for films such as Never Say Never and No More Bets.
Advanced screenings of Never Say Never were staged in three rounds nationwide, spanning 10 days and resulting in earnings of 420 million yuan from 10 million admissions before the film's official release on July 6. Early last month, No More Bets earned more than 500 million yuan from its three-day advanced screening period, setting a record as the highest-grossing Chinese film in terms of such screenings.
Zhi said these screenings could help new movies attract more online attention, but there is also the possibility of a negative impact if a story falls short of expectations.
She added that this summer, more large-scale preview screenings were held for domestic films, reflecting local moviemakers' confidence in their work and their belief that these movies will do well.
Zhi said: "China battled the pandemic for three years, during which cinemas and film production companies faced many challenges. However, Chinese filmmakers had more time during this period to concentrate on creativity, which led to many quality stories with diverse themes emerging. Consequently, this year has witnessed a constant flow of excellent releases."
In January, Spring Festival blockbusters, including Full River Red and The Wandering Earth II, propelled box-office takings past 10 billion yuan, making it the highest-grossing January in the history of Chinese cinema.
Beacon, the information tracker, said that due to the summer box-office bonanza, earnings this year have surpassed 41 billion yuan, compared with 29.94 billion yuan for the whole of last year.
Chen Jin, an analyst at Beacon, said enthusiasm among Chinese audiences to return to theaters has been strengthened, as nearly 53 percent of those who went to cinemas during the summer were making their first such visit of the year.
With the release of more highly anticipated movies such as Christopher Nolan's epic Oppenheimer, Chen predicted that the summer box-office takings could surpass 20 billion yuan, bringing this year's earnings closer to pre-pandemic levels.
Before the pandemic led to cinemas in China being closed for six months from late January 2020, the nation's annual box-office takings the previous year reached a record 64.2 billion yuan, domestic media reports said.