A forum was held on Sept. 8 in Jiuquan, Gansu province, to explore the sci-fi industry's development in the city, which is home to one of China's space launch centers and the historical Dunhuang culture.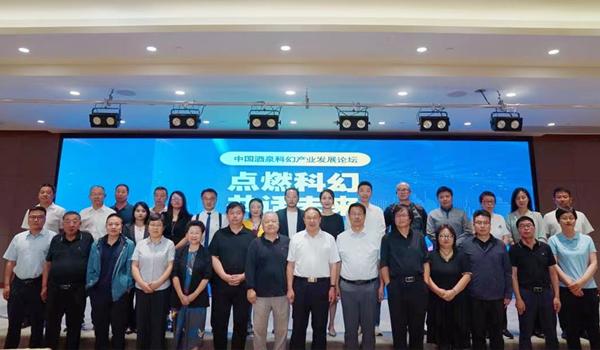 Participants of the China Jiuquan Science Fiction Industry Development Forum pose for a group photo in Jiuquan, Gansu province, Sept. 8, 2023. [Photo courtesy of Beijing Yuanyu Science Fiction and Future Technology Research Institute]
"Jiuquan is a legendary city, and I witnessed a satellite launch here in 2015," said renowned sci-fi writer Liu Cixin at the forum. "Throughout history, countless human miracles have occurred here." He added that the city was the starting point of China's aerospace journey and the center of over 1,600 years of Dunhuang culture, where technology's power and history's weight converge, giving rise to a vibrant stream of science fiction in this desert oasis.
Jiuquan, renowned for its Dunhuang art, also plays a pivotal role in modern spaceflight and China's oil and nuclear sectors. Situated approximately 200 kilometers from the city is the Jiuquan Satellite Launch Center. Inaugurated in 1958, it stands as China's oldest and largest rocket facility, dedicated to various satellite launches and manned spaceflight missions.
"Nowadays, Jiuquan can be described as a hub where talented individuals converge, characterized by thriving technology and a rich culture," described Wang Jinkang, another prominent sci-fi writer, in his speech at the forum. "Whether delving into the heat death of the universe or exploring the origins of life, in Jiuquan, one finds an infinite canvas for imagination."
It's obvious that the local government has also begun to recognize the importance of science fiction. Jiuquan's vice mayor, Pang Qi, stated that science fiction drives technological innovation and symbolizes a nation's creativity, boosting technological development and the digital economy, and enriching public imagination and culture. The sci-fi industry, a highly integrated industry of culture and technology, is crucial for technological advancement and societal progress, epitomizing a nation's technical and cultural strengths.
Pang encouraged forum attendees to tap into Jiuquan's sci-fi potential to further foster industry growth. He expressed hope that the city would inspire innovative works that enrich lives and boost the science fiction industry in China. "We aim to leverage our resources to attract advanced tech enterprises and the entire sci-fi industry chain. With supportive policies and a strong foundation, we aspire to make Jiuquan a nationally influential hub for sci-fi development," he said.
Yin Chuanhong, the deputy secretary of the Chinese Writer Association of Science Popularization, expressed his belief that the sci-fi industry will inject both renewed vitality and richer cultural depth into Jiuquan. "The country places great emphasis on technological innovation, science popularization, and scientific education. The sci-fi industry is currently in a very favorable phase of development. Against this backdrop, Jiuquan, with its unique natural landscapes, rich historical and cultural heritage, and emerging technological arrays, is fully equipped, qualified, and capable of advancing the development of the science fiction industry and making a distinctive contribution," Yin pointed out.
Wang Weiying, director general of the Beijing Yuanyu Science Fiction and Future Technology Research Institute, shared her personal experience of Jiuquan's diverse and rich cultural allure, describing the city as having "profound technological strength and historical and cultural connotations." She hopes that the institute, with Liu Cixin as its president, can engage in more such collaborations in Jiuquan.
During the forum, Sun Shicheng, the general manager of the Zhongguancun Science Fiction Industry Innovation Center, delivered a report on Beijing's sci-fi industry development. He outlined strategies such as establishing cluster zones for sci-fi enterprises, creating master workshops, setting up funds, and attracting talent with favorable policies. He hopes these approaches can inspire Jiuquan, which he views as having vast potential for endeavors like commercial spaceflight, and establish the city as a prime site for sci-fi movie production and filming.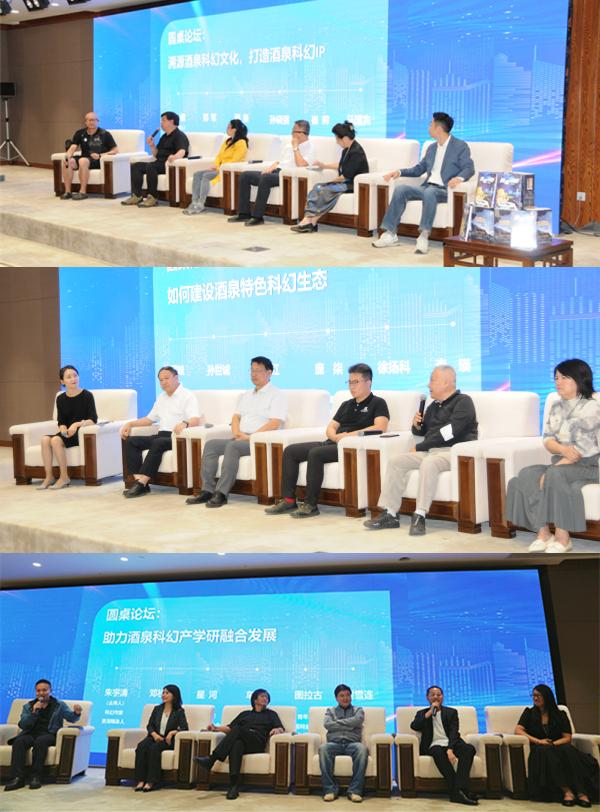 Three panels were held to explore sci-fi industry development in Jiuquan, Gansu province, Sept. 8, 2023. [Photo courtesy of Beijing Yuanyu Science Fiction and Future Technology Research Institute]
Subsequently, the forum hosted three expert roundtable discussions that delved into topics such as tracing Jiuquan's sci-fi cultural origins, establishing Jiuquan's sci-fi IP, building a unique sci-fi ecosystem in Jiuquan, and promoting the integrated development of the city's sci-fi industry, academia, and research.
During the panels, Zhai Xuelian, a popular science writer and initiator of a sci-fi film project pitch program, highlighted the progressive approaches of the Beijing Municipal Science & Technology Commission concerning industry-academia-research collaboration. She recommended that Jiuquan fully harness its popular science and sci-fi resources, effectively leverage its brand, and capture opportunities in film and television, higher education, and foundational education. "After developing local sci-fi and scientific educational resources," Zhai said, "the goal should be to establish a national, if not global, brand."
"Through the Flying Apsaras in the Mogao Grottoes of Dunhuang, I was reminded of the realization of human flying dreams at the Jiuquan Satellite Launch Center. Jiuquan can leverage its cultural heritage to establish a fresh benchmark for sci-fi culture," concluded sci-fi writer Gu Bei.