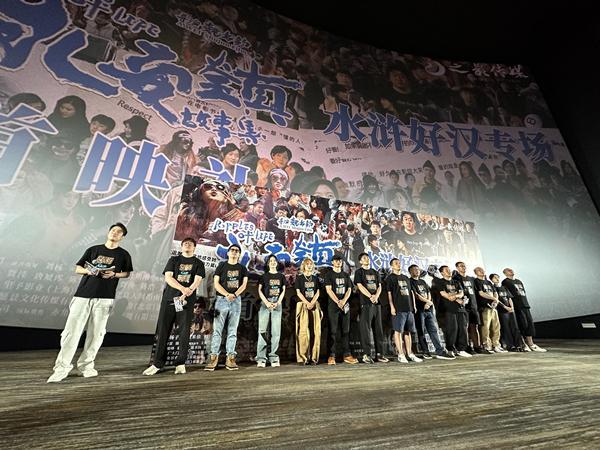 Cast and crew of "Ripples of Life" pose for a picture at the film's premiere in Beijing, Sept. 8, 2023. [Photo/China.org.cn]
In October 2020, director Wei Shujun and scriptwriter Kang Chunlei faced one of the most daunting and difficult moments of their careers.

Just two weeks before the scheduled commencement of shooting their movie, Ripples of Life, the creative duo was gripped by a sinking realization: The script that had been meticulously crafted over six years might be on the brink of failure.
At that time, everything, from the cast and the costumes, to props and locations, had been found. However, the director Wei, a Beijing native who shot to fame with his directorial debut Duck Neck in 2016, dealt a hammer blow to the project. With the movie seemingly destined to be a flop, he chose not to proceed with the filming.
As a result, his producers had to contact the actors and actresses to negotiate compensation for breaches of contracts, while Kang, facing immense pressure, undertook the stressful task of crafting a new screenplay.
Surprisingly, echoing the wisdom of Scottish inventor Alexander Graham Bell who once said, "When one door closes, another door opens", Kang and Wei found new inspiration and promptly crafted a fresh story, which was committed to celluloid. Seven art house film directors were also invited to play various roles in the rejigged production.
Under the original title, the movie garnered recognition at the 26th Busan International Film Festival in South Korea and the 74th Cannes Film Festival in France in 2021. In the same year, it won the prize for Best Director at both the Fei Mu Awards and the Youth Jury Awards during the 5th Pingyao Crouching Tiger Hidden Dragon International Film Festival in Shanxi province, an annual event founded by prestigious filmmaker Jia Zhangke.
The movie was released in domestic theaters on Sept 8, quickly obtaining 7.4 points out of 10 on the popular review aggregator Douban.
For Kang, who grew up in a village approximately 60 kilometers from downtown Beijing, his first inspiration for the brand-new script for Ripples of Life was a young woman who was the owner of a restaurant in rural Hunan province, which he and fellow crew members frequently visited while preparing for the movie.
"She often held a little child, around 1 year old, with a sense of detachment from the surrounding environment on her face. When we met her, she showed curiosity toward the crew and an eagerness to try acting," recalls Kang.
"This brought back memories of my youth. When I used to spot someone carrying a camera in my hometown village, I couldn't help but feel a sense of curiosity, as if they belonged to a world that was more magnificent and enchanting," he adds.
After drawing inspiration from the woman, Kang shared his findings with Wei and then wrote a short tale, which became the first chapter of the movie. The film consists of three chapters, each connected but focusing on different characters.
All three short stories revolve around a film crew as they prepare to shoot a movie set in a fictional town called Yong'an, which not only means "eternal tranquility", but also hints at the stagnant lifestyle and lack of change that keeps the locals stuck in a stereotypical existence, as Kang reveals.
The first tale recounts the story of a young mother who becomes increasingly frustrated with her monotonous life working in a small restaurant run by her bossy parents-in-law. When the film crew visits the restaurant for dinner, she eagerly hopes for a chance to feature in their production.
Starring actress Yang Zishan as a movie star, the second tale follows her character's nostalgic journey back to Yong'an, her hometown, to shoot a film and reconnect with childhood friends. However, she gradually starts to realize that the idyllic and sweet image she had of the hometown might just be a figment of her imagination.
The third, perhaps the most sarcastic of all the three tales, features Kang acting as a struggling scriptwriter, who has spent a decade writing four scripts, none of which have been made into movies. The character sees the opportunity to shoot a movie set in Yong'an as his chance to finally gain recognition.
"We hope to explore the stagnation of life and its impact on each individual. In our youth, when facing an uncertain future, we believe that anything is within our reach. However, as we age, we come to realize that many aspirations are challenging to attain, leading us to gradually accept our current circumstances," explains Kang about the theme of the movie.
The movie, to some extent, also mirrors Kang's personal hardships. After graduating from a high school in Beijing's Daxing district in 2008, he had ambitions of becoming a writer and chose not to take the national college entrance exam. However, he faced a lot of challenges in the following years, including financial difficulties and a string of different jobs, ranging from being an extra to selling insurance and working as a security guard.
The turning point came in 2012, when he happened to learn from a friend who had graduated from the Central Academy of Drama that writing a single episode of a TV series could earn him more than 5,000 yuan ($687).
During the following year, Kang purchased a lot of books, such as Hollywood scriptwriter Blake Snyder's Save The Cat! The Last Book on Screenwriting You'll Ever Need, to teach himself how to skillfully write a script for a movie or TV.
In 2014, working as a script planner at a production company, he managed to read over 300 scripts and outlines, accumulating more knowledge to write his own stories. However, none of his scripts found their way the big screen before Ripples of Life.
Regarding the title, he explains: "Big events in people's lives are like throwing a pebble into the water. Although ripples immediately appear on the surface, it quickly returns to calmness."
Thanks to the film, though, the ripples in Kang's own life have been significant. Following his collaboration with Wei, their second film, Only the River Flows, adapted from award-winning author Yu Hua's namesake novel, premiered during this year's Cannes Film Festival. Not content to rest on his laurels, Kang is now contemplating using the perplexities of his youth as a source of inspiration for his next screenplay.