The recipients of the inaugural Golden Panda Awards, which recognize outstanding global contributions in film, TV, documentaries and animation, were announced at a dazzling award gala on Wednesday in Chengdu, Sichuan province, renowned as the home of the giant panda.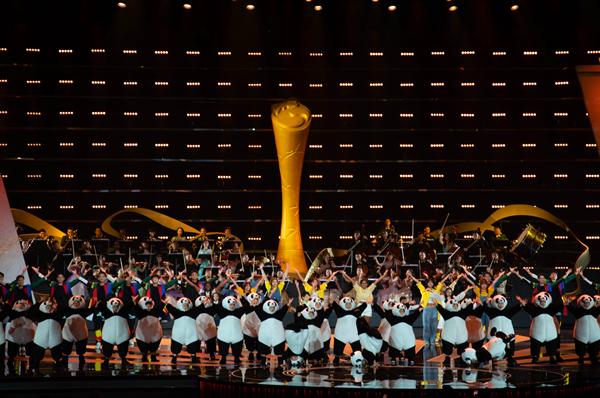 A panda-themed performance unfolds at the Golden Panda Awards ceremony in Chengdu, Sichuan province, Sept. 20, 2023. [Photo/China.org.cn]
The top awards in each of the four categories were presented to standout pieces: Taika Waititi's 2019 anti-Nazi comedy-drama "Jojo Rabbit" secured the Best Film honor. The debut season of the American Western drama television series "1923" (2022) won the Best TV Drama title. Chinese-American co-production "The Miracle Panda" (2022) garnered the Best Documentary award, and the Chinese animated series "Yao - Chinese Folktales," which was released and became viral at the beginning of this year, received the Best Animation distinction.
Notably, "The Miracle Panda" couldn't have been a more fitting winner of the inaugural Golden Panda award. The 51-minute documentary, narrated by Lucy Liu, chronicles the journey of Xiao Qi Ji (meaning "Little Miracle"), a panda born at the Smithsonian's National Zoo in 2020. His mother, Mei Xiang, gave birth to him at the age of 22 via artificial insemination. Named through a global voting process, he emerged as a beacon of joy during the COVID-19 pandemic. The film highlights Sino-U.S. cultural ties and three decades of collaborative efforts in panda breeding, wild release, and habitat restoration.
Renowned Chinese director Zhang Yimou, the jury president for the inaugural Golden Panda Awards, noted at the award ceremony that the event distinguishes itself from other film and television festivals both domestically and internationally. It symbolizes a grand occasion for film and television cultural exchange and integration, and furthermore, a significant gathering for exchanges and mutual understanding among global civilizations. "The original aspiration of establishing the Golden Panda Awards is for world civilizations to cooperate, communicate, learn, and interact more with each other."
Zhang, who has been making films for 40 years, described cinema as an art form that deeply necessitates collaboration and communication. He has observed the evolution of Chinese cinema from "sailing with borrowed boats" to "building our own boats to sail." "I eagerly anticipate that in the future, through communications and exchanges with the global community, we can offer highly industrialized, excellent content to China and even the world, presenting an objective and genuine portrayal of China and the voice of China to the world," he stated.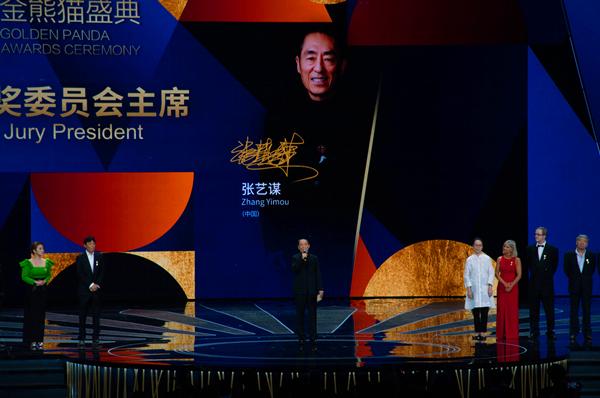 Director Zhang Yimou speaks to attendees on behalf of the jury during the Golden Panda Awards ceremony held in Chengdu, Sichuan province, Sept. 20, 2023. [Photo/China.org.cn]
The first Golden Panda Awards presented 25 awards across four categories: films, TV dramas, documentaries and animations. Nominees were shortlisted from 7,024 submissions originating from 104 countries and regions.
In the film category, other notable winners included Liu Jiangjiang, who secured the Best Director award for "Lighting Up the Stars." Christopher Hampton and Florian Zeller won the Best Screenplay award for their 2020 psychological drama, "The Father," directed by Zeller. The Best Actor and Best Actress accolades were awarded to Nahuel Perez Biscayart and Penelope Cruz, respectively. Additionally, Zhang Songwen received the Best Supporting Actor award, while Ni Hongjie was recognized as Best Supporting Actress.
In the TV drama category, Zhang Yongxin won Best Director for "The Age of Awakening." The third season of "My Brilliant Friend" received the Best Screenplay award. Best Actor and Actress honors were given to Lei Jiayin and Margherita Mazzucco, respectively. Meanwhile, Wang Jingchun and Sarah Snook were awarded Best Supporting Actor and Best Supporting Actress, respectively.
Sun Chao claimed Best Documentary Director for "Little Giants." The Best Animated Image award went to the third season of the Finnish family drama series "Moominvalley." Additionally, the Chinese 3D animated fantasy "Deep Sea" clinched the Best Visual Effect accolade.
Organized by the China Federation of Literary and Art Circles and the People's Government of Sichuan Province, the newly established Golden Panda Awards have adopted the panda as a symbol of cultural exchange. This international event aspires to recognize film and television works from around the world and further aims to promote cross-cultural communications, fostering a global community united through culture. Scheduled to be held every two years, the event will consistently take place in Sichuan. The Wednesday evening ceremony was graced by notable personalities, including Jackie Chan, Wu Jing, Lang Lang, Zheng Xiaolong, Stanley Tong, Wei Wei, and other distinguished domestic and international film and TV professionals, musicians, and experts in related fields.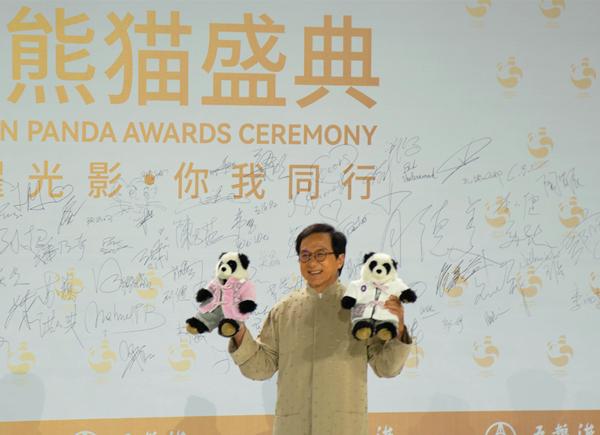 Kung fu megastar Jackie Chan holds two panda dolls during the "green carpet" ceremony at the Golden Panda Awards in Chengdu, Sichuan province, Sept. 20, 2023. [Photo/China.org.cn]
Throughout the evening, artists, including Lang Lang, Guan Xiaotong, Zhong Chuxi, Wei Wei, and Dimash Kudaibergen delighted international attendees with their performances. In an atmosphere adorned with panda motifs and elements of Sichuan's local culture, world-renowned action star Jackie Chan, a passionate panda enthusiast, reminisced about being named a Chengdu Panda Ambassador at the Chengdu Research Base of Giant Panda Breeding in 2009. He subsequently adopted two giant pandas, Cheng Cheng and Long Long. He also unveiled his upcoming film about pandas, "Project P." Set to premiere next year, Chan described the film as a tribute to Sichuan and panda enthusiasts, sparking intense curiosity and anticipation.
"Although giant pandas mainly live in China, they also serve as ambassadors spreading friendship all around the world," said Chan. "Pandas convey peace and friendliness with their gentle radiance, and every individual is like a speck of starlight, together illuminating the beauty of the world."