The inaugural Golden Panda International Cultural Forum took place in Chengdu on Sept. 20, with participants emphasizing that exchanges and mutual learning between civilizations are pivotal for their progression, as well as for global peace and development.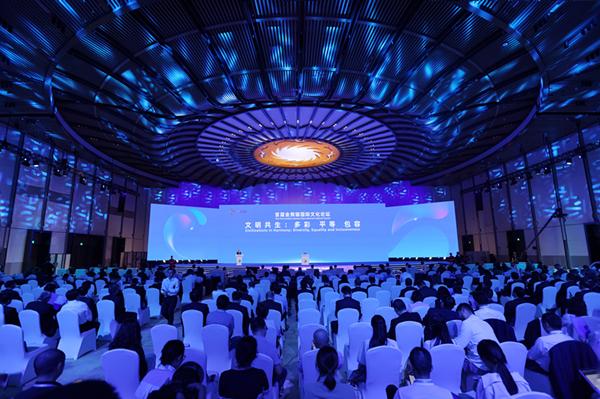 The first Golden Panda International Cultural Forum held in Chengdu, Sichuan province, Sept. 20, 2023. [Photo courtesy of the Organizing Committee of the Golden Panda Awards]
"We must combat all folly about decoupling. We need more, not less, global cooperation in the 21st century," said Erik Solheim, former under-secretary-general of the United Nations, during his address to the forum. He further elaborated on the most pressing challenges of this century, such as building an ecological civilization, mitigating climate change, safeguarding nature and reviving economies in the post-pandemic era, highlighting the imperative of engaging with China in these dialogues among different civilizations.
With the theme "Civilizations in Harmony: Diversity, Equality, and Inclusiveness," the first Golden Panda International Cultural Forum complements the Golden Panda Awards event. While the awards will be presented biennially in Chengdu to honor exemplary global film and TV works, the forum has a broader ambition, addressing overarching topics that encompass cultures and civilizations at large. Invited speakers this year included former senior U.N. officials, former political leaders from Thailand and Egypt, and prominent cultural experts.
Jointly organized by the China Federation of Literary and Art Circles and the Sichuan provincial government, the forum attracted over 300 domestic and international guests. They engaged in comprehensive discussions on various topics, including the implementation of the Global Civilization Initiative, emphasizing the need to uphold shared human values, presenting diverse civilizational stories, and enhancing mutual understanding and exchanges.
Former UNESCO director-general Irina Bokova likened the Belt and Road Initiative's emphasis on cultural and educational exchanges to a revival of the Silk Road. She further stated that the Global Civilization Initiative embodies this vision, amplifying China's role in fostering global dialogue, supporting cultural diversity, and crafting a harmonious world to address shared challenges.
Civilizations cannot be closed entities, but must engage in continuous changes in dialogue, Stelios Virvidakis, the president of the Steering Committee of the Center of Chinese and Greek Ancient Civilizations, pointed out: "Otherwise, countries will develop extreme nationalism."
Eike Schmidt, director of the Uffizi Galleries in Italy, emphasized that beyond preserving legacies for future generations, it is vital to share them with contemporary global communities. This fosters mutual understanding and paves the way for future collaboration.
"One of the most important elements of Renaissance thought was to study ancient and far away civilizations and bring their legacies to life," Schmidt said. "Building and sharing knowledge and respect for diverse civilizations were key tenet of Renaissance philosophy. We need to do away with prejudices, just like Renaissance literati did, and advocate, just like them, the principles of cultural exchange: equality, mutual learning, dialogue and inclusiveness among civilizations."
A panel of filmmakers held after keynote speeches at the first Golden Panda International Cultural Forum held in Chengdu, Sichuan province, Sept. 20, 2023. [Photo/China.org.cn]
"Civilizational mutual learning should not remain an abstract idea or a mere slogan," stressed Ge Jianxiong, a professor at Fudan University. "We should genuinely understand, comprehend and study other civilizations to see what aspects are worth learning from. We have to take concrete action and achieve tangible results in this respect."
Films are potent tools for cultural exchange, shaping perceptions and introducing audiences to varied traditions, said Hong Kong-based Chinese filmmaker Stanley Tong at the forum. He noted that movies not only help Chinese people understand the world, but also introduce international audiences to Chinese stories and life. Icons such as Bruce Lee, Jackie Chan, Jet Li, Ang Lee and Zhang Yimou have captivated global viewers. Moreover, several popular animated films like "Kung Fu Panda" and "Mulan" have skillfully drawn from traditional Chinese culture, achieving international success. As Hollywood made inroads into China, it brought with it Western film concepts and technologies.
"China's millennia-old traditional culture holds many treasures yet to be discovered and creatively developed. I hope filmmakers worldwide can reap the benefits of both the Chinese and global film markets, achieving mutual success and crafting even better Chinese narratives," Tong said. He pointed out that films, as a cultural medium, convey shared human values and ideals. The innovative, inclusive and peaceful nature of Chinese civilization signifies its open approach to global cultures, striking a balance between respecting traditions and embracing innovation.
"I hope that in the future, within a broader cultural landscape, we can fully harness the valuable resources of outstanding traditional Chinese culture to deliver globally valued masterpieces. This will allow the world to better understand China and deeply resonate with the sentiments of the Chinese people," he added.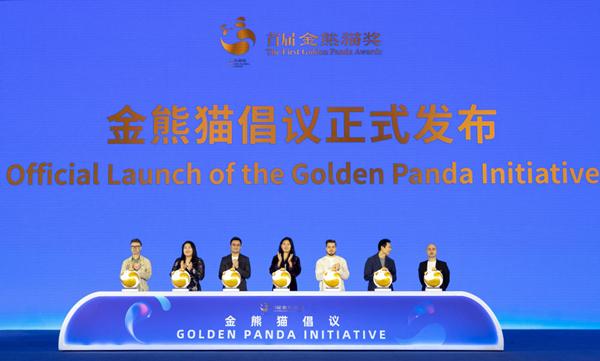 Distinguished guests and representatives jointly launch the Golden Panda Initiative at the end of the first Golden Panda International Cultural Forum held in Chengdu, Sichuan province, Sept. 20, 2023. [Photo/Xinhua]
A panel themed "Moving Image: Between Past and Future," featuring filmmakers such as Wuershan, Yu Zhou, Rob Minkoff, Douglas Hans Smith and Malcolm Clarke, took place following the keynote speeches. As the forum concluded, Chinese and international representatives from the TV and film industries were invited to the launch of the Golden Panda Initiative. This initiative encourages young artists worldwide to advocate for harmonious and mutual cultural values. It calls on them to collaboratively create artworks that embody shared values, serve as ambassadors for cultural exchange, and unleash the youthful energy of cultural heritage and innovation.