On Sept. 24, Milan's La Vigna di leonardo played host to a globally astounding fashion show. Bosideng, guided by the philosophy of "Versatile Weightlessly Warm Contemporary," once again pushed the boundaries of the new generation weightless down jacket.
Bosideng stands as the first Chinese clothing brand to grace the runway at the inspirational La Vigna di leonardo, steeped in Renaissance aesthetics. Its exceptional innovation and professional prowess have garnered acclaim within the global fashion community.
Eileen Gu, the brand ambassador of Bosideng, adorned herself in the brand-new weightless down jacket, marking her debut appearance on the runway for a Chinese clothing brand.
During an on-site interview, she said, "In this year's grand show, Bosideng has elevated weightless down jackets to new heights, revealing to me a world of untapped possibilities." Sharing the runway were international supermodel Coco Rocha and supermodel Bing Hu, who delivered an exceptional presentation of the brand-new weightless down jackets with extraordinary finesse.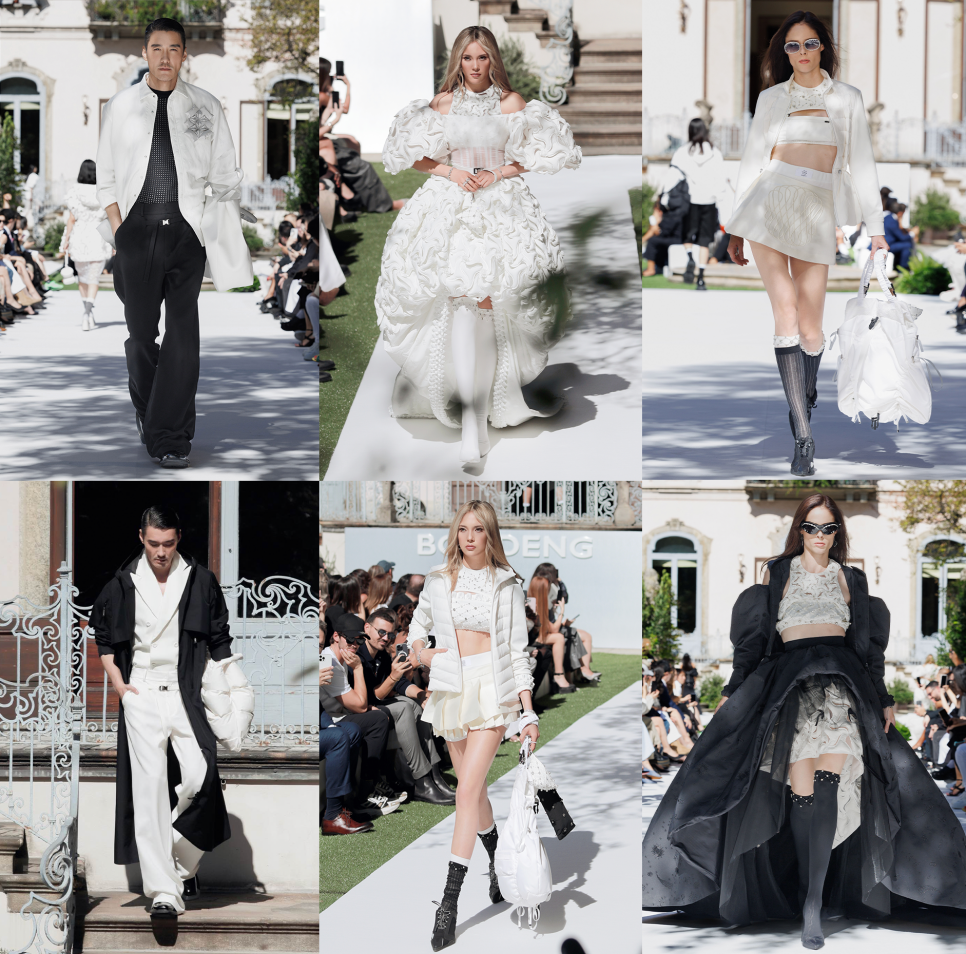 Eileen Gu, Coco Rocha and Bing Hu are on the runway. [Photo provided to China.org.cn]
Renowned Chinese actresses Caiyu Yang and Zhu Zhu graced the event, alongside international stars like Leighton Meester, who portrayed Queen B in Gossip Girl, bearing witness to new breakthroughs in Chinese fashion.
Star-studded guests are present at show. [Photo provided to China.org.cn]
In 2022, the new generation of weightless down jacket took the world by storm, as Bosideng tackled the issues of traditional, uninspiring down jacket styles and overcame technical challenges. The brand transformed weightless down jackets from functional garments into fashionable items with warming capabilities.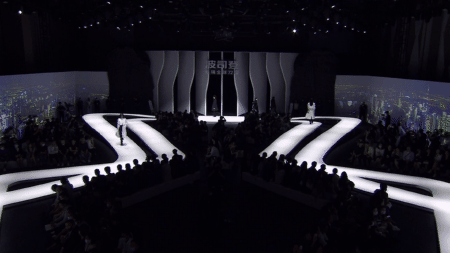 2022 Runway Show of New Generation Weightless Down Jacket Redefined [Photo provided to China.org.cn]
With fresh design concepts and cutting-edge warming technology, Bosideng once again made Chinese down jackets shine on the global fashion stage.
The entire show drew inspiration from the Renaissance era and the La Vigna di leonardo, infusing elements of Chinese and Italian culture. Set amidst the manor's natural pathways and floral landscapes while preserving its original charm, the show created a natural stage with a rich Renaissance atmosphere. The grand runway show was presented in five chapters, gradually unfolding around the themes of Renaissance thought and Leonardo da Vinci's artistic philosophy.
To embody classic elements from both Chinese and Italian cultures, Bosideng utilized Italy's esteemed lace craftsmanship and the renowned Chinese Su Embroidery. A considerable amount of manpower and time was invested in crafting each garment, with a minimum of 500 hours dedicated to every piece. This marked Bosideng's most labor-intensive hand-sewn work in any fashion show to date.
A model showcases garments adorned with Su Embroidery and lace. [Photo provided to China.org.cn]
Additionally, Bosideng drew inspiration from the abundant floral elements found throughout the La Vigna di leonardo. They introduced a unique floral interlocking texture and adorned the clothing with intricate handcrafted techniques, breaking away from the traditional "rib-like" stitching design. This innovation created an exclusive visual icon for Bosideng.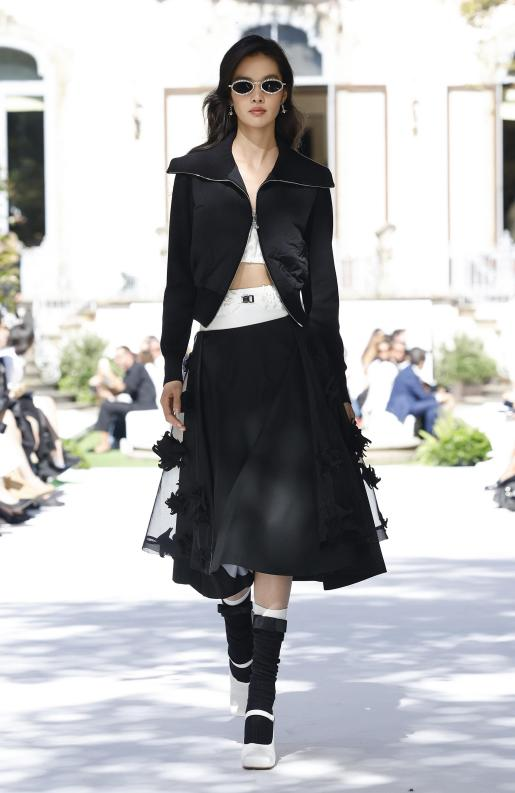 A model wears garments with floral interlocking patterns. [Photo provided to China.org.cn]
Meanwhile, the garment designs incorporated elements from Renaissance fashion, including the lamb's paw sleeves seen in Leonardo da Vinci's famous painting "Lady with an Ermine." They also featured fashion trends of the Renaissance era, such as hoop skirts, lace trimmings, ruff collars, and transparent fabrics. The color palette drew from the popular styles of 15th-century artists, infusing more fashion elements into the autumn and winter ensembles.
The entire show was a spectacular and distinctive presentation, demonstrating the fashion vitality of a Chinese brand. Pietro Ferragina, Bosideng's Creative Research and Development Director responsible for this runway show, expressed his aspiration to convey Bosideng's artisan spirit through this event and show the world Chinese originality.
Bosideng, in collaboration with a Sino-Italian design team, triumphed over the challenges of material juxtaposition and the fusion of vintage and modern elements. They introduced an array of fashionable items, including down jacket hybrids with hoodies, knits, windbreakers, and shearling pieces. The entire collection boasts internationally certified goose down with 700+ fill power, making them not only lighter but also warmer than traditional weightless down jackets. At the same time, they upgraded three key lightweight warmth technologies, integrating their proprietary heat and moisture balance patent system, exclusive high-stretch fabrics, and heat feedback technology. This achievement signifies a breakthrough in crafting versatile attire suitable for spring, autumn, and winter across various scenarios.