The sequel to the children's favorite, "PAW Patrol: The Movie," is set to reveal a thrilling new adventure during China's National Day holiday, standing out as the only foreign new release of the season.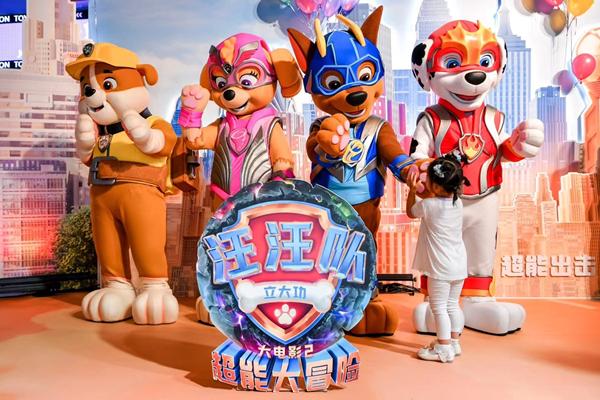 Actors portraying PAW Patrol pups interact with a child at the China premiere of "PAW Patrol: The Mighty Movie" in Beijing, Sept. 24, 2023. [Photo courtesy of Paramount Pictures]
"PAW Patrol: The Mighty Movie," directed by Cal Brunker, is a Canadian animated film, drawing inspiration from Keith Chapman's beloved "PAW Patrol" series and, more specifically, its Mighty Pups TV movie. The plot unfolds as eccentric scientist Victoria Vance crashes a meteor into Adventure City with her device, inadvertently bestowing the PAW Patrol pups with superpowers. Yet, the pups face the dual threat of Vance and their old nemesis, ex-Mayor Humdinger, who join forces to harness these powers and ascend as super villains.
The new film is scheduled to make its theatrical debut in China on Sept. 29, coinciding with its North American release. It will also feature in the entertainment offerings during China's eight-day Mid-Autumn Festival and National Day holiday, providing enjoyment for children and families alike. Despite competition from domestic heavyweights like Chen Kaige's "The Great Wall" and Zhang Yimou's "Under the Light," it stands out as the only imported new film and boasts a significant fanbase.
The "PAW Patrol" TV series, initiated in 2013 by toy company Spin Master Entertainment, made its way to China in 2015, available on several streaming services. By 2017, it had started airing on children's channels of numerous TV networks, including China Central Television (CCTV), gaining immense popularity among children.
Children clearly love it. At the premiere held on Sunday, young attendees were seen laughing, jumping, and bouncing around in the Beijing theater. Outside, there were decorations and a makeshift playground for them to enjoy. Parents and film critics lauded the film, echoing the sentiments of Variety, which acclaimed, "It delivers on the promise of a smart and salient sequel with bolder action, bigger stakes, and deeper resonance for all ages."
The first "PAW Patrol" movie achieved global success, garnering $144 million at the box office worldwide, including 82.5 million yuan ($12.9 million) from China.
Jennifer Dodge, president of Spin Master Entertainment, expressed, "We loved telling a deeper 'PAW Patrol' story on a bigger canvas and are pleased that the movie connected so strongly with kids and families around the world. Judging by the exit polls, audience scores, and positive critical reception, everyone had as much fun watching it and rewatching it as we did making it."