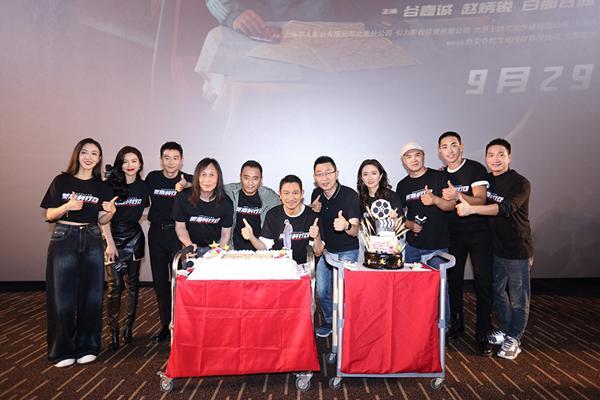 Cast and crew pose for a group photo at the premiere of "Moscow Mission" while also celebrating Andy Lau's 62nd birthday on stage in Beijing, Sept. 26, 2023. [Photo courtesy of MicroEnt]
Chinese crime action film "Moscow Mission" opened Thursday in a limited theatrical release in North America.

The film is being released by CMC Pictures in Mandarin with English subtitles in nearly 70 selected theaters in Los Angeles, San Francisco, New York, Seattle, Boston, Houston, Dallas, Toronto, Ottawa, Vancouver and a few other North American cities with a large overseas Chinese population.
Based on the true story of "China-Russia Train Robbery" happened in 1993, the film follows a team of Chinese police who engaged in a cross-border investigation and vowed to bring the perpetrators to justice.
Directed by Herman Yau, the film gathers a group of stars including Andy Lau, Huang Xuan and Zhang Hanyu.
"Moscow Mission" opened in domestic theaters in China on Sept. 29, as the country was celebrating the Mid-Autumn Festival. The film has garnered over 379 million yuan (around 52.6 million U.S. dollars) to date at the box office in the Chinese mainland after seven days, according to Maoyan, a Chinese movie-ticketing and film data platform.
"Moscow Mission" has received positive feedback from Chinese moviegoers with a rating of 9.2 points out of 10 from over 63,000 viewers on the Maoyan platform.